Followers of the Duggar Family Instagram Are Calling Jedidiah Duggar's T-Shirt 'Morbid'
Since their early days on 19 Kids and Counting, the Duggars have made waves for their strict household rules, quick courtships, and sheer number of kids living under one roof. Michelle and Jim Bob Duggar attained fame for having 19 kids. And while many of their oldest children (who are now featured on TLC's Counting On) are married with families of their own, the Duggar family Instagram still features all the kids living in the big Duggar family home. And we've been seeing Jedidiah Duggar, who's now 20, a lot more often recently.
Since he's one of the many middle Duggar children, Jedidiah and his twin brother, Jeremiah, don't often get much attention from the public. But it seems one of Jed's shirts he wore in a photo turned heads. Here's why.
The Duggars are very religious and follow strict rules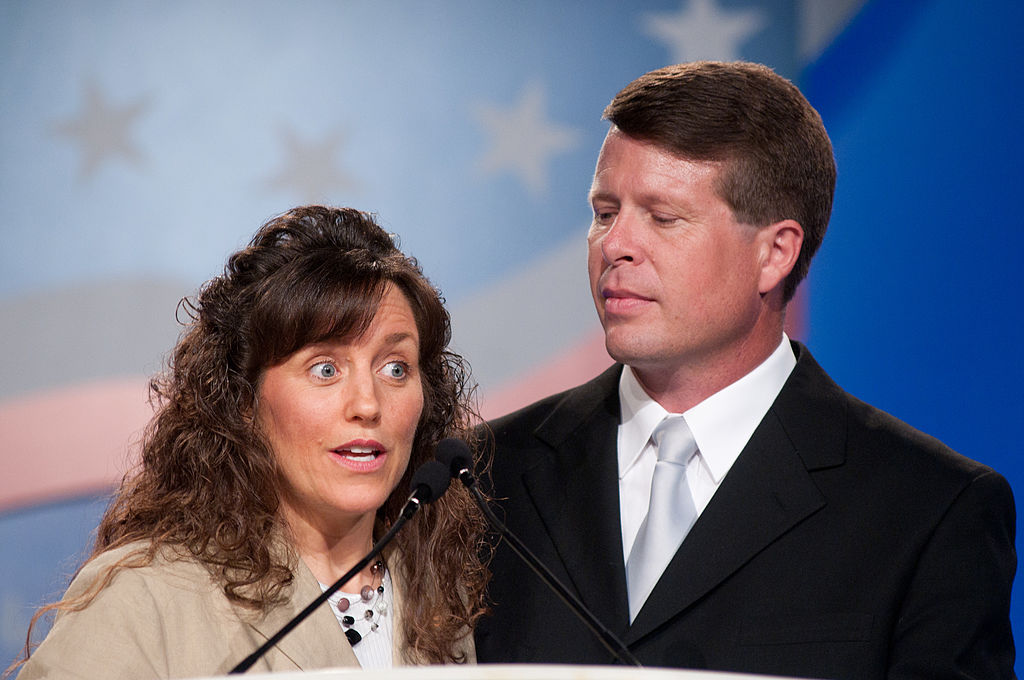 The Duggars are known for their ultra-religious ways, and it's part of the reason they've become so infamous in the first place. They claim they are devout independent Baptists, an exclusive sect of Christianity that abides by strict rules. And while the Duggars adore their church, its members, and what they believe, many of their former church members have made wild claims about what the church is really like.
Jim Bob and Michelle have said they have no association with what's known as the "Quiverfull" sect of Christianity, but others beg to disagree. The Quiverfull movement is all about having as many children as possible, as they are "blessings from God," People explains. And since the Duggars don't believe in birth control, Jim Bob and Michelle seem to line up with this way of thinking.
"It has been common not just in Quiverfull circles but also more broadly in some fundamentalist Christian communities to hold women responsible for men's sexuality and choices, whether by accusing women of causing men 'to stumble' because of how they dress, or accusing wives of causing their husbands' affairs because they didn't satisfy them," Kathryn Joyce, author of Quiverfull: Inside the Christian Patriarchy Movement, told People.
Their clothing guidelines are rarely broken by the younger kids
One of the most intriguing aspects of the Duggar family's life is their dress code. When living under Jim Bob and Michelle's roof, the women are required to wear long skirts and modest tops. "We avoid low-cut, cleavage-showing, gaping, or bare-shouldered tops; and when needed, we wear an undershirt," the Duggar women wrote in Growing Up Duggar. "We try to make it a habit to always cover the top of our shirt with our hand when we bend over. We don't want to play the peekaboo game with our neckline."
Not only that, but the Duggars also have a special code word to warn the men in the family that a provocatively-dressed woman is approaching. As the women wrote in Growing Up Duggar, they'd whisper the word "nike" in order to "signal to the boys, and even to Dad, that they should nonchalantly drop their eyes and look down at their shoes as we walk past her. … It's meant to help keep the guys' eyes from seeing things they shouldn't be seeing."
Fans took issue with Jedidiah Duggar's T-shirt in this Instagram post
From the dress code to their religious ways, Duggar followers shouldn't be too surprised when one of their family members wears a T-shirt expressing religious views. But it seems many think Jedidiah took things a little too far. In this Instagram post from The Duggar Family, Jedidah is seen wearing a T-shirt that says, "If you died tonight, would you be in heaven or hell?" And many took to the comments to remark on the aggressive text.
"Jesus Christ! What a morbid t-shirt. Nothing says fun day out like death on a shirt!!" one follower commented. And another added, "The shirt is sanctimonious and petty. 'But the greatest of these is love.' Love is what the world needs. You won't scare most people including myself into choosing Jesus for fear of hell." Yet another commented, "That message on that T-shirt. Scaring people into faith/heaven is not loving. God isn't about scaring. He is about love."
We're not sure if Jedidiah will be wearing this shirt again any time soon after this criticism. But considering how forward with religion the Duggars are, perhaps we'll shamelessly see it again!
Check out Showbiz Cheat Sheet on Facebook!