Forgetting 'Transcendence': Johnny Depp's 5 Best Movies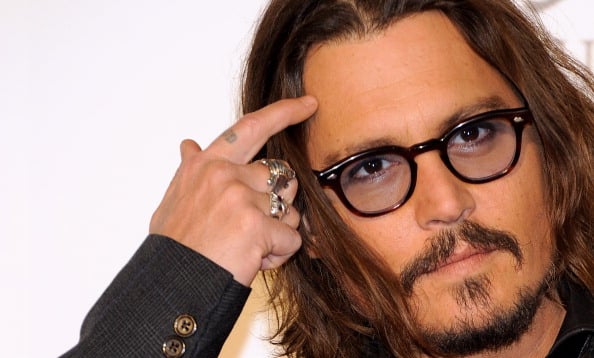 Johnny Depp's latest movie, the science fiction thriller Transcendence, opened over the Easter weekend only to bomb spectacularly, taking in just $10.8 million at the box office and failing among critics, with a paltry 19 percent Fresh rating on Rotten Tomatoes. Venerable Rolling Stone film critic Peter Travers even went so far as to call Transcendence "one of the biggest disappointments of the year."
The last several movies from the esteemed (but Oscar-less) actor have been largely disappointing, with Disney's Lone Ranger a critical failure and Tim Burton's Dark Shadows not doing much better. To alleviate the sadness of Johnny Depp fans everywhere who have gone far too long without a great film from the actor, here's a list of Depp's five most critically acclaimed films, according to Rotten Tomatoes.
These aren't necessarily his five best performances, as you'll see from what comes in at number one – just overall the "best" movies that he's starred in over his long career.
5. Donnie Brasco
This 1997 gangster drama co-starring Al Pacino tells the true story of an undercover FBI agent assigned to infiltrate the mafia through a low-level hit man named Lefty Ruggiero (Pacino). Depp's cop goes by the nickname Donnie Brasco and becomes increasingly more involved in Lefty's disintegrating life, which doesn't have much to show for all he's given the organized crime ring he has been involved in over the years. The film actually has very little violence for a mob movie and is mostly driven by Depp and Pacino's performances. Pacino's character takes a huge risk vouching for Donnie Brasco, who finds himself unable to pull out of the undercover situation until he can ensure Lefty's safety. "Pacino and Depp are a match made in acting heaven, riffing off each other with astonishing subtlety and wit," Travers wrote for Rolling Stone at the time. The movie has an 87 percent Fresh rating on Rotten Tomatoes.
4. What's Eating Gilbert Grape?
The tender 1993 drama What's Eating Gilbert Grape? features Depp as the title character who is forced to take care of his hugely obese mother and autistic younger brother, played by Leonardo DiCaprio, who get in the way when he finds love with a stranger (Juliette Lewis) that wanders into their small, empty Iowa town. DiCaprio gives a masterful performance as Arnie Grape, and Juliette Lewis is an early manic pixie dream girl with more sincerity. "Particularly impressive are the sweet, weirdly idyllic tone of Mr. Hallstrom's direction and Johnny Depp's tender, disarming performance as the long-suffering Gilbert Grape," reads a 1993 New York Times review. The movie has an 89 percent Fresh rating among reviews aggregated by Rotten Tomatoes.
3. Edward Scissorhands
Edward Scissorhands is widely considered to be a masterpiece of film that affirmed to the world that Tim Burton is an eccentric genius; it also created a decades-long partnership between Depp and Burton that has resulted in some of the best movies of both of their careers. The chemistry between Depp's tortured Edward and the bored suburban teenager Kim, played by Winona Ryder (the two were later engaged, making for the coolest couple of the nineties), provides the romance. Burton's brilliant visuals along with great performances from a supporting cast that featured Vincent Price, Alan Arkin, and Dianne Wiest make this story of the eternal misfit one of Depp's best films and most important projects of his career. The movie has a 91 percent Fresh rating on Rotten Tomatoes.
2. Ed Wood
The second most critically acclaimed film of Depp's is another collaboration with Burton. This highly fictionalized biopic about the 1950s B-movie director Ed Wood is a surprising, funny, and touching film that gained much critical acclaim and a 92 percent Fresh rating on Rotten Tomatoes. Instead of making fun of Wood's blundering efforts to make good movies, Burton approaches the man voted the worst director of all time with tenderness, highlighting in particular Wood's friendship with the aging and drug-addicted screen legend Bela Lugosi. Martin Landau's portrayal of Lugosi won an Academy Award for Best Supporting Actor. "Outrageously disjointed and just as outrageously entertaining, the picture stands as a successful outsider's tribute to a failed kindred spirit," Rolling Stone's Travers said of the film.
1. A Nightmare on Elm Street
The 1984 horror classic from Wes Craven is Depp's film debut and his highest-rated movie by critics on Rotten Tomatoes, with a 96 percent Fresh rating. The movie is thought to be one of the most important horror films of all time and helped develop the slasher genre. Depp plays the ditzy boyfriend of the main character, who is haunted by the villain Freddy Krueger in her dreams. While Elm Street definitely isn't Depp's finest acting performance, the film is a landmark horror film and smart psychological thriller. Depp's death scene — in which he's sucked into his bed and spewed back out in a geyser of blood — is one of the most famous death scenes in the history of film.
More From Wall St. Cheat Sheet:
Follow Jacqueline on Twitter @Jacqui_WSCS