Former Bachelorette Becca Kufrin Says Fans Make Her Feel Like a 'Bad Fiancé'
Becca Kufrin has been put through the Bachelor wringer. She was awarded Arie Luyendyk Jr.'s final rose on his season of The Bachelor only to be broken up with later on national TV. Today, Luyendyk is with his season runner-up, Lauren Burnham.
All's well that ends well, though, because Kufrin went on to be the bachelorette. At the end of her season her final rose recipient, Garrett Yrigoyen, proposed to Kufrin and the two are still engaged.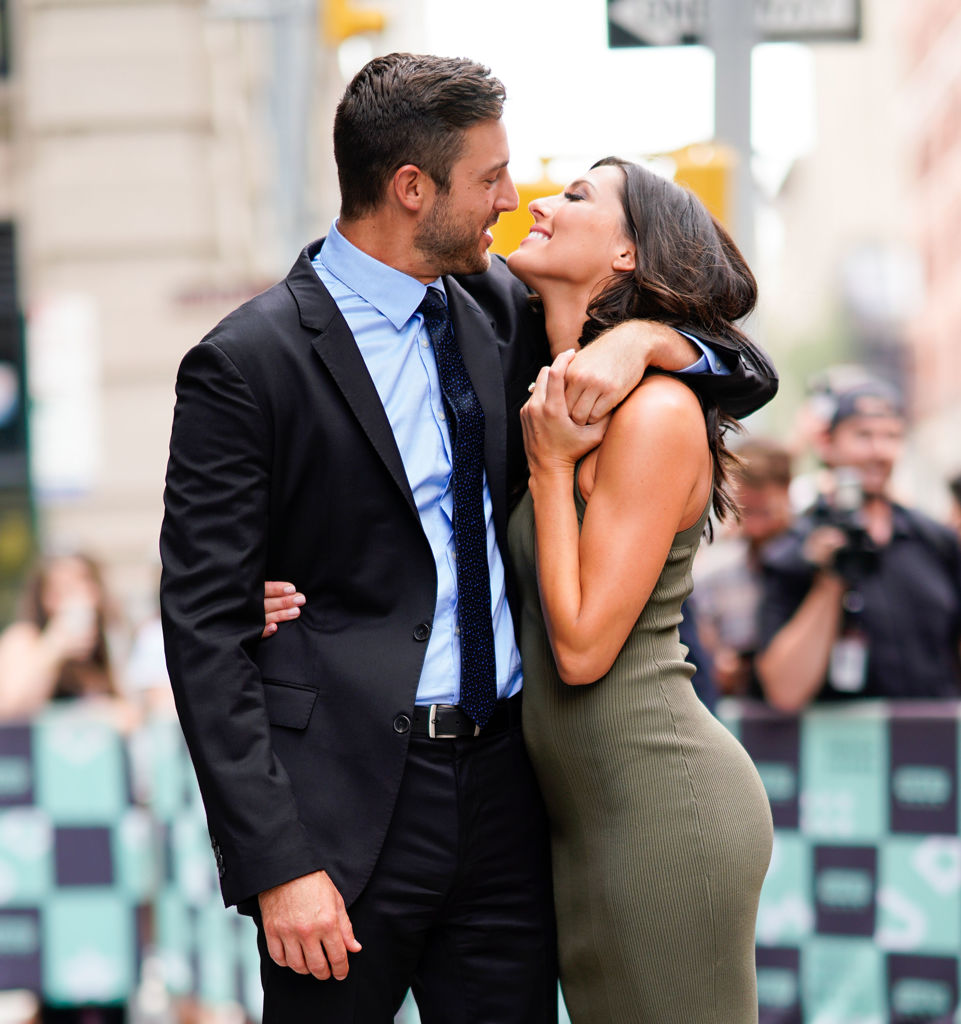 Garrett Yrigoyen's Instagram scandal
However, towards the end of their season it was revealed that Yrigoyen had "liked" some unsavory posts on Instagram prior to his time on The Bachelorette. Posts that made fun of transgender people and feminists, joked about throwing an immigrant child over the border, and a post that suggested Parkland school shooting survivor David Hogg was a crisis actor.
It was certainly a bump in the road for the couple. Yrigoyen apologized during the finale, saying: "I didn't realize the effect behind a double tap or a like on Instagram. So I put out an apology. I didn't mean to offend anybody, I apologize for that still. I didn't mean to hurt anybody's feelings or do anything like that. So I stand by everything that I posted in my apology, and I'm just trying to grow as a person, be a better person on a daily basis."
Kufrin, on the other hand, was a Hillary Clinton supporter and Women's March participant.
"The Instagram situation, I don't condone that," she said. "I know he stands by his apology, and he feels so bad for everyone that he did offend. And, you know, he didn't mean it. But I just want to move forward and to learn and to grow and to continue to educate ourselves."
Becca Kufrin says Instagram can be 'a really negative space'
Today, as is the case with most Bachelor couples, Yrigoyen and Kufrin are still heavily scrutinized.
On December 18, Kufrin was interviewed on the Bachelor Happy Hour podcast. She spoke about how Bachelor Nation is still incredibly vocal about her relationship with Yrigoyen, especially on social media.
When Yrigoyen didn't attend Chris Randone and Krystal Nielson's wedding with Kufrin in June, the former bachelorette received a lot of negative feedback from fans.
"He still has a life," Kufrin said on the podcast about going to the wedding solo. "He still has friends from his hometown, and they were having a birthday… Fast forward to now a couple of months later when the wedding actually airs, and I'm watching the wedding on TV and I'm just getting all of these DMs and messages from people being like, 'Oh, my God, did you guys break up?' 'Oh my gosh, you're a bad fiancé,' or, 'Garrett's a bad fiancé.' 'Why didn't you go together?'"
To stay sane, Kufrin thinks it's important to keep social media in perspective. It's not always the best thing for one's mental health.
"I think, as great as social media can be, it also, I think, can be a really negative space. There's so much bullying going on and so much negativity. I've learned firsthand… just how quick people are to judge," she said.
Read more: Sources Say Tyler Cameron's 'Fling' With Stassie Karanikolaou is Over