Former 'Law and Order' Star Sam Waterston Arrested with Actress Jane Fonda in Climate Change Protest
The tables have turned for former Law and Order star Sam Waterston. The actor, who played single-minded prosecutor Jack McCoy on the long-running NBC drama, became the prosecuted, as he was arrested for unlawful demonstration alongside his Grace and Frankie co-star, Jane Fonda, on Friday, October 18.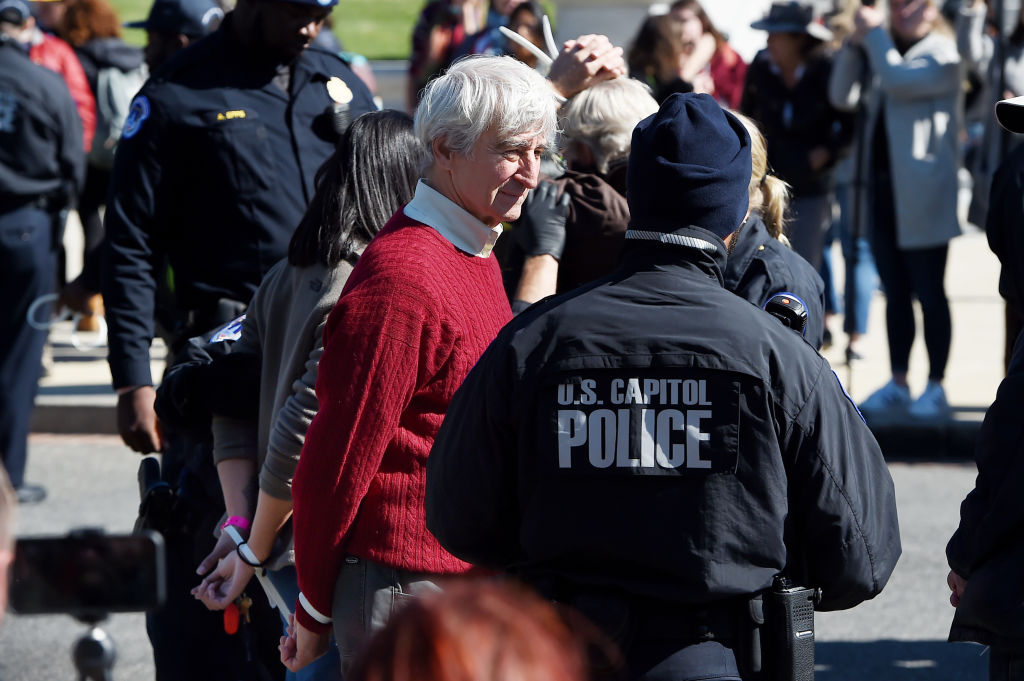 Waterston joined Fonda to protest against climate change on the steps of the U.S. Capitol in Washington, DC. This was Waterston's first arrest.
The young woman who inspired Fonda to protest climate change
Fonda has stated that her current protests against climate change have been emboldened by 16-year-old Swedish climate activist Greta Thunberg, who addressed the United Nations last month with an impassioned speech calling on the world's nations to act swiftly. The teen's speech drew worldwide attention, due in great part to her thundering, yet poised, delivery.
"You have stolen my dreams and my childhood with your empty words. And yet I'm one of the lucky ones," Thunberg said in part. "People are suffering. People are dying. Entire ecosystems are collapsing. We are in the beginning of a mass extinction, and all you can talk about is money and fairy tales of eternal economic growth. How dare you!"
Fonda's response to Greta Thunberg's call to action
The 81-year-old actress told the Washington Post last week that Thunberg's words affected her greatly.
"It so traumatized her that she stopped speaking and eating. And when I read that, it rocked me because I knew that Greta had seen the truth. And the urgency came into my DNA the way it hadn't before. Greta said we have to behave like it's a crisis. We have to behave like our houses are on fire."
Fonda's arrest alongside Waterston yesterday was her second in the past week. The Academy Award-winner told The Washington Post earlier this month that she intended on being apprehended while protesting in Washington every Friday for the next 14 weeks.
"It'll be called 'Fire Drill Friday,' " the Academy Award-winning actress said. "And we're going to engage in civil disobedience and we're going to get arrested every Friday."
'You got a better idea?'
Before their arrests, Waterston and Fonda held a climate change rally, at which both actors spoke in favor of immediate action on the environment with a Green New Deal.
"People say that the Green New Deal is radical," Waterston stated at the rally. "What is radical is climate disruption."
Waterston chatted with his arresting officers as he was searched and had his personal effects taken away. He said, "It's good to be here."
His hands tied behind his back with plastic zip ties, the 78-year-old actor received applause from the surrounding crowd after a demonstrator was heard saying it was Waterston's first arrest.
Asked by a reporter beforehand why it made sense to get arrested as a way to draw attention to the issue, Waterston said, "I have to do something. I don't know. You got a better idea?"

Read more: 10 Celebrities Who Were Arrested While Protesting