Fox Cancels 'BH90210,' But Tori Spelling Gives Fans Hope for a Second Season
The Peach Pit is closed, again. Fox has decided not to renew BH90210 for a second season. 
The network announced that it was pulling the plug on the Beverly Hills, 90210 reboot — which reunited original cast members including Tori Spelling, Jason Priestley, and Shannen Doherty — on November 7. 
"We are so proud to have reunited in a very special summer event one of the network's legacy series and casts with 90210 fans across the country," Fox said in a statement to Us Weekly before offering "profound thanks" to the cast and crew for their work on "this truly inventive and nostalgic revival." 
Fans are not happy about 'BH90210' being canceled
Some fans of the meta revival, which saw Spelling and other actors playing fictionalized versions of themselves as they attempt to bring their canceled teen drama back to life, learned of the show's demise on social media.  
"What a fun trip back. Thanks to the fans :)))" Brian Austin Green, who played David Silver on the show, captioned an Instagram photo of the exterior of the Peach Pit set. 
"Does this mean it's not coming back ?! Or just reminiscing???" asked one confused fan. 
"So that's it? No more 😭 Thank you all for coming back together for us ❤️" another chimed in. 
Several people praised the show's creative approach to revisiting the much-loved original. 
"It was brilliantly rebooted. Why no renewal?" one fan wrote. 
"So sad there won't be a season 2, hope it can get picked up by a streaming site or something. It was such a smart reboot!" responded another person. 
Tori Spelling and Jennie Garth hint this might not be the end of 'BH90210'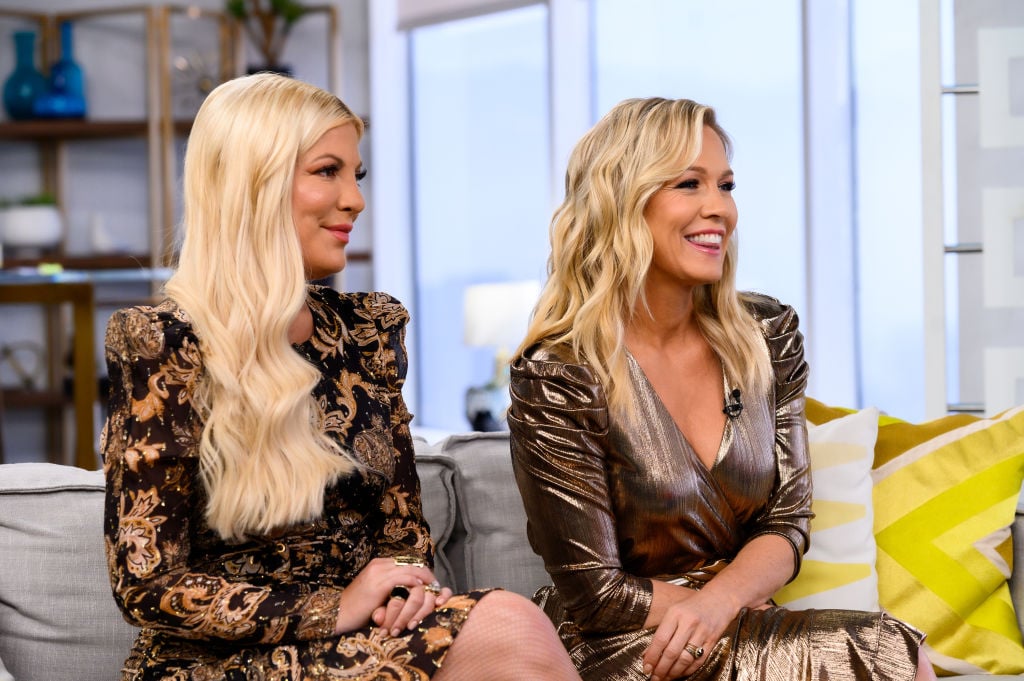 While Fox has decided not to move forward with another season of BH90210, at least two of the show's stars aren't ready to see it end. 
Soon after the cancellation was announced, Tori Spelling, who played Donna Martin on the original series and was a producer on the reboot, took to Instagram to hint that BH90210 might live on. 
"Our #bh90210 cast proved that after 20 years, you indeed CAN go home again…," the actress wrote.
"Sometimes home isn't where you ARE but who you are WITH," she went on to write. "Our show is so meta that all the reality out there just helps us continue to evolve and gives us GREAT new storylines! The gift that keeps on giving. We aim to keep audiences guessing what will happen next. So stay tuned as our journey unfolds…"
A cryptic tweet from Jennie Garth also suggested that the show might be back in some form — and that the current cancellation drama could figure into future episodes. 
"Summers highest rated show gets more meta by the minute #bh90210 practically writes itself!" she wrote. "Thank you for the 2nd season material You never know what's really going on behind the scenes! Stay tuned…"
Fans replying to Garth's tweet voiced hope that a streaming service like Netflix or Hulu might step in and save BH90210. Many were confident the show would return.
"Getting thrown down a flight of stairs didn't stop Donna and neither will this!!" one person commented on Spelling's post. "Ready for the next adventure."