Fox's 'Big' Remake Already Sounds Weaker Than the Movie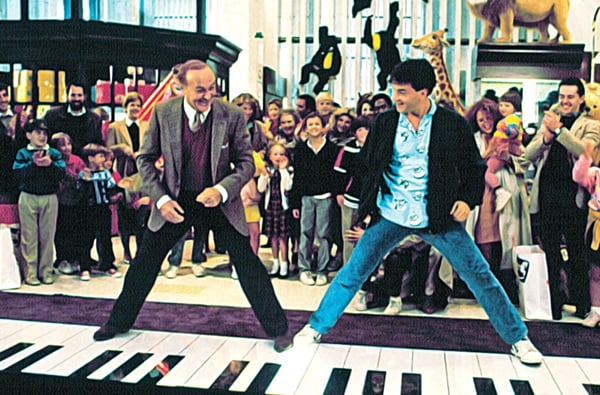 Fox officially has another movie-to-TV adaptation in the works. According to The Hollywood Reporter, the network is developing a show based on the 1988 beloved Tom Hanks film, Big.
Big starred the acclaimed actor as Josh Baskin, who starts out as a young boy (played by David Moscow) in the film, but is aged into a 30-year-old man overnight after making a wish "to be big." As an adult, he is forced to get a grown-up job, starting as a data entry clerk at a toy manufacturing company before eventually getting to his dream gig as a toy tester. He also develops a romantic relationship with his co-worker, Susan (played by Elizabeth Perkins). But though he finds success as an adult, he soon realizes he's not ready for that life just yet and decides to return to child form.
The small screen remake comes courtesy of Kevin Biegel and Mike Royce, the same duo that headed Fox's short-lived military series, Enlisted. The two will both pen the script and executive produce the half-hour series, which THR reports has been pitched as an "ongoing series with a cable model episode count."
Per THR, the potential series is reportedly being described as "an event series based on the movie that explores what it means to be an adult and what it means to be a kid — and how in today's world, those two things are more confused than ever." Given the vague synopsis, it remains unclear if the sitcom will be incorporating specific elements of the movie, like the iconic FAO Schwarz piano scene. But though the project is still in its early stages, the network is apparently pretty confident in how it's shaping up, as it's already given the comedy a script plus penalty commitment.
That's certainly a good sign for any developing series, but Biegel and Royce will still have their work cut out for them, bringing such a widely adored film to the small screen. Big received overwhelmingly positive reviews at the time of its debut and earned Oscar nominations for Best Actor for Hanks, as well as for Best Original Screenplay. Plus, it seems like an unexpected choice for a TV adaptation, given that the fantasy, age-changing premise seems far better suited to a limited 2-hour feature film as opposed to a weeks-long storyline (even with the cable episode count in consideration).
On the other hand, if there were ever a right time to launch such a show, it would be now, when seemingly every network has a movie-to-TV adaptation in development. In addition to Big, Fox is also in the midst of producing a small screen version of Minority Report. Meanwhile, NBC recently announced plans for both a Real Genius and a Problem Child reboot. Even the children's channels are getting in on the game, with Nickelodeon reportedly working on a School of Rock remake.
So can Biegel and Royce pull it off? They've garnered mixed results with their past experience working on TV comedies. Biegel co-created the more successful sitcom, Cougar Town, which is about to enter its fifth and final season. Meanwhile, Royce served as showrunner on both HBO's Lucky Louie and NBC's now-canceled White House comedy 1600 Penn, as well as co-created TNT's Men of a Certain Age. Their collaboration, Enlisted, didn't fare well enough in ratings to earn more than a one-season run, but the semi-autobiographical series based on Biegel and his brothers was a huge hit among critics.
Hopefully, that means they'll also be able to create a quality retake that the classic comedy deserves. Regardless, it's worth bearing in mind that the potential series is meant only as a loose interpretation of the movie — so perhaps fans of the original shouldn't get their hopes up too high just yet.
More From Entertainment Cheat Sheet:
Want more great content like this? Sign up here to receive the best of Cheat Sheet delivered daily. No spam; just tailored content straight to your inbox.