Fox's 'Star' Fails to Match the Musical Flair of 'Empire'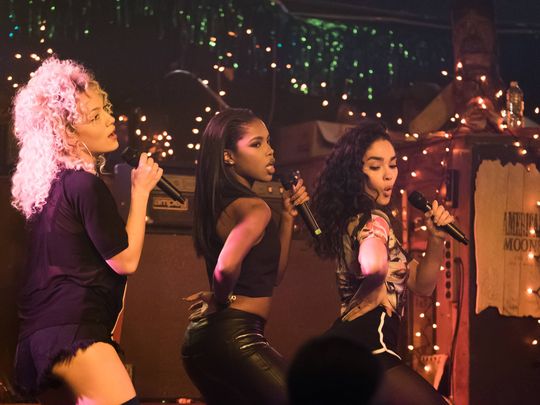 Fox struck ratings gold with Lee Daniels's hit drama, Empire. So it came as no big surprise when the network recruited him to create another musical series. Unfortunately, Star, premiering on December 14, doesn't come close to delivering the over-the-top campy fun of its predecessor.
The new showbiz-themed story follows Star (Jude Demorest), a scrappy foster teen with big dreams of living up to her name and becoming a — you guessed it — popstar. With ambitions of forming a female pop band, she chases down her long-lost, troubled half-sister Simone (Brittany O'Grady) and her Instagram best friend Alexandra (Ryan Destiny), the daughter of a famous rocker and model (played by Lenny Kravitz and Naomi Campbell, respectively).
To chase down their dreams, the three girls go to Atlanta and reconnect with Carlotta (Queen Latifah), a beauty salon owner and Star's godmother whose own aspirations of stardom were derailed by the death of her musical partner, who is Star and Simone's mother. Having experienced her own heartbreak in the industry, Carlotta fears that the teenage girls will suffer the same repercussions in pursuing their dreams.
The premise isn't exactly original, but that's not even necessarily the problem. Where Star runs into trouble is in its heavy reliance on melodramatic clichés and industry tropes. In its first three episodes, Star ticks off every predictable character box you can think of, from the exploitative cash-raking foster mom and abusive foster dad to the manipulative, drug-addicted manager (Benjamin Bratt). The portrayal of Star's desperate thirst for stardom is equally tired, filled with drugs, sketchy promises, and self-prostitution — all in the name of fame, of course.


To be fair, Daniels is known for delivering cutting racial and social commentary in his work and it's never exactly subtle (remember Taraji P. Henson's Cookie dressed as a gorilla at a rally in Empire's Season 2 premiere?). But where Empire revels and excels in these in-your-face moments, Star just sinks. It all feels contrived and overfamiliar. Not to mention, way too grim. In its attempt to tackle class, race, fame, and everything in between, Star ends up losing all the fun and flair that made Empire such a success.
That's not to say there isn't potential. There are some promising moments, mostly involving Queen Latifah, who is by far the most compelling character of the show. But they're too few and far between to make up for the tired story and lackluster leads.
Which brings me to Star's biggest problem. With the exception of Queen Latifah, the show lacks truly compelling central characters. While Empire has plenty of its own flaws (particularly in more recent seasons), it has a saving grace in Henson's hilariously brash Cookie. No matter how ridiculous the Lucious family dynamic gets (and it gets pretty ridiculous), you find yourself rooting for Cookie and wanting her to succeed, whether it's in love or in music. The same can't be said about Star and her crew, at least in these opening episodes.
Whether Star will eventually find its footing remains to be seen. For now, the music-driven drama remains in the shadow of Empire. It may boast a few parallels, but it's not nearly as entertaining.
Star will air a special premiere on Wednesday, December 14 at 9 p.m. EST, following the fall finale of Empire. It will then resume its freshman season on Wednesday, January 4 at 9 p.m. EST.
Check out Entertainment Cheat Sheet on Facebook!