Free Birds and 6 Classic Films That Rule Thanksgiving
When Americans think of the holiday that lands on the fourth Thursday of November, they generally think of two things: football and turkey. Seasonal movies usually get put on the back burner (pun intended) when it comes to deciding between the Detroit Lions and a Charlie Brown Thanksgiving, but there are still a slew of turkey-themed movies that can entertain those induced into a food coma following the big meal.
Relativity Media got us in the mood early this year by releasing a Thanksgiving-inspired flick on November 1, and so far, movie-goers are responding to the animated turkey. Perhaps a new tradition is in order for your family this year on November 28? Check out our list of the best Thanksgiving-themed movies you can enjoy as the holiday season kicks off.

1. Free Birds
First up is Relativity Media's Free Birds, the aforementioned flick that premiered the day after Halloween this year. Starring Owen Wilson, Dan Fogler, and Woody Harrelson, director Jimmy Harward tells the story of two turkeys who must team up to travel back in time and change the course of history. First on the to-do list? Get off the holiday menu. So far, Free Birds has earned $42,218,000 at the box office thanks to moviegoers who were eager to find out if the turkeys were successful, and the crowds are only expected to pile in as the holidays draws nearer. The movie was produced for $55 million.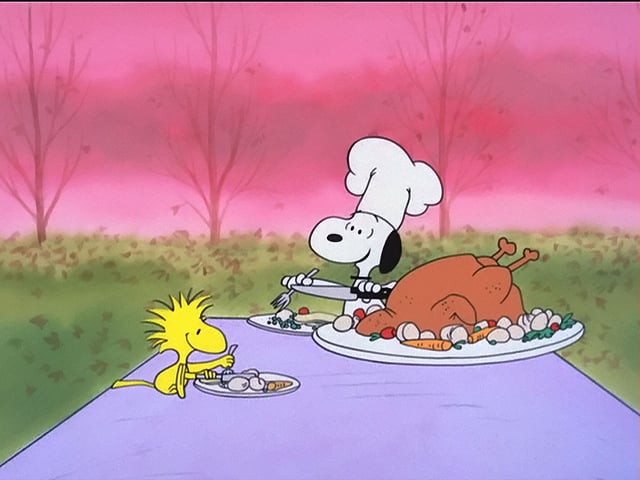 2. A Charlie Brown Thanksgiving
Next up, starting in chronological order comes CBS' (NYSE:CBS) A Charlie Brown Thanksgiving. This classic 1973 short film is sure to warm any turkey lover's heart, and who wouldn't want to celebrate the holiday with Charlie Brown, Peppermint Patty, Linus, Snoopy, and Woodstock? The movie first aired on CBS on November 20, 1973, but the 30-minute tale has continued to find its way into families' homes ever since.

3. Planes, Trains & Automobiles
Possibly the most iconic Thanksgiving film is Paramount's Planes, Trains & Automobiles. The 1987 movie starring Steve Martin and John Candy follows two men's adventures as they journey to travel home for the holidays, and the comedy originally made over $49,530,280 at the box office. Continuing to find its way onto the tube more than two decades following its debut, Planes, Trains & Automobiles is still a Thanksgiving favorite, and when given the choice between Martin and football, some still choose Martin.

4. Miracle on 34th Street
Next on the list is 20th Century Fox's Miracle on 34th Street. While perhaps more of a Christmas movie than a Thanksgiving one, the 1994 film at least begins during Macy's Thanksgiving Day Parade, and then details the characters' lives leading up to to the big Christmas holiday.
Originally produced in 1947 with Natalie Wood and Edmund Gwenn, Miracle on 34th Street was remade in 1994 starring Richard Attenborough, Mara Wilson, Elizabeth Perkins, and Dylan McDermott. The new full-color movie made $46,264,384 at the box office, proving that fans still love the film's original storyline, and the characters continue to find their way into revelers' homes at least once a season.

5. Home For the Holidays
Coming in at No. 5 is Paramount's Home for the Holidays. This 1995 film starring Holly Hunter, Anne Bancroft, and Robert Downey Jr. is less than two decades old, but it has still established itself as a long-time tradition for many families thanks its talented cast and relatable storyline. Everyone knows what it's like to have a dysfunctional family, and moviegoers proved their interest in a big way back in 1995 when they helped Home for the Holidays make $17,518,220 at the box office.

6. Thanksgiving Family Reunion
It wouldn't be a holiday without a National Lampoon's flick. Unfortunately, the iconic Griswold family doesn't make an appearance in this 2003 film, but Bryan Cranston, Judge Reinhold, and Penelope Ann Miller still manage to draw some laughs as they attend an always interesting family reunion. The TV movie came out nearly 14 years after National Lampoon's Christmas vacation, and has since given movie-lovers something to watch before they dive head first into the holiday season with the Griswold's and Eddie.

7. Pieces of April
Lastly, one of Katie Holmes' claims to fame: Pieces of April. The 2003 United Artists flick first debuted at the Sundance Film Festival but later won the interest of moviegoers everywhere, ringing in $3,272,028 at the box office. Though the film starring Holmes along with Derek Luke, Sean Hayes, and Oliver Platt may be untraditional, it still provides a good story as it focuses a family making their way home for Thanksgiving dinner. Still praised as one of the holiday's must-see movies, Americans can sit down this Thanksgiving and enjoy a young Holmes as she works to learn the importance of family and friends during the holidays.
Don't Miss: 5 New Netflix-Original Series Set for 2014 Premieres.