'Fresh Off the Boat': What Is Randall Park's Net Worth?
When Fresh Off the Boat aired back in February 2015 it shined a spotlight on one of the most current controversial chefs, Eddie Huang. While Huang may have been widely known due to his New York Taiwanese-based sandwich shop, BaoHaus, as well as his TV appearances on the Cooking Channel's Unique Eats and Viceland's Huang's World, his family was a bit more of a mystery. Sure, his memoir covered his family life pretty closely, but the show definitely reached more people, introducing the world to his siblings and his parents.
Who is Louis Huang?
Louis Huang is the father of Eddie, and his two brothers Emery and Evan. The hardworking dad relocated his family to Orlando, Florida from the bustling and inclusive Chinatown neighborhood of Washington D.C. Huang senior initiated the move to pursue his hospitality goals. Florida was the perfect state to open his "All-American" restaurants.
The first of his food-based endeavors was called Cattleman's Ranch, a steakhouse catering to the typical meat-based diet of the average American. The restaurant was a resounding success in it's earlier days and just recently closed in 2013. The elder Huang opened up some other "surf and turf" eateries, catering to the American people, and creating a great life for his family.
Who is Randall Park?
#FreshOffTheBoat is back! An all-new episode starts NOW! Retweet if you're watching! pic.twitter.com/ZL5lLY9w8C

— Fresh off the Boat (@FreshOffABC) January 5, 2019
Louis Huang is played by Randall Park in the successful sitcom. Park is an actor-writer-director with a ton of talent to offer. He did such a fantastic job as the patriarch of the Huang family that he's received two nominations for his work on the series. In 2016 he was nominated for Best Actor in a Comedy Series during the Critics Choice awards. He was also nominated two years later for the same award. Despite his success on the show, this isn't Park's first rodeo.
What other movies has Randall Park starred in?
https://twitter.com/AminLOWD/status/1084217834937434112?s=19
Park entered Hollywood in 2003 when he played the role of Octopusman in a single episode of the TV series, Fastlane. After a 15 year long run, he's accumulated an impressive 144 actor credits spanning across a wide variety of movies. Some of his more well-known roles include Dr. Stephen Shin in Marvel's Aquaman, Jimmy Woo in Ant-Man and the Wasp, Michael in Snatched, the fetishist Fred in Office Christmas Party, and President Kim in The Interview.
Where can you see Park on TV?
Randall Park was great in #AntManAndTheWasp! Remember that one time he played Jim in @theofficenbc? pic.twitter.com/FPDfwrrAMB

— CinemaBlend (@CinemaBlend) July 7, 2018
You won't just see Park in movies; he's also appeared on television. While he's currently best known for his role as the driven Louis Huang, he has been on TV in homes for a while now. From 2012 to 2017 he had a recurring role as Danny Chung on the wildly successful series, Veep. He's also had a handful of cameos on CSI, Curb Your Enthusiasm, ER, House, New Girl, Reno 911!, The Mindy Project, and The Office.
What plans does Park have for 2019?
Star Cinema's Always Be My Maybe: Gerald Anderson & Arci Muñoz

Netflix's Always Be My Maybe: Ali Wong, Randall Park, Daniel Dae Kim and KEANU REEVES ?https://t.co/j1HcXbRAMa

— Carlo (@carloslaron) January 12, 2019
You'll be able to catch the talented Park in at least two roles this year. He will appear alongside Alexander Skarsgård, Charlie Theron and Seth Rogan in the comedy Flarsky. The film is currently in post-production and is slated to be released on June 7th. Considering the excellent work he did with Rogan on The Interview, Park fans should be extremely excited.
He will also be starring in Always Be My Maybe, a romantic comedy about two friends who fall in love after growing up. The film isn't only starring Park; he has writing credits for it as well alongside the hilarious Ali Wong who also appears in the movie. The action star Keanu Reeves is also on the lineup.
What is Randall Park's net worth?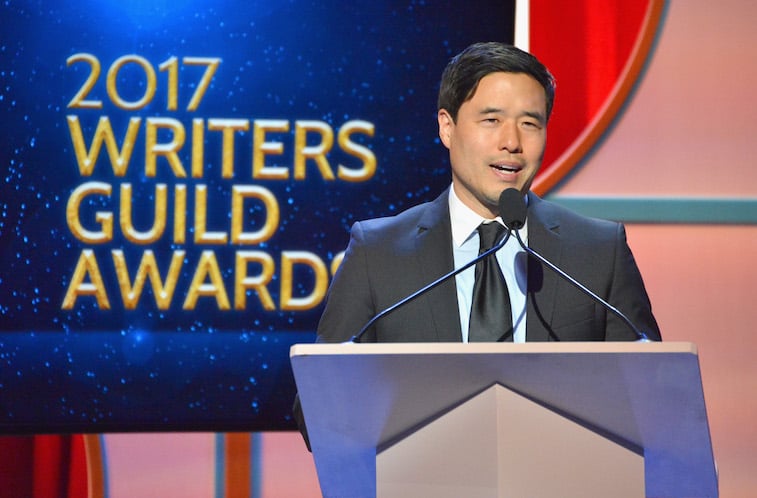 Park is a creative jack of all trades. While he's best known for his acting, Park's writing has been well-received. In 2010 NBC granted him a Best Actor Award during the Short Cuts Film Festival for his Blueberry. But that's not all. In 2011 his writing was honored with a CAPE New Writer's Award for the pilot he wrote for The Erasists.
He's an active individual not just on television but on the internet as well. He's had a hand in a variety of projects. Considering his undeniable talent across the board, what is Park's net worth? According to Celebrity Net Worth, Park is currently worth $1 million. While that may not be much compared to some of his fellow comedians, Park's career is only just taking off.