Every 'Friends' Christmas Episodes Ranked
Watching classic movies like The Santa Clause and Elf aren't the only way to ring in the holiday season — sitcoms are too. As it turns out, NBC's hit series, Friends has quite the holiday offering with nine Christmas episodes to choose from. That said, not every Friends Christmas episode is maxed out in holiday cheer. Up ahead, we share every Friends Christmas episodes ranked and countdown to the best Friends Christmas episode.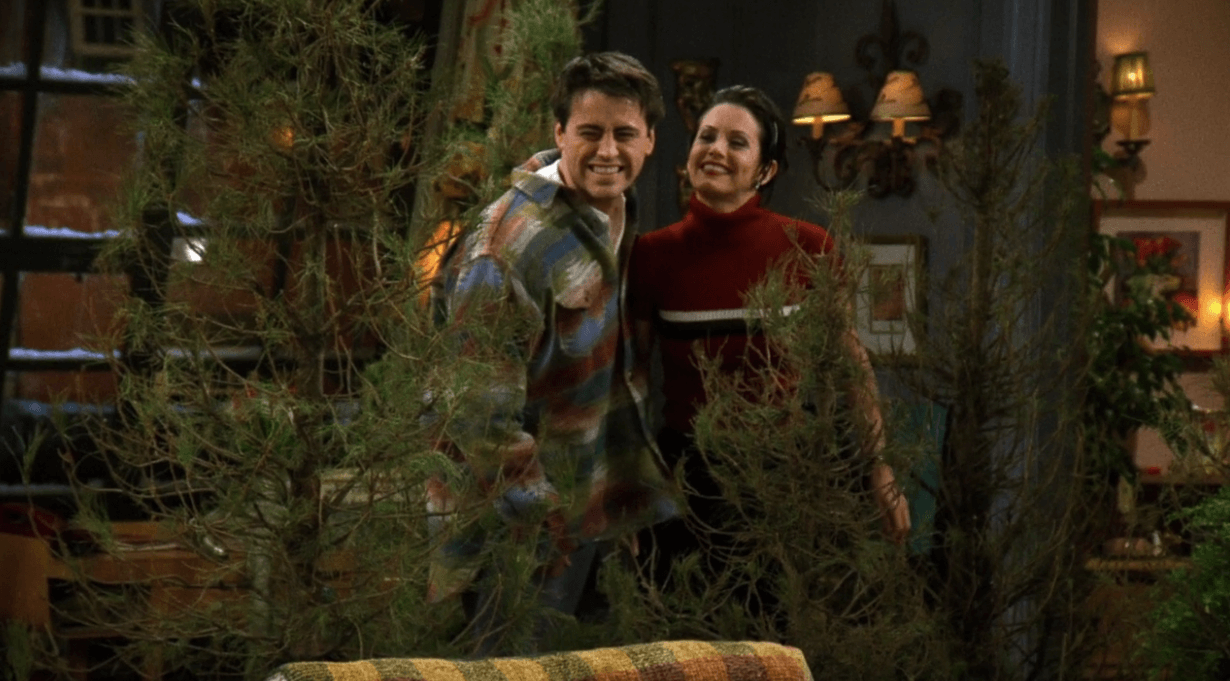 'Friends' Christmas episodes ranked
Friends loves a good holiday episode. Not only did the series celebrate nearly every Thanksgiving together, but they also did something to ring in the holiday season. And while not every Friends Christmas episode maxes out its holiday cheer, each one offers a relatable holiday theme. From giving back to saving Christmas trees, here is every Friends Christmas episode ranked.
9. 'The One With The Monkey'
Season: 1
Friends Christmas episodes started off a bit rocky. In season one, the holiday was touched on, but much of the Christmas episode was focused on New Year's Eve. As 1995 approached, Monica, Chandler, Ross, Rachel, Joey, and Phoebe all worried about who they would spend New Year's Eve with. In the end, they all realized they only needed each other.
While this is still a great Friends episode, it's not exactly a Christmas episode, which is why it comes in at number nine on our list.
8. 'The One With The Girl From Poughkeepsie'
Season: 4
The One With The Girl From Poughkeepsie also wasn't very festive. However, it is the episode where Phoebe gifted everyone her Christmas song, which definitely gives it some holiday cheer. Aside from that, the Friends Christmas episode mainly focuses on Ross and Rachel's new dating life after their big break up (or, "break").
7. 'The One With Christmas in Tulsa'
Season: 9
Some might say The One With Christmas in Tulsa is the least cheery Friends Christmas episode, but we beg to differ. Despite Chandler initially being away from Monica and his friends on Christmas (and his particularly Grinchy spirit) this episode shows the importance of being close to your loved ones around the holidays and teaches Chandler that his job is not worth the sacrifice. This episode is the start of Chandler's new career path and quest to find a job he is passionate about.
6. 'The One With Ross's Step Forward'
Season: 8
Season 8's Christmas episode is also not the most cheerful, but it does touch on a very relatable holiday tradition: Christmas cards. Despite only dating for a short amount of time, Ross's new girlfriend, Mona wants to send out holiday cards together. He doesn't feel ready and, of course, panics. But, in the midst of moving too quickly, Ross does something very "Ross" and gives Mona a key to his apartment instead.
5. 'The One With The Inappropriate Sister'
Season: 5
The holidays are an excellent time to give back to the community — which is why Phoebe decides to volunteer as a Salvation Army bell rings in The One With The Inappropriate Sister. She finds out the hard way that the city is not the most welcoming of places and it's a cruel world out there. Despite her cheerful efforts, things get a little hostile and she ultimately loses her location in front of Macy's.
4. 'The One With The Routine'
Season: 6
Another New Year's Eve episode for the books. Despite the main plot being about Monica and Ross's infamous routine for the Rockin' New Year's Eve recording, this Friends Christmas episode is a lot of fun (and touches on Christmas). Despite Chandler's attempts to keep them a secret, Rachel and Phoebe go hunting for presents in Monica's apartment. They eventually get Chandler involved and he finds a note that says "Chandler, I knew they'd break you."
3. 'The One With Phoebe's Dad'
Season: 2
The holiday season isn't all cheerful. In addition to spending time with the ones you love, it can bring up a lot of pain and even some family drama. Phoebe experiences this common occurrence in The One With Phoebe's Dad. After learning that her grandma wasn't honest about who her real dad is, she sets out to find him. Chandler and Joey tag along and pick up gas station Christmas gifts for all their friends along the way. It's a very real, very Christmasy plotline.
2. 'The One Where Rachel Quits'
Season: 3
It's probably not the best idea to quit your job around the holidays, but Rachel was willing to do whatever it takes to achieve her dream of working in fashion. During this episode, Joey also gets a new job (only temporarily) and works at a Christmas tree lot. After Phoebe finds out what happens to the unwanted trees (they go in the chipper) she is horrified. To make it up to her, Joey brings home all of the ugly Christmas trees for a cheerful holiday surprise.
1. 'The One With The Holiday Armadillo'
Season: 7
The best Friends Christmas episode is The One With The Holiday Armadillo. In an attempt to teach his son, Ben about Hannukah, Ross dresses up as the "Holiday Armadillo," aka, Santa's half-Jewish friend. Chandler kind of steels his thunder by showing up in a Santa costume, but in the end, they work together to get Ben excited about the holidays. Joey also joins in on the fun and comes dressed and ready in a Superman costume.
Check out The Cheat Sheet on Facebook!