'Friends:' This Line by Christina Applegate Almost Didn't Happen
NBC's mega hit show Friends welcomed many celebrity guest stars during its 10-season run, including Reese Witherspoon, Paul Rudd, Danny DeVito, Sean Penn, and Tom Selleck. Another fan favorite was Christina Applegate, who appeared in seasons 9 and 10. Applegate recently shared on the Today Show that one of her favorite lines she got to speak on the show almost didn't make it into the final cut.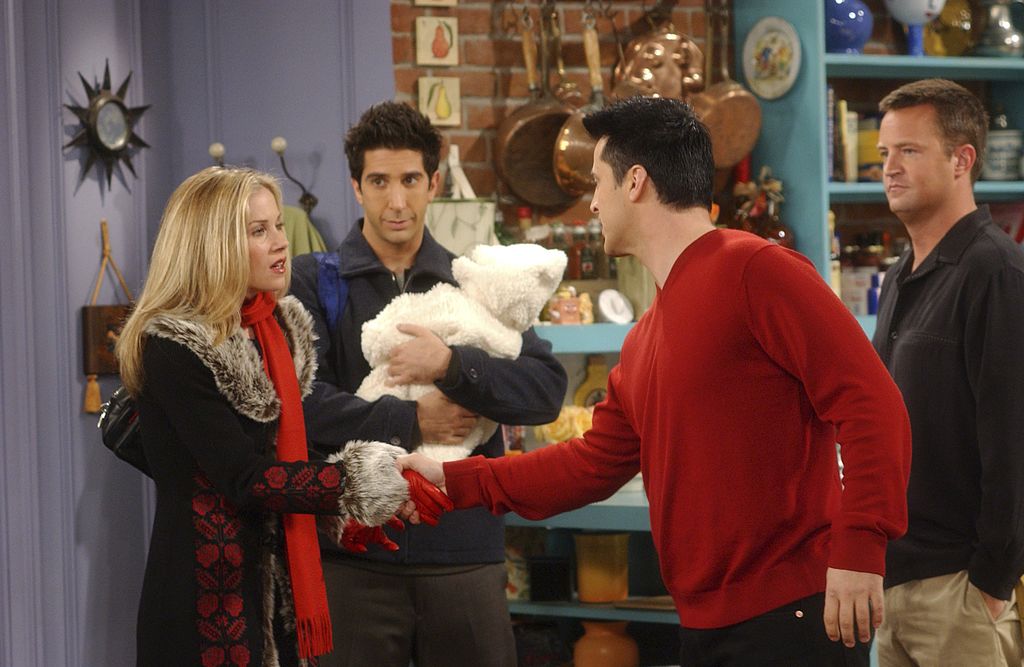 The self-absorbed sister
Applegate played the role of Amy Green, the sister of Rachel (played by Jennifer Aniston). When describing her character on Today, Applegate said, "There are people who are really self-unaware, and they have absolutely no filter."
The plotline of the episode showcased Amy's insensitivity, where she cannot get her niece Emma's name right, instead calling her other names like Emily or Emmett. Instead, she thinks Phoebe's name is Emma, adding to the confusion. When Phoebe says her own name repeatedly to correct her, Amy does not think she's saying her name but rather making an odd sound.
"My favorite line, though, is when I keep saying Lisa's (Kudrow) name wrong," Applegate said, according to Today. "And then she goes, 'Phoebe.' And I say, 'Why does she keep making that noise?' That was written as a rewrite in front of the audience, and I thought it was hilarious."
An Emmy win and nomination
Earning an Emmy award for the role of Amy in 2003, Applegate was nominated again the following year when she returned during the series' final season, according to Today.

"It was shocking that I was nominated for the episodes I did because it honestly didn't feel like work," Applegate  said. "And it didn't feel like I was doing anything special in any way. I was just having so much fun. I really was in shock when that happened. It was one of those moments of, like, 'why… what, me?' Like in 'Sixteen Candles' when she's like 'Me?' And he's like, 'Yeah, you.' That's how I felt when they said my name."
Friends before and after her role
Applegate spoke of her love of the cast to Today, and how she got to know Aniston during her time on Friends. "We hung out for a while after that, and I really, really do love her."
Applegate knew some of the cast members before appearing on the show. "I've known Matthew Perry since we were kids," Applegate said. "We did a movie called Dance Until Dawn together when we were little babies. But I've known him for 100 years. (David) Schwimmer's amazing and Lisa and Courteney (Cox), I've known from like, 20-something years prior. It was just a great group, a lot of love there." 

Applegate also mentioned that she knew Matt LeBlanc from his appearance on her previous show. "He had done a couple guest spots on Married… With Children many moons before that and then had a spinoff called Top of the Heap that he did from our show. So that was his first show." 
Speaking of Married… With Children, Applegate recently spoke to the Hollywood Reporter and was asked about a reboot of the iconic show. "There was a smattering a few years ago," Applegate said. "David Faustino was going to do like a spinoff show. That was actually going to happen, and I think Ed O'Neill and Katey Sagal and I had said we would definitely be in the pilot for him. It just never happened. That was a few years ago, and now I'm almost 50 and no one needs to see me in a mini dress. It's just not in the cards. That ship has sailed."
Applegate's current series Dead To Me on Netflix was recently renewed for a second season.