From 'Black-ish' to 'Grown-ish': Tracee Ellis Ross and Teen Vogue's Elaine Welteroth Tease Details!
Black-ish is back, and it looks like this will be another great season. Once again, the show is tackling issues that many people face and asking hard-hitting questions. Tracee Ellis Ross' character, Rainbow, is also going through the big change of having another child.
This led to an unexpected storyline of Rainbow having postpartum depression. The Cheat Sheet talked about the episode, as well as the Black-ish spinoff Grown-ish, with Ross and Teen Vogue's editor-in-chief, Elaine Welteroth, at PaleyFest on Oct. 9, 2017.. Here are seven things we learned.
1. Tracee Ellis Ross said she instinctively knew how to portray Bow's postpartum depression
Q: How did you prepare when you found out that Bow was going to have postpartum depression?
Tracee Ellis Ross: I didn't. I didn't do much preparation. Honestly, the character is very seamless for me, so I lean into what the writing is and just dig inside for the truth in the moment and that's what I use. When you've been playing a character for as long as I've been playing Bow now, the preparation — it's not like a movie where it's a new experience and a new persona. She is very much a part of me now, so I just leaned into the truth of that and they're wonderful actors that I'm working with, so you get to play as if it's real.
Q: Are there any other hurdles that she's gonna have with this new baby?
Ross: I'm not sure. They're all surprises to me.

2. She is still open to reviving Girlfriends
Q: You said that Bow is a part of you. Is she as a part of you as Joan?
Ross: Different part of me! I mean I've never been married. I don't have children yet, so it's a very different part of me.
Q: Would you ever return to Girlfriends? People are still wanting that.
Ross: Hopefully, that's something that will happen, but who knows?

3. Elaine Welteroth might appear on the Grown-ish spinoff
Q: You previously appeared on Black-ish, will you ever make a return?
Elaine Welteroth: Lips are sealed, but you should watch Grown-ish is all I'll say. Make sure you stay tuned to Grown-ish.

4. Grown-ish will focus on the struggle of transitioning into college
Q: What do you hope to see from Grown-ish? What are you hoping your young readers will take from Grown-ish?
Welteroth: I am looking forward to seeing Grown-ish tackle some of the conversations that are actually –that young people are actually confronting in their everyday lives. So whether it's transitioning into college and facing some of those hurdles that we've all been through. I hope that they are sort of embracing the complexity of what it means to find out who you are and to explore your identity.
And I'm excited to watch Yara [Shahidi]'s character evolve and to see so much more of what Yara Shahidi as an actress can do and what Zoe–and who Zoe, the character really is. So I'm excited to watch her evolve.

5. Welteroth thinks Yara Shahidi should run for president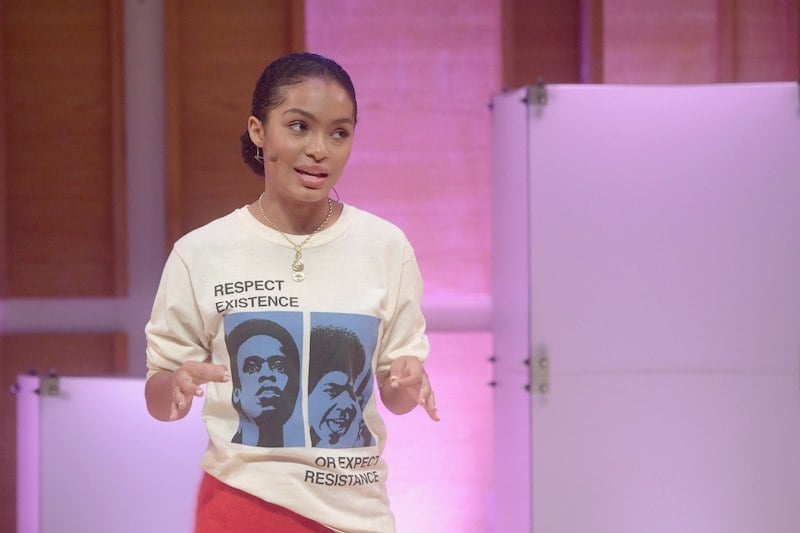 Q: You've been a big champion of Yara. You've had her in the magazine many times. What is it about her that you think young girls, especially young women of color, take from her?
Welteroth: Where do I even start? Yara is an extraordinary role model for women of all ages. She's one of the most intelligent people I've ever met. One of the most well-read, well-spoken, thoughtful people. And the fact that she's been able to cultivate that, you know, while being a child star is even more phenomenal.
So I'm one of her biggest fans and if it were up to me, I would start her presidential campaign like tomorrow. But lets let her get through college first, and then we'll be helping her get to the big White House, the big office.

6. The episode she most relates to is 'Bow-racial'
Q: I think a lot of people of color watch Black-ish and see their life reflected back at them and make it feel close to home. What's an episode of Black-ish that is like that for you?
Welteroth: It would be the "Bow-racial" episode because as a biracial woman, I've actually never seen the biracial experience reflected in network TV in my whole life. On network TV in my whole life. So to see that was heartening and comforting, and I thought it was so important because there is so many people in this country who live in that in between and who struggle with their identity.
 It's just something that was very, I would say, severely underexplored in media overall. So I thought that was one of my favorite episodes.

7. There could be a Teen Vogue-inspired TV show in the future
Q: You've made the move to be on the show and it kind of promoted Teen Vogue. And we've seen before former Cosmopolitan editor, Joanna Coles, has started a few shows based on Cosmo. Do you think a show will ever come up for Teen Vogue?
Welteroth: Could be! You gotta wait and see. You gotta wait and see.
Follow Nicole Weaver on Twitter @nikkibernice.
Check out The Cheat Sheet on Facebook!