From YouTube to E!: Grace Helbig Is TV's Newest Talk Show Host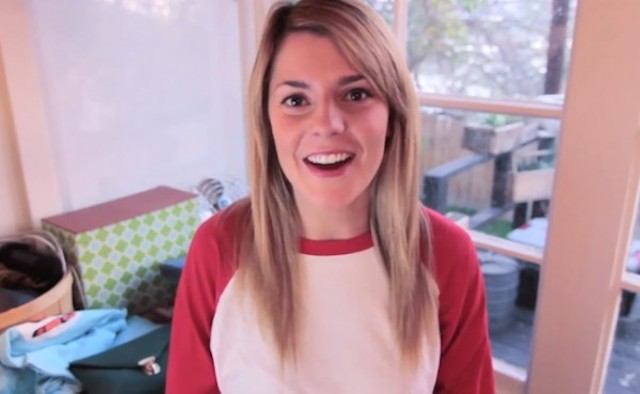 Comedian Grace Helbig is getting her own primetime talk show on E!. The network just confirmed that the series, tentatively entitled The Grace Helbig Project, is set to make its official debut sometime this spring.
Per E!, the forthcoming series will be a weekly "hybrid comedy show" featuring improvisational-style discussion on everything that's trending in pop culture, as well as exclusive interviews with various celebrity guests. According to the network, interviews will be conducted in non-traditional locations, such as the host's car or a grocery store. Other featured segments on the show will reportedly include funny challenges, like asking guests not to cry as they watch sad web videos and the weekly "Impossible Question."
The moves comes as the network sought to find a new fresh female-led series, following the end of Chelsea Handler's late-night show, Chelsea Lately, late last year. The 29-year-old, LA-based Helbig already comes with her own sizable fan base, thanks to her years as a well-known YouTube vlogger. The online and now soon-to-be TV star first got her start in 2008, narrating R-rated parodies of classic fairy tales in the animated web series Bedtime Stories on My Damn Channel. Soon after, she began to host her own video blog web series, DailyGrace, on My Damn Channel before launching her own channel of the same name. After choosing not to renew her multi-year contract with My Damn Channel in 2013, Helbig relaunched her personally owned channel It's Grace. As of this month, It's Grace has over 2 million subscribers and over 68 million video views.
In addition to leading her own YouTube channel, Helbig has appeared in a series of TV commercials for Lowe's. She also co-produced and starred in the film Camp Takota, which was released via digital download in February 2014. In October of last year, her comedic self-help handbook for millennials, Grace's Guide: The Art of Pretending to Be a Grown-up, was also released. The book debuted at No. 1 on the New York Times Best Seller Advice, How-To, and Miscellaneous list.
The forthcoming show will make Helbig one of the first YouTube stars to transition from online to a mainstream network. From the sounds of it, the series is clearly aiming to draw in the young, Internet-savvy crowd, with platforms like Twitter, Vine, and Instagram set to play a big role in the forthcoming series. As E! describes, the show will serve as "call to action" for social media users, promising extensive engagement and a "rich multiplatform" interactive experience with fans.
"Congratulations to E! for giving an internet-obsessed introvert a talk show. I'm looking forward to working with humans," Helbig said in a statement regarding her new show. Jeff Olde, E's! vice president of Original Programming and Development, also added, "This show is a fresh take on the conventional talk show with a very unconventional host who has already captured an enormous fan base of young viewers on the web."
Other YouTube stars, like Michelle Phan and Bethany Mota, have recently found success outside of their online channels, launching their own beauty and fashion lines. Depending on how Helbig's show pans out, it could potentially help further establish YouTube as an increasingly effective launching pad for crossover media stars.
The Grace Helbig Project will make its debut on E! in April.
More from Entertainment Cheat Sheet:
Want more great content like this? Sign up here to receive the best of Cheat Sheet delivered daily. No spam; just tailored content straight to your inbox.