'Frozen' Sisters Kristen Bell and Idina Menzel Get A Double Walk of Fame Star Ceremony
The on-screen, animated sisters Anna and Elsa have a relationship based on true, sibling love. Second to that is the love shared by the voice actresses behind the princesses, Frozen 2 stars Kristen Bell and Idina Menzel, who have become just like sisters in real life.
Together, the pair have been chosen to receive their individual stars on Hollywood's walk of fame on November 19.
The stars reflect each actress' individual contributions to their art, but will be placed near each other as a nod to the relationship the two actresses share.
There will be a double star ceremony for Menzel and Bell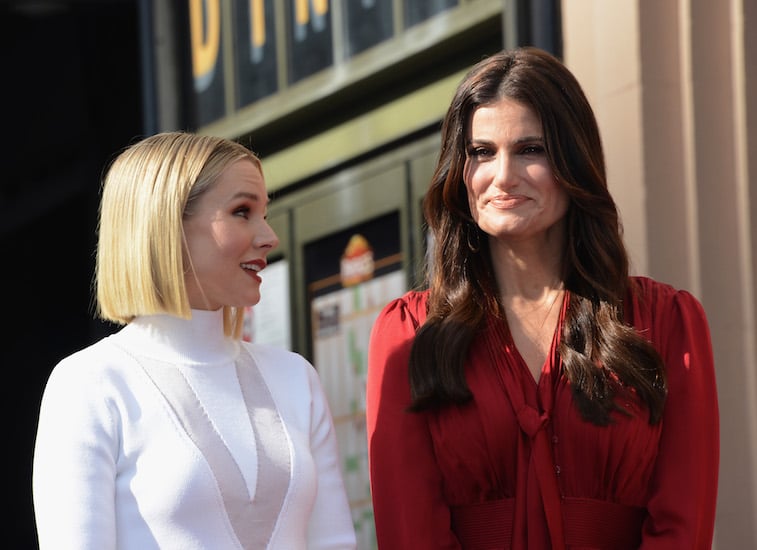 "Frozen 2" stars Idina Menzel and Kristen Bell are about to celebrate the release of the sequel to their hit animated film Frozen 2. But the actresses are also being honored on Hollywood's walk of fame with their own stars.
The coolest part (pun intended) is that the stars will be close together and awarded at the same time.
"The Hollywood Walk of Fame makes an extra special effort to pair artists who work together, or are related, with their stars next to each other," said Ana Martinez, Producer of the Hollywood Walk of Fame. "We are thrilled to place Kristen and Idina, who are the stars of the upcoming Disney film 'Frozen 2,' together in front of Hollywood's most historic theaters."
The 'Frozen' sisters are thrilled with the honor
Both ladies have tweeted their joy into the social-media universe. Astounded with the honor Menzel tweeted that she was "overwhelmed with gratitude" and that the whole experience seemed to be surreal. Kristen Bell has recounted her many blessings this year as well.
Earlier this year she told E! News, "You know what? I'm just really forkin' grateful. I really am. I mean, there's no other way to say it," she gushed. "I don't know why people let me do the things I do, I'm just so happy to be here."
Kristen Bell's star-worthy career
With films like Couples Retreat, When in Rome, and Bad Moms securely under her belt, Bell has hit the fast lane with her career. Her stunningly successful, cult-classic series Veronica Mars has made her a household name with two generations of young people and her current project the NBC series The Good Place, (starring Ted Danson) is now in its fourth and final successful season.
That's to say nothing of the overwhelming success of the Frozen franchise which has been building a fan base of all ages.
Idina Menzel is deserving of her Hollywood star, too
Menzel became a household name when she won a Tony for best actress in a musical back in 2004 for her powerhouse depiction of Elphaba, the Wicked Witch of the West, in Wicked.
But her claim to fame doesn't really begin or end there, her performance as Maureen Johnson in Rent, also collected her a Tony nomination in 1996 and she has one in 2014 for her role in If/Then.
Most of America admits knowing Menzel because she sang "Let it Go" in Frozen, winning both an Oscar and a Grammy. This is, after all, the catalyst which started Menzel and Bell on the road to friendship and their mutual Hollywood Stars.
Both actresses reprised their roles as Elsa and Anna in this year's release of Frozen 2, which hit theaters November 22.
The ladies received their stars on the Hollywood Walk of Fame Tuesday, November 19th during a ceremony hosted by the chamber of commerce.