Why Fans Think 'The Hills: New Beginnings' Doesn't Live up to the Original
Audiences aren't all that impressed with MTV's reboot of The Hills, according to comments on Twitter. Continue reading to learn why fans aren't happy with The Hills: New Beginnings. 
Fans miss Lauren Conrad 
Since The Hills: New Beginnings premiere episode in June, fans have said the show's clearly lacking without Lauren Conrad, the star of The Hills and Laguna Beach, who decided not to return for the reboot. Learn why Kristin Cavallari didn't join the cast, here.
While a handful of episodes have aired, fans still haven't forgotten Conrad. 
"Hmm [sic] yea I'm not really [sic] feelin The Hills New Beginnings, rather watch reruns of the [sic] ogs #TheHillsNewBeginnings #nah oh and not the same without Lauren :/," one person said while another wrote, "I just really miss LC ok #TheHillsNewBeginnings." 
Audiences just aren't that into the show
"[sic] Snooze fest. Shallow. Most disappointing "come back." Even the Jersey Shore reunion was better. #TheHillsNewBeginnings," one comment said. 
"The Hills: By New Beginnings we mean one long commercial for Pratt Daddy Crystals #TheHillsNewBeginnings," another person tweeted, referring to Spencer Pratt's own brand of crystals. 
One person called out the dynamics between cast members on the show: "#TheHillsNewBeginnings I hate watching these forced friendships," a tweet read.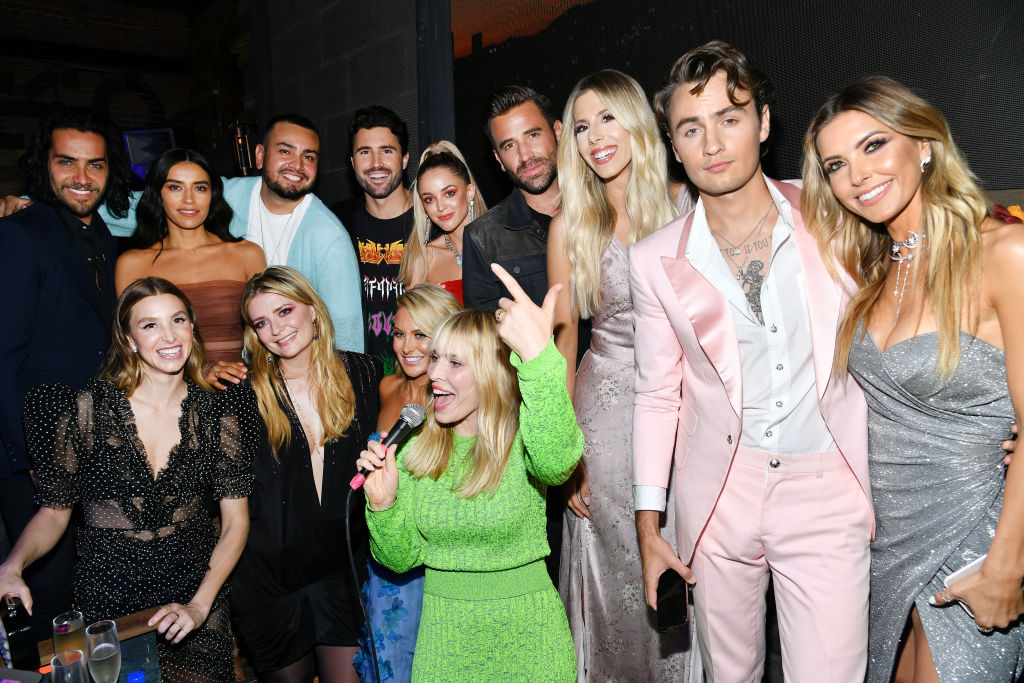 Another viewer of The Hills: New Beginnings, called out the technical aspects of the show, tweeting, "I'm giving up on #TheHillsNewBeginnings. This scene had a recorded conversation over random tennis scenes. It was the strangest thing I heard on tv in a while. I had high hopes for the show. All this drama is so high school."
Audiences aren't fans of Mischa Barton
Mischa Barton, known for playing Marissa Cooper on The O.C., joined the cast of The Hills: New Beginnings, which left fans of the original show — and some of Barton's fellow cast members — a little confused. 
In an interview with The New York Times, an executive at MTV explained why the network wanted the 33-year-old actress on the reboot. 
Barton "was experiencing that sort of life of Hollywood and entering that world at the same age as The Hills cast and going through a lot of the same experiences," Nina L. Diaz, president of entertainment at MTV, VH1, CMT, and Logo told the publication.
When the reboot premiered, fan reactions to Barton's addition to the cast weren't overwhelmingly positive. 
"I'm really not feeling Mischa Barton! I'm trying but I just can't #TheHillsNewBeginnings #TheHills," one fan wrote. 
Another pointed out Barton's interactions with her fellow cast members. 
"I love Mischa, but she isn't meshing well into the show at all #TheHillsNewBeginnings," they wrote. 
Barton's been candid about having no experience in reality TV. She also said it took her a while to open herself up on camera. So, it's likely as the season progresses fans will see the actress get more comfortable.  
What fans like about 'The Hills: New Beginnings'
While there are negative feelings about the reboot, there are also positive ones. 
"I'm missing my [sic] bed time for this show every Monday…I need the drama the promos give me!" one person tweeted. 
Another Twitter user, Jacques, suggested Heidi Montag and Spencer Pratt have a show of their own. 
"I like #TheHillsNewBeginnings but Heidi and Spencer could've carried their own show about their family life and crystal business and just had some of #TheHills crew pop in for cameos," Jacques wrote.

Others also had positive things to say about Montag and Pratt. 
"@spencerpratt is television gold #TheHillsNewBeginnings" one person tweeted while another said, "Heidi and Spencer have really grown on me watching @mtv_thehills glad to see they've grown up and are better people #TheHillsNewBeginnings #TheHills." 
Season 2 of 'The Hills: New Beginnings'
According to The Hollywood Reporter, MTV has renewed The Hills: New Beginnings for Season 2. Clearly, whether or not fans think the show lives up to its predecessor, they're still watching the series.