Funniest Characters Played by Martin Lawrence on His Hit TV Show 'Martin'
'Martin' ran on FOX for five successful seasons. The shows main characters had audiences in continuous laughter but so did the side characters played by Martin Lawrence himself.
Martin is undoubtedly one of the funniest sitcoms in history. Long before the Bad Boys film franchise, the comedian starred on his own hit show on FOX for 5 successful seasons. Lawrence was not only the star, but he also served as a writer and executive producer on the series. Martin chronicled the life of radio DJ turned talk show host, Martin Payne, as he navigated love and life with his love, Gina Waters, and their close circle of friends in Detroit. While the main characters were loved, it was the varying side characters that Martin created and played himself that would become audience favorites. The characters would eventually become more prominent in the show during the final two seasons when Martin and his co-star, Tisha Campbell-Martin, began having issues. Campbell-Martin eventually refused to film scenes with her on-screen husband during season 5 altogether and the other cast, and sub-characters the comedian created, carried the show. Here's a look at all of the monikers Lawrence created and played himself during the series run.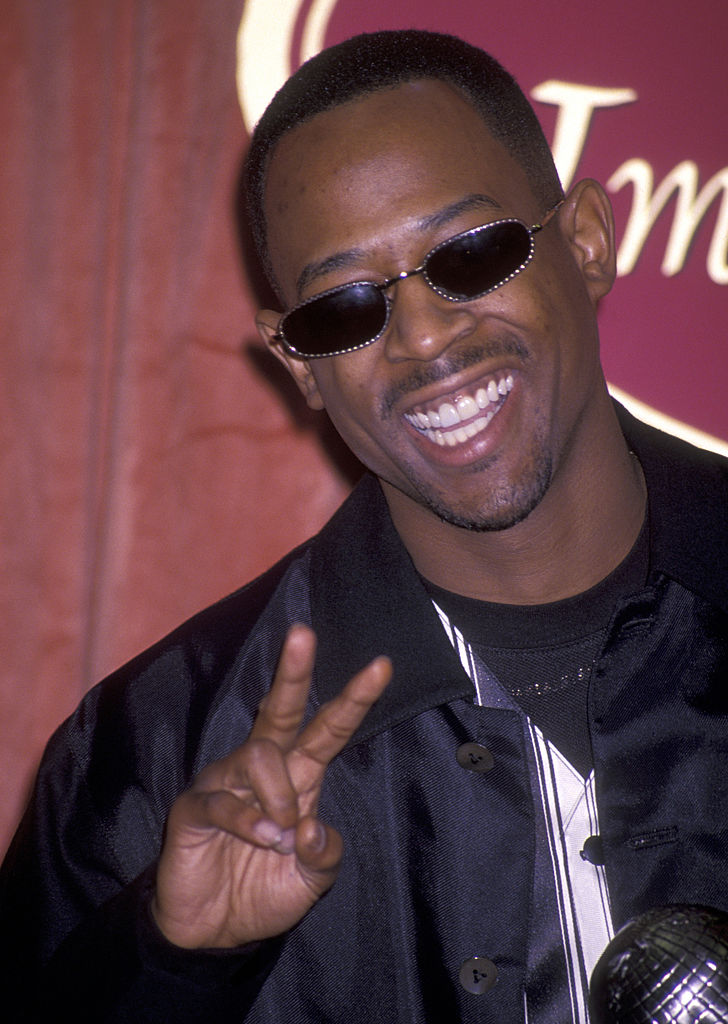 Roscoe
Snotty nosed and a fresh mouth is the best way to describe Gina's kid neighbor. Roscoe found any and every excuse to knock on Gina's door and f profess his love for her and Pam (Tichina Arnold), while simultaneously throwing insults their way. Whether it was a disguise that he was selling candy or just being outright with his advances, he made his infatuation with his older neighbor known. Often times, it resulted in Gina slamming the door in his face but that never stopped him from coming back. 
Otis
Otis had one job – a security guard – and he took it seriously. So much so that his methods to protect and serve often left him using physical force to do so. The elderly security guard demanded respect at all costs and he didn't give any passes, not even to Gina and Pam when they experienced car trouble. His beer belly stomach and buck teeth were his staple features. Otis wasn't afraid to use his security rod stick on an object, even if it were a human being or vehicle, to prove his point.
Mama Payne
Mama Payne was introduced very early into the series, in season 1 to be exact. Mama Payne prided herself on being a good Christian woman but those values never applied to Gina. She was most known for her hate of her future daughter-in-law. Extremely overprotective, and oftentimes overbearing, of her son, Mama Payne did not think Gina was good enough and constantly criticized her for being a more modern woman who chose career over domestics. The two clashed throughout the show's run and they never formed a close bond. Their interactions with one another almost always turned dramatic, with the most famous episode featuring the two revolving around Gina accidentally killing Mama Payne's bird while babysitting for a night.
Jerome
Jerome considered himself Detroit's finest old-school player, a pimp of sorts. With a gold tooth, a perm in his hair, gaudy clothes, sometimes a cane and a fur coat in tow, Jerome made his presence known and it was hard to ignore. As if his fashions weren't flashy enough, he had a smooth stroll to match. He had a thing for the ladies, specifically Pam and at one point, the two dated, much Gina's dismay and Pam's eventually embarrassment. Though he was a ladies man, he always prides himself on being the perfect gentleman and always treated women with respect. 
Sheneneh Jenkins
The Payne's next-door neighbor, Jenkins was a beauty salon owner who ran a successful business and her mouth. She became famous for her unpleasant run-ins with Gina and Pam that normally ended in an all-out war with both. Though polar opposites in personality, Jenkins stepped in and saved the day from time to time with her frenemies, including giving Gina a job for a day when she ran into a glitch and lost Martin's Piston's tickets and Jenkins allowed her to work for them. One of the most popular episodes of the series centered around Jenkins going on a dating show to meet rapper, Kid Kupri. Jenkins indeed became the most popular side character, giving classic lines longtime fans incorporate into their language daily. You can also count on a few Sheneneh look-alikes each Halloween season. 
Dragonfly Jones
This karate kid turned man sported a bald head, missing teeth and made it his duty to show off all of his karate moves in each episode. He was able to get the gang together for one self-defense class which was an epic fail. Either way, the character was so funny that like Sheneneh, expect a few Halloween costumes every year. 
Thanks to Martin's creativity for a well-versed show.