Gabrielle Union on Her 'Easiest and Cheapest Anti-Aging Secret'
Gabrielle Union is one of those celebrities who doesn't seem to age. Like, at all. Heck, she seems to age in reverse getting younger with each passing year. The actress looks the same now as she did in 1999's 10 Things I Hate About You and 2000's Bring It On. That's why when Union shares her tips on anti-aging, we sit up and take notice. 
Union is a busy person. She's got her acting career, a clothing line with New York and Company, her family — she's married to NBA player Dwyane Wade and the two have a daughter, Kaavia James Union Wade, together as well as Wade's three children from a previous marriage — and up until Dec. 2019, Union had a spot as a judge on the long-running competition series, America's Got Talent.
She made headlines for being unceremoniously let go from her duties as a judge but through it all, she maintains a healthy lifestyle and leaves room to indulge from time to time.
Gabrielle Union drinks 'a gallon of water a day'
Union, who turned 47 — yes, 4-7 — on Oct. 29, 2019, shared her "easiest and cheapest anti-aging secret" with Fitness magazine during a 2015 interview.
When asked about her "top anti-aging tip" Union revealed she drinks a gallon of water daily.

"I started drinking a gallon of water a day in my mid-thirties and some people have called me a vampire or that I'm using embalming fluid or other crazy things," she told the publication. 
Despite the teasing, drinking what some might deem an excessive amount of water is worth it. "But honestly, my hair, skin, and nails all changed once I started drinking a gallon of water a day."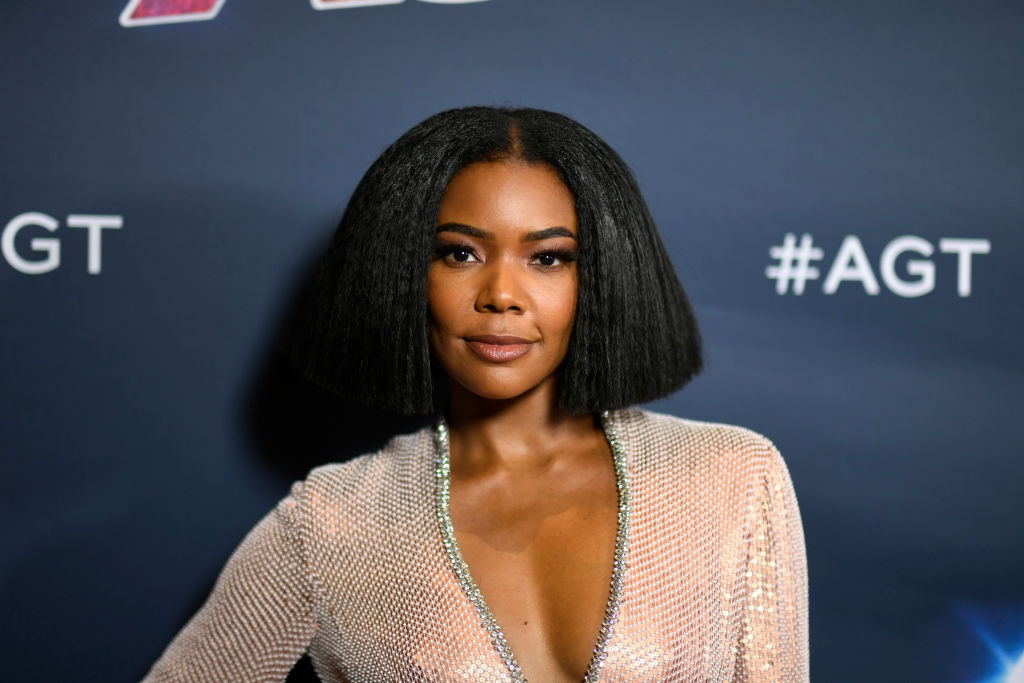 And, best of all, it's affordable. 
"It's something that we all have available to us, but we don't take advantage of it," Union said. "And it doesn't need to be the fancy, super-expensive water. Most of the time, especially in New York or Los Angeles, I drink tap water."
When she's sick of drinking plain water, the actress adds lemon. 
"I'll add a little lemon to feel fancy, but it's just important to get the water in. If you can replace sugary drinks, or coffee, with water, you're still ahead of the game," she said. 
Drinking water is 'the best thing you can do for you skin, hair, nails — everything'
In a Sept. 2017 interview with Racked, Union mentioned drinking lots of water again. 
She named drinking a gallon of water "the biggest change" to her lifestyle, which happened in her early 30s. 
"Lifestyle-wise, the biggest change, honestly, came in my early 30s when I started drinking a gallon of water a day. I know, it's a lot," she said. "And when I'm really dieting hardcore or getting ready for a project, I sometimes go up to two gallons.
She continued, saying doing so requires lots of bathroom breaks. 
"Your coworkers will definitely think you have a drug problem because you'll be in the bathroom a lot, but it's the best thing you can do for your skin, hair, nails — everything. It's the easiest and cheapest anti-aging secret I can pass along."
More recently, on Halloween 2019, Union revealed her "secret" to staying young. She shared a picture of herself wearing her Clovers cheerleading uniform from Bring It On with her Instagram followers "My secret you ask… water, tequila, boundaries and a healthy dose of accountability," she captioned the post.

Whatever she's doing, it's working. Excuse us while we get a refill on water.