'Game of Thrones': Are Thor and Odin the Most Famous Dogs In the World?
If you Google Thor and Odin, you're likely to get pictures of Chris Hemsworth and Anthony Hopkins. However, Thor and Odin mean something entirely different to Game of Thrones fans. Their Thor and Odin have four legs and a tail each.
These are the "direwolves" that helped millions of people fall in love with the show back in season 1, when the Stark children each adopted the animals in the pilot. Odin played Bran Stark's Summer and Thor played Robb Stark's Grey Wind. The direwolves are computer-generated these days, but especially with the show coming to an end, the real dogs are enjoying more than 15 minutes of fame.
You may not want to rush out and get a direwolf, though, because that's more work than most people are prepared for.
How Thor and Odin got the 'Game of Thrones' gig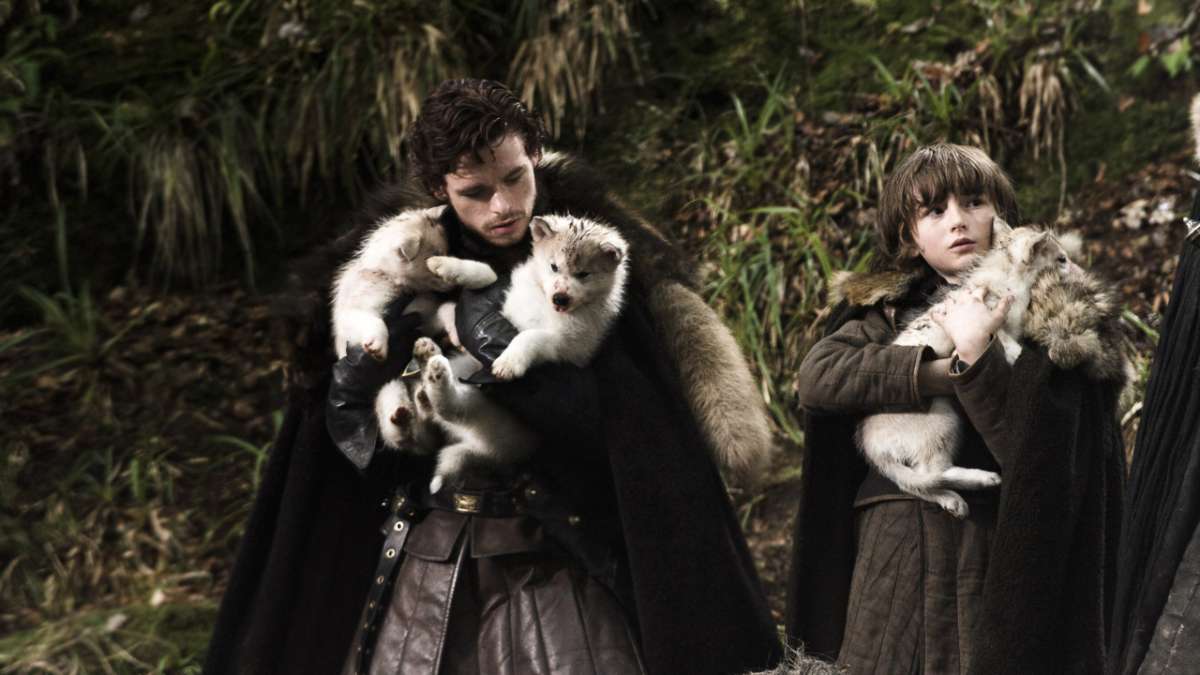 The dogs appeared on the Today show recently with their Irish owner Will Mulhall, who got the dogs in 2011 when he was 18. He wanted big dogs and liked their wolf-like appearance.
So did HBO and the producers of Game of Thrones. The show certainly couldn't use real wolves around small children, so they had to look for a close equivalent and found it in Mulhall's dogs.
"Three weeks later, I got a phone call from the breeder to say that some TV show wanted to use my dogs." Mulhall told The Irish Sun. "I was like, 'What's it about?' (The breeder) said, 'I don't know — swords and shields and stuff'."
Swords and shields and stuff soon came to dominate Mulhall's existence. Now the dogs, who are 7, are famous in their own right, as they and other Game of Thrones attractions attract 120,000 visitors to Northern Ireland every year, according to NBC news. They even have their own Instagram and are insured for $1 million each.
Although the dogs are no longer used on the show, Will and his family continued as extras, but even they aren't allowed to say anything about the show.
"I can't speak about our experience on set very much but it's important to remember that every footstep you take on set there are hundreds of thousands of other people out there that would love to be in that position so it makes you appreciate the opportunity we have even more," he said in an interview with Embark which runs Dog DNA tests.
What kind of dogs are Thor and Odin?
Yes, Odin and Thor are famous enough that they got to take a DNA test. The Embark test showed that they are Northern Inuit dogs. Their ancestors are the Siberian Husky, Samoyed, Alaskan Malamute, and German Shepherd Dog.
The direwolf on Game of Thrones is a fictional creation, but it's based on a real animal that once walked the earth tens of thousands of years ago. Remains of them have been found in the La Brea Tar Pits in Los Angeles.
How to meet Thor and Odin from 'Game of Thrones'
If you have $65 to spare — not including overseas airfare — you can meet the dogs on a tour that is part of an overall Game of Thrones experience, and many people have loved doing so, according to NBC
"Seeing the dire wolves, you get to pet them, just seeing them is so amazing," said Ace Del Cruz, a Philippines native and fan of the show. "I can't even pronounce what I want to say."
With Game of Thrones wrapping up, some Irish locals will probably be relieved to see tourism die down, but Richard Williams, chief executive of Northern Ireland Screen, said to the Los Angeles Times, "I would never want to diminish the story of Game of Thrones by pretending it can just be replicated."
He won't really have to worry. As many as three Game of Thrones spinoffs are in the works.