'Game of Thrones': Does the Script Reveal What Daenerys Whispers to Ser Jorah?
Daenerys and Ser Jorah had a heartbreaking moment in Season 8. The moment also has an air of mystery to it because Game of Thrones audience doesn't know what the queen whispered to her most loyal friend.
Does the script reveal more? Here is what actor Iain Glen said and more.
Ser Jorah dies in the Battle of Winterfell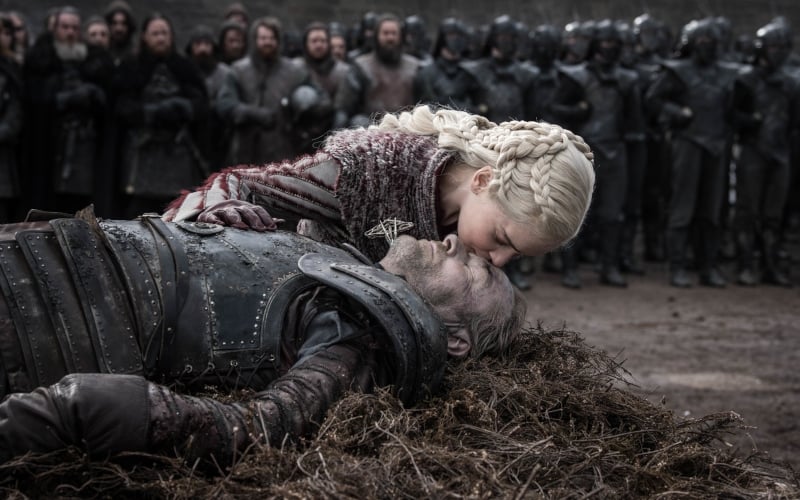 The fighter dies in the episode, "The Long Night." The sad moment comes after Daenerys falls off her dragon in battle. Ser Jorah comes to her rescue on foot, but he gets wounded and doesn't survive.
The scene is pretty emotional since Daenerys is by his side and immediately starts mourning. Glen talked a little about their relationship with Entertainment Weekly.
"I don't know what people perceive. But in my mind, there was a significant shift when he lost her love and made this journey to try and win it back," the actor said. "Once he won her favor again and was in her orbit. Of course, there has always been a profound love there but him wanting a reciprocal physical love has gone and he was just happy to be with her."
Jorah probably was happy with where he ended up according to Glen. "And being promoted to being the head of her army is where he wanted to be," he explained. "So Jorah got complete forgiveness and then went out the way he wanted to. I die saving her life and I've said that for a good few seasons the nobility of the man is very much within him and he would absolutely sacrifice his life for her to succeed. In a way he was given the conclusion he wanted."
The script says Daenerys whispers something unknown to Ser Jorah
Sadly, the script doesn't give much more insight into the characters' last moments together. The script just gives direction instead of dialogue.
According to Entertainment Weekly, the directions read "Daenerys whispers something to him that he'll never hear and we'll never know…" Clarke did whisper something to Glen but he also wasn't willing to give everything up.
"It's something entirely sincere and true to the moment and something that I'll never forget," he said. When asked if he'll be fine knowing fans will probably ask him about that moment for years to come he had an interesting reaction.
"Yeah, but you know what? I'll always cherish it because it's something no one will ever know but the two of us. And that's a memory to hold onto."
Fans are coming up with their own theories
Once again Game of Thrones fans are coming up with their own theories about the moment. Some think Daenerys gave Jorah his final orders.
One person wrote on Reddit that Daenerys might have said, "I order you to find a cure for death and then return to me." This would be in reference to when she told him to find a cure for greyscale and come back to her.
Another fan tweeted, "Daenerys Whisper something in jorah ear. I think she said I am pregnant." That follows the theory that she is pregnant with Jon Snow (Kit Harington)'s baby.
A few fans also tweeted that they think the queen declared her love for him…with a twist. "I'll always love you like a brother," one fan tweeted.
The theories may keep going for a long time since it seems like the cast is going to keep quiet about the moment. Either way, it's a memorable goodbye even if we don't know everything that was said.
Read more: Why 'Game of Thrones' Fans Are Talking About Race After This Season 8 Death
Check out The Cheat Sheet on Facebook!