'Game of Thrones': Everything We Know About Season 7

Details about Game of Thrones Season 7 are surfacing, giving us a solid picture of what the final seasons of the HBO series will look like. Season 6 closed out with a collection of story threads in precarious places. Daenerys is sailing to Westeros, Jon is the new King in the North, Cersei now sits on the Iron Throne, and the White Walkers are poised for an invasion of their own.
What's going to happen once Season 7 kicks off? We have a pretty good idea, at least on a tertiary level, so let's jump in and break it all down, shall we?
1. Winter delayed Season 7's premiere date to July
Typically, Game of Thrones premieres in April of each year. 2017 will buck this trend, thanks to one simple fact: Winter is here. As said by showrunners David Benioff and D.B. Weiss, "We're starting a bit later because at the end of this season, 'Winter is here,' and that means that sunny weather doesn't really serve our purposes any more."
HBO has officially confirmed that the season will kick off on July 16.

2. We'll be getting a much shorter season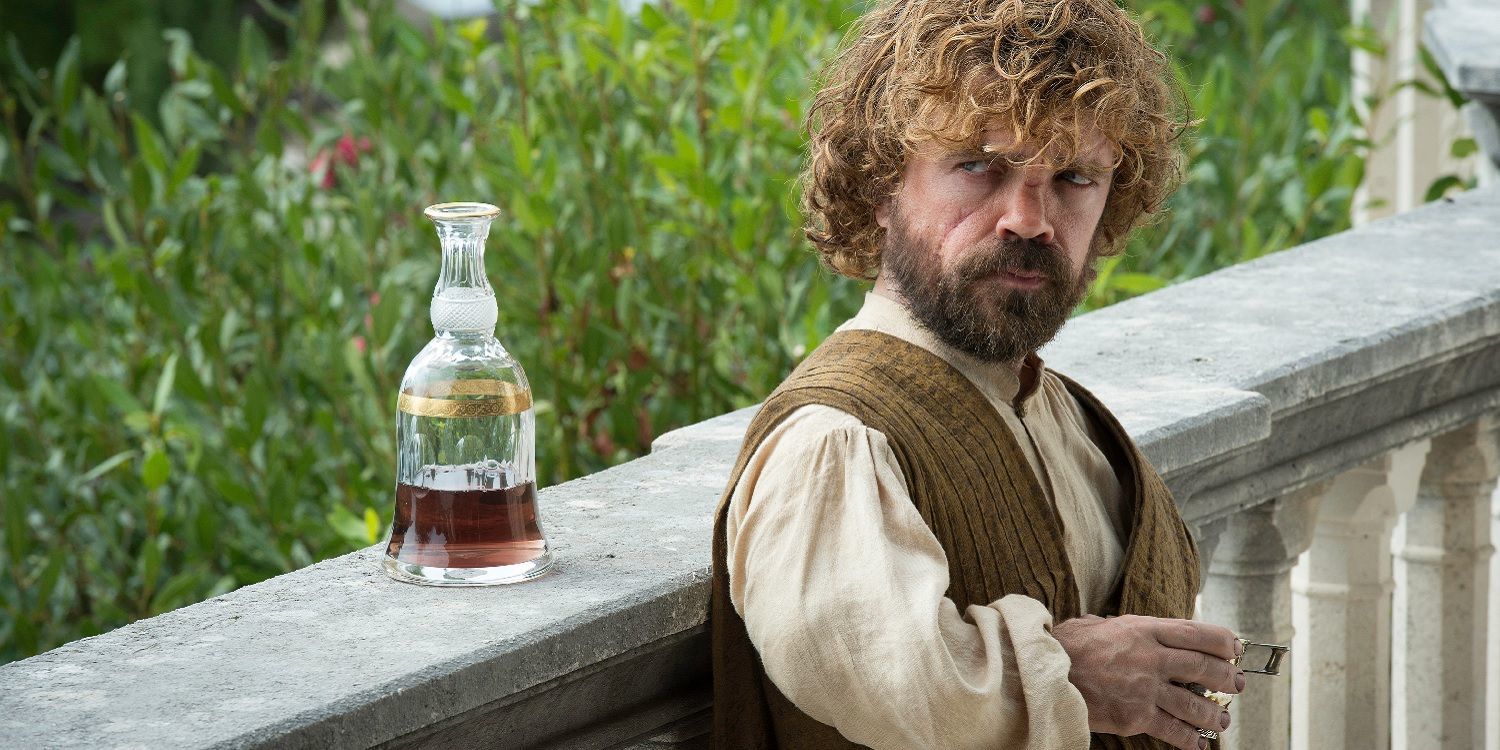 Breaking from tradition seems to be a developing trend for Game of Thrones. Season 6 was the first time the show has ever outstripped the source novels and Season 7 will debut later in the year than any past season.
The icing on the cake: The new season will only run seven episodes long. The plan from HBO is to drag the series out as long as possible, but Benioff and Weiss have no intention of extending Game of Thrones past its expiration date. This makes two more 10-episode seasons a little excessive.
The middle ground they seem to have arrived at is for 13 more episodes divided over two seasons.
3. What happens when it's all over?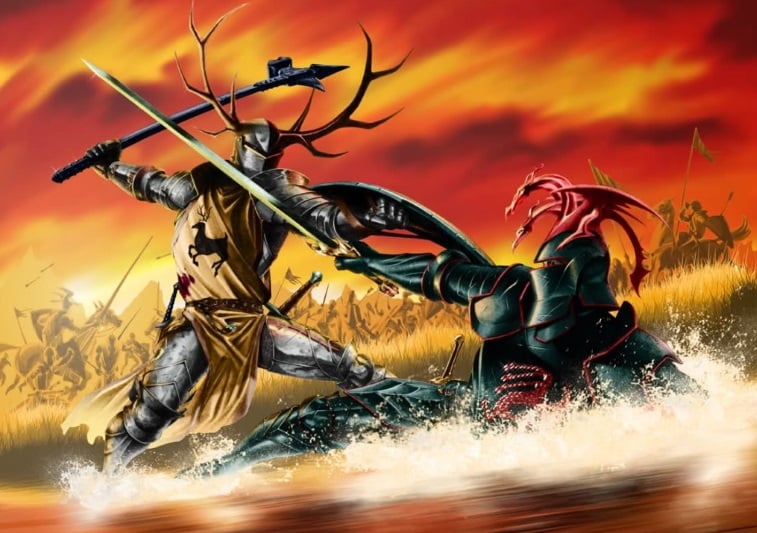 Hollywood is nothing if not insistent on keeping popular franchises alive indefinitely. So what's the plan for HBO when their cash cow wraps up? The showrunners have indicated that they're done with Game of Thrones after Season 8.
That does leave one option open though: a prequel series. George R.R. Martin's A Song of Ice and Fire universe is expansive, and the time period we've seen is just the tip of the iceberg in terms of the story. This makes a prequel series a huge possibility for HBO, whose own programming has struggled outside of Game of Thrones lately.
4. Who's coming back in Season 7?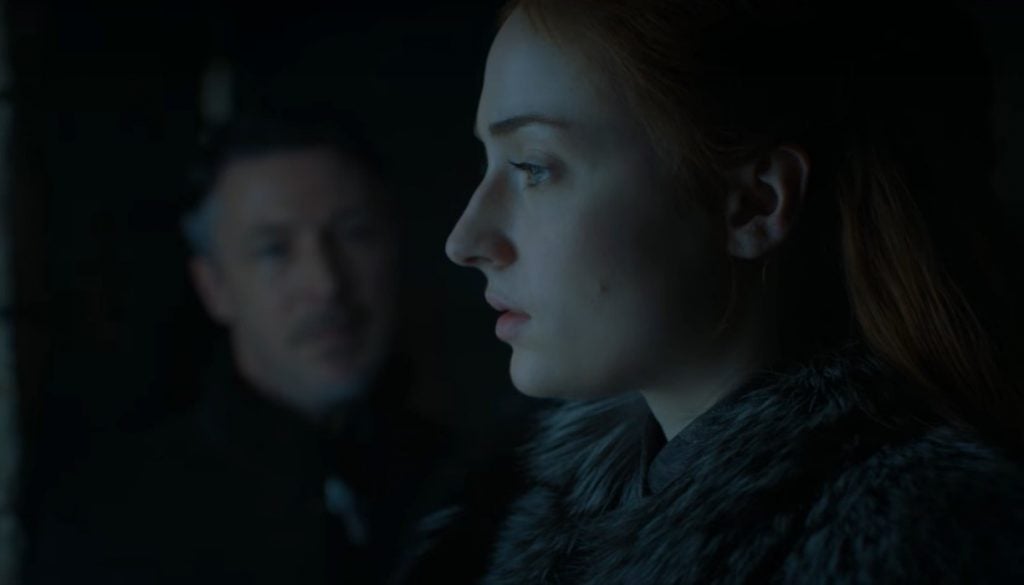 When it comes to figuring out the cast for each season, we're helped by news of each actor's contract with the network. As of now, Emilia Clarke (Daenerys), Kit Harington (Jon Snow), Nikolaj Coster-Waldau (Jaime Lannister), Peter Dinklage (Tyrion Lannister), and Lena Headey (Cersei) are signed on for Season 7. In addition, Joe Dempsie (Gendry) and Iain Glen (Jorah Mormont) were spotted in Belfast, Northern Ireland where Season 7 is filming.
This should probably come as little surprise, since we saw each of these main characters alive in the Season 6 finale, but it's worth noting nonetheless. Each actor also has a contract option for Season 8, leaving the door open for an untimely character death.
5. Lady Stoneheart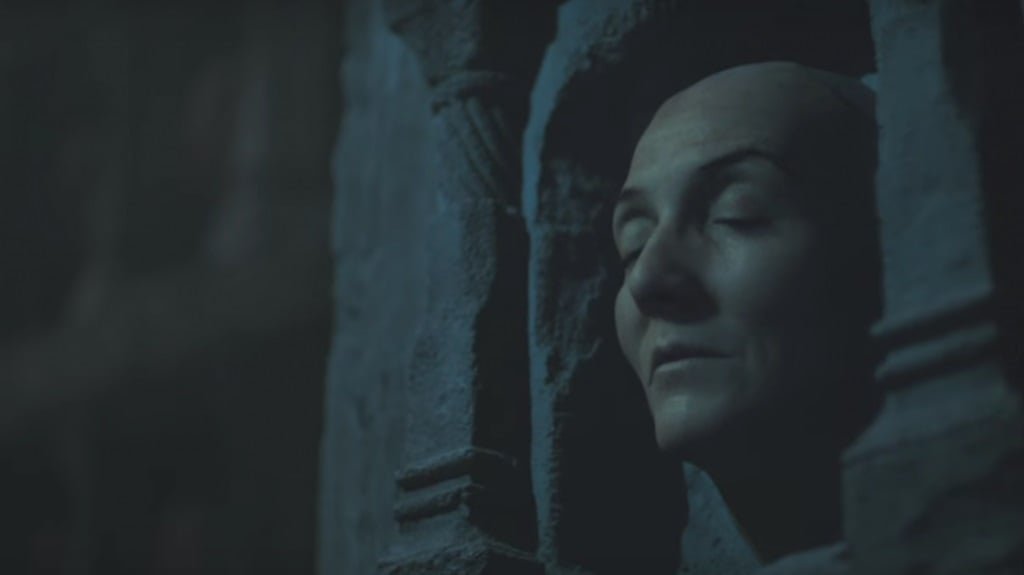 There are plenty of differences between George R.R. Martin's novels and HBO's Game of Thrones. Still, the change that's really had book readers in a frenzy has involved the character of Lady Stoneheart. In the books, Catelyn Stark is brought back from the dead by Beric Dondarrion, and subsequently goes on a revenge tour of Westeros alongside the Brotherhood Without Banners.
Still bearing the scars of her death and pale, almost brittle skin, she mercilessly kills anyone even remotely associated with the Lannisters, Boltons, and Freys. At one point, she even hangs Brienne and Podrick, accusing them of betraying her by associating with Jaime Lannister.
As of now, there are no plans to bring Lady Stoneheart into the fold, despite her rich story in the books. Director Mark Mylod attests to as much, claiming, "I can honestly say, hand over heart, that I have not had one discussion about Lady Stoneheart." That certainly doesn't rule her coming back sometime later on down the line, but for the time being, it looks like Faceless Arya will be the go-to vessel for Stark-related vengeance.
6. Euron Greyjoy will be making trouble in Season 7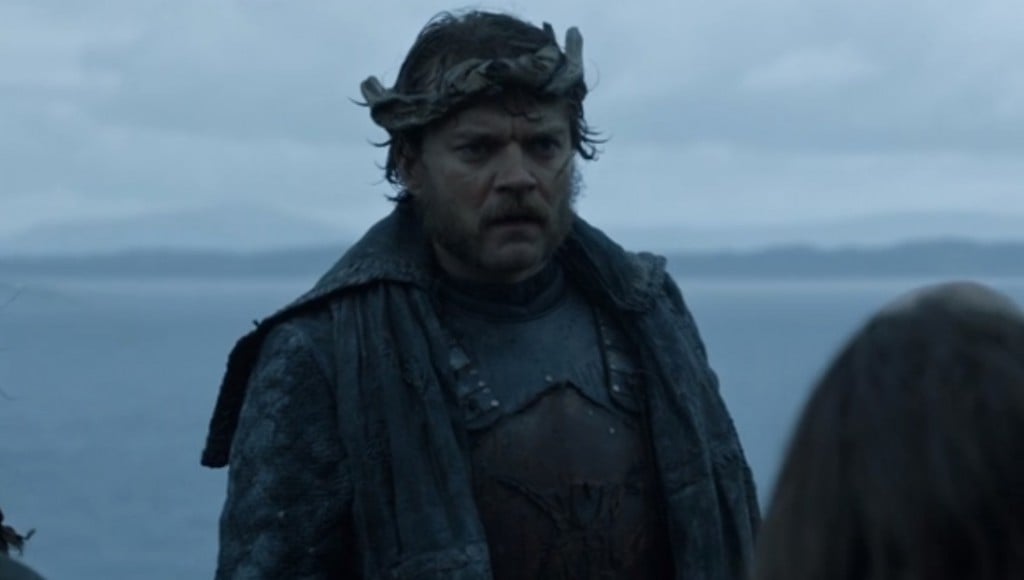 As a rumor not technically from an official source, take this with a grain of salt, but according to Watchers on the Wall, Euron Greyjoy and the newly-crowned Queen Cersei will be teaming up in Season 7. They also cite rumors of a scene being filmed that shows Euron engaging in a sea battle with Theon and Yara, eventually capturing one of them. Their report digs into some other pretty massive spoilers that you can read here, most significantly one concerning Euron going toe-to-toe with one of the Sand Snakes.
7. Why the shorter episode order is actually a good thing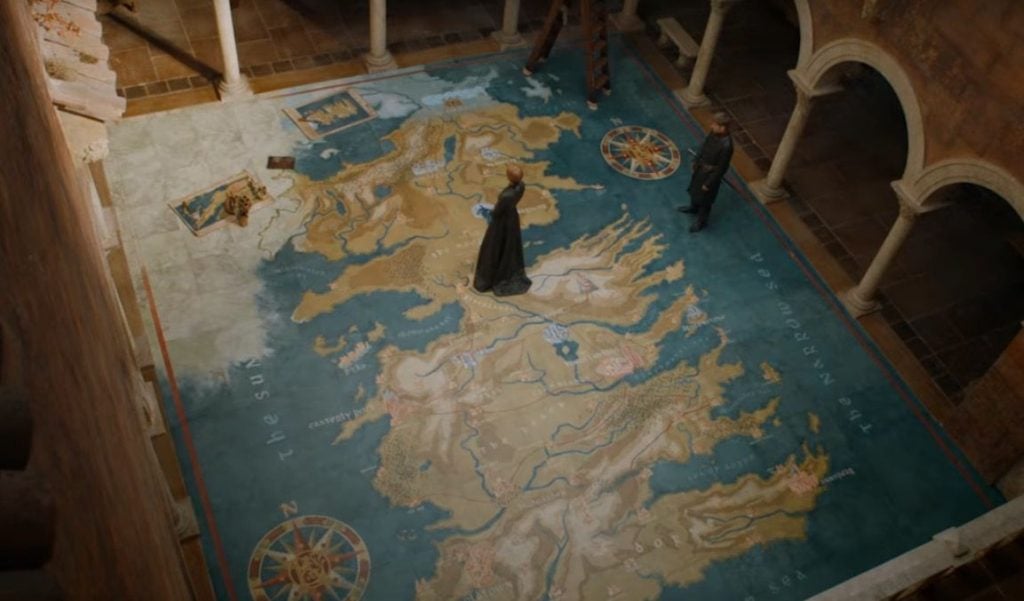 We have many of the basic logistics for Season 7 in hand now, it will be debuting in July and run for just seven episodes. That said, there's one, huge reason why this is actually a good thing: According to a recent interview with Iain Glen, "they are taking the length of time it takes to shoot ten episodes to shoot just seven this year."
That means all the time and effort expended for a full season is being poured into the shorter run, leaving the showrunners, writers, and cast more time to focus on producing the best possible product.
8. A rumored leak of the entire season appeared on Reddit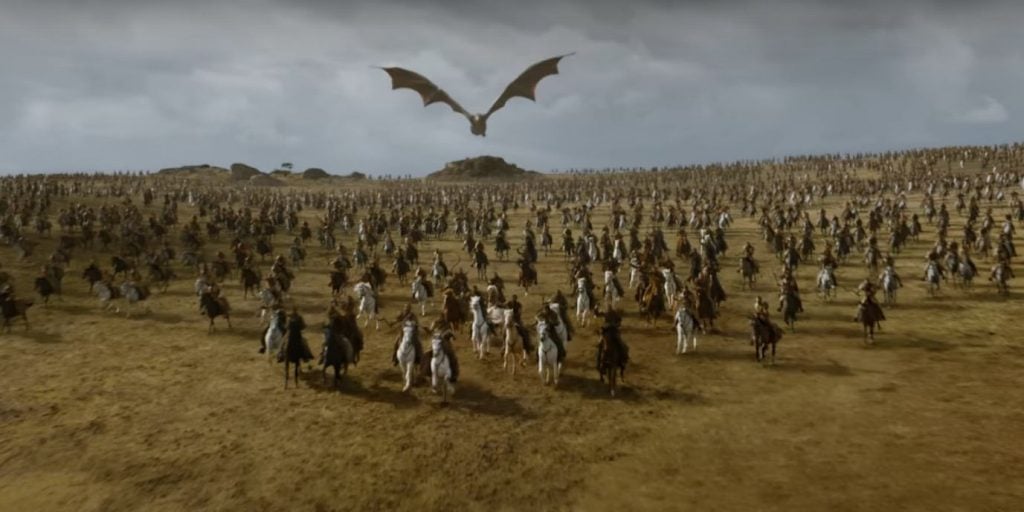 HBO has been the victim of an early leak before, making a recent one appearing on Reddit that much more unsettling. The Reddit user who originally posted the leak lays out the entirety of Season 7's story, down to specific details that have since proven to be true based on new set photos.
The caveat: We still have no idea who this person is, how they possibly could have come into an entire season's worth of information, and whether or not they're simply making it all up. You can read about the leak in detail here, but if you're asking us, it doesn't seem likely that this leak is at all legit.
9. The long-awaited return of a certain bastard …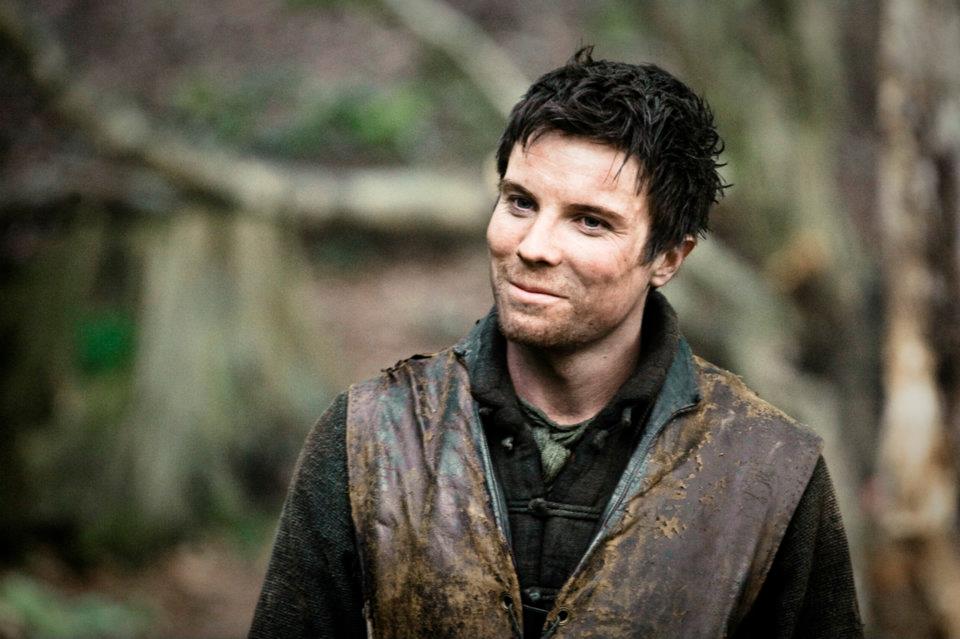 With the glut of characters on Game of Thrones, it's easy to forget the ones that quietly slipped away during the series' early run. Enter Gendry, the bastard son of the late King Robert Baratheon, last seen rowing away from Dragonstone. His fate since then has been left entirely up in the air, although that may all change in Season 7.
According to Watchers on the Wall, the actor who plays Gendry, Joe Dempsie, was recently spotted at the Belfast airport, right around the same time Game of Thrones was filming in the city. It could be a coincidence, but that doesn't seem likely given the convenient timing of his arrival.
10. More large-scale battle scenes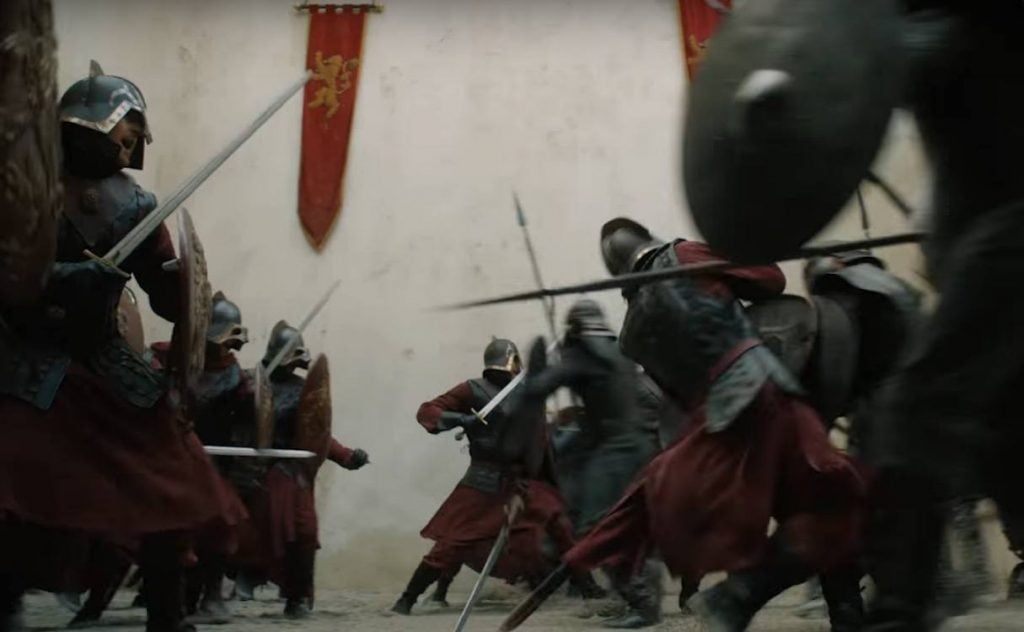 This information also comes to us courtesy of Watchers on the Wall, reporting on the filming of an alleged sea battle between the two warring sides of the Greyjoy family. Another rumor points to Daenerys Targaryen leading her Unsullied and Dothraki against Euron Greyjoy, hinting at a season of big budget battles for Game of Thrones. 
11. The Season 7 finale will be the longest episode in Game of Thrones history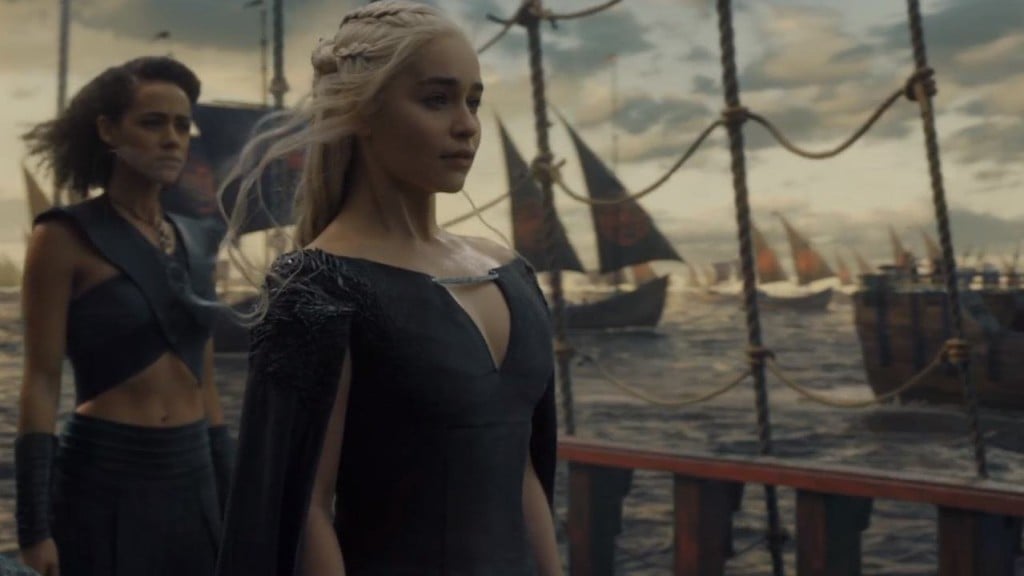 After it was announced that the Season 7 premiere would run almost an hour, many fans jumped to the conclusion that all the subsequent episodes would also run longer than usual. As Entertainment Weekly aptly pointed out though, "three GoT premieres have been slightly longer than this one, and three have been slightly shorter, making the season 7 premiere's running time perfectly normal."
That said, a handful of other episodes will run well over an hour, highlighted by a massive 81-minute finale to close out the shortened season. The rest of the episode lengths, as reported by Watchers on the Wall:
Episode 1: 59 minutes
Episode 2: 59 minutes
Episode 3: 63 minutes
Episode 4: 50 minutes
Episode 5: 59 minutes
Episode 6: 71 minutes
Episode 7: 81 minutes
12. A massive spoiler concerning Jon Snow's real name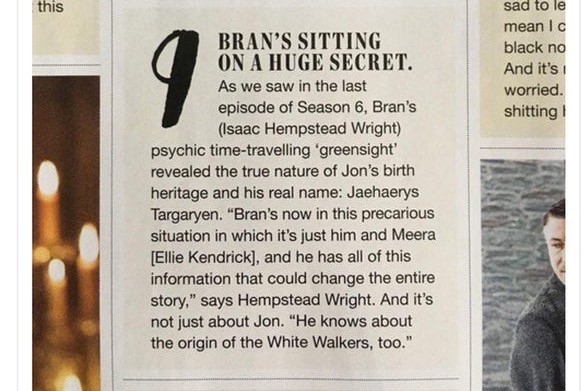 A Redditor who purports to have access to an early issue of Empire magazine dropped a bombshell on the fandom recently, posting an excerpt revealing the true name of Jon Snow. If anyone doesn't want to be spoiled, now's your chance to leave!
All clear? Great! According to the excerpt, Bran apparently knows from his psychic visions that Jon's real name is in fact Jaehaerys Targaryen, the namesake of a great and wise Targaryen king of old.
Stay tuned for more information as it releases!
Follow Nick on Twitter @NickNorthwest
Check out Entertainment Cheat Sheet on Facebook!