'Game Of Thrones': Jon Snow's Fate Was Sealed Back In Season 4
There are only two episodes left in the final season of GoT and we still don't know who will win the Iron Throne. In light of the developments over the last four episodes of Game of Thrones, Jon Snow (Kit Harington) remains the frontrunner for ruling Westeros, but a new fan theory might make you reconsider the idea that Jon will become the next king.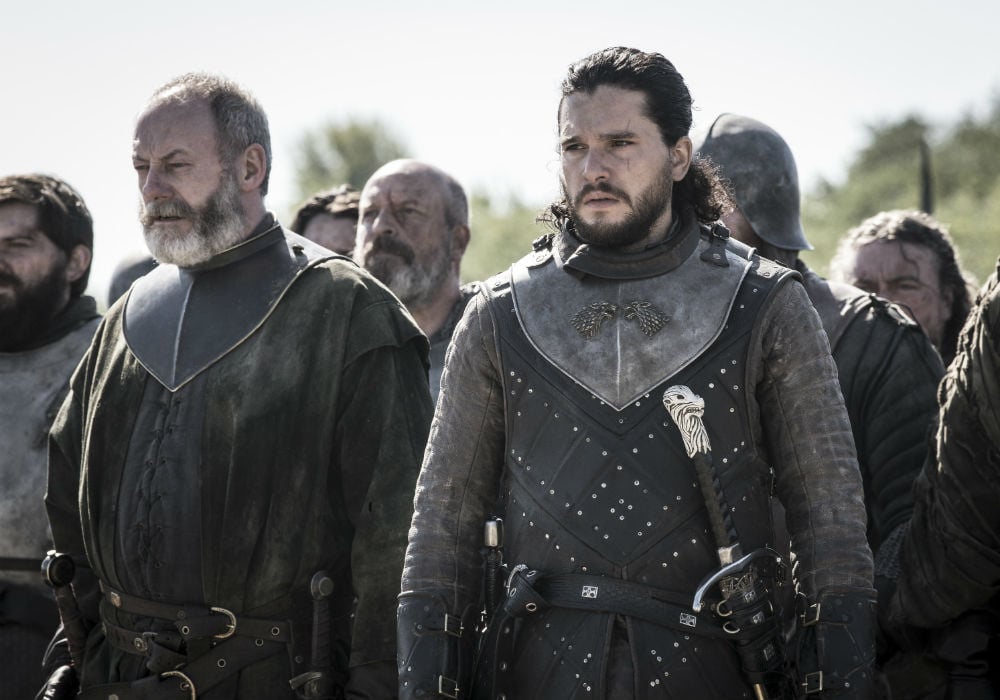 Jon Snow kills Daenerys Targaryen
After what Cersei (Lena Heady) did to Missandei (Nathalie Emmanuel) on the last episode of Game of Thrones, there is little doubt that Daenerys (Emilia Clarke) will attack King's Landing will everything she has, despite the risk of massive civilian casualties.
Unable to control her anger, the theory argues that Daenerys will essentially become the Mad Queen, which prompts an immediate response from Jon. Realizing that Daenerys is beyond saving, Jon Snow kills her to prevent the suffering of thousands.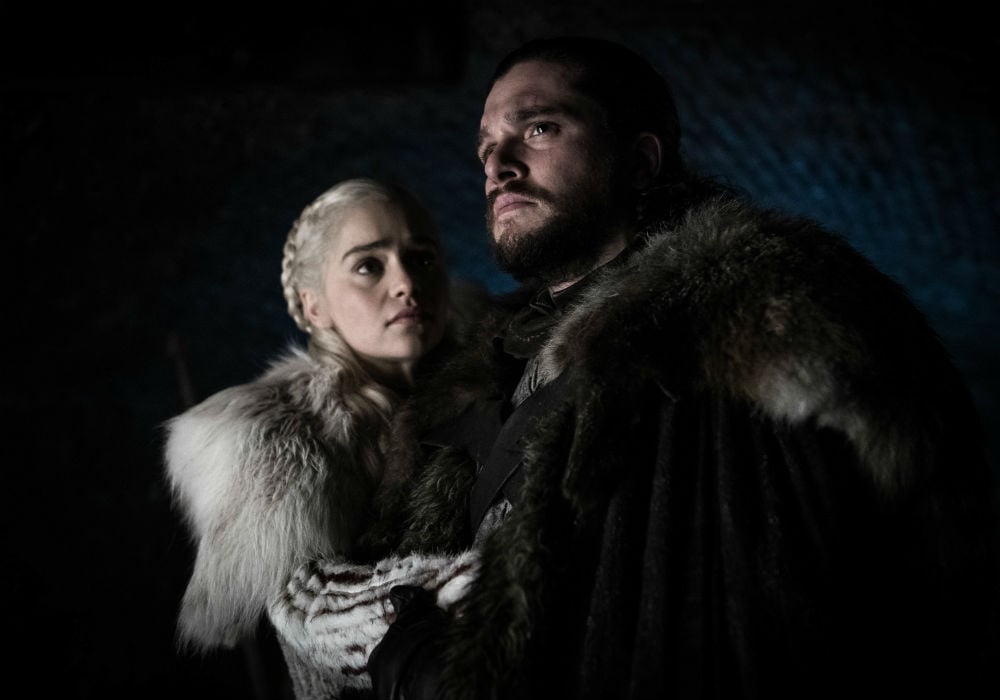 According to Inverse, the theory states that Jon gives up the crown because he has no desire to rule. He then ventures north to reunite with Tormund and Ghost. The theory is based on Jon's speech at the beginning of Episode 4, which was a callback to what Maester Aemon said a few seasons ago. Maester Aemon was a Targaryen who gave up his right to the throne, which the theory argues is exactly what Jon will do at the end of Season 8.
Daenerys gets betrayed
After learning about Jon's true lineage, both of the Daenerys' top advisors, Tyrion and Varys (Conleth Hill), questioned whether she was the better choice to rule Westeros. While Tyrion seemed determined to stick by Daenerys' side, Varys was all but ready to crown Jon as the new king. Images from the upcoming episode tease that Varys is already plotting Daenerys' demise.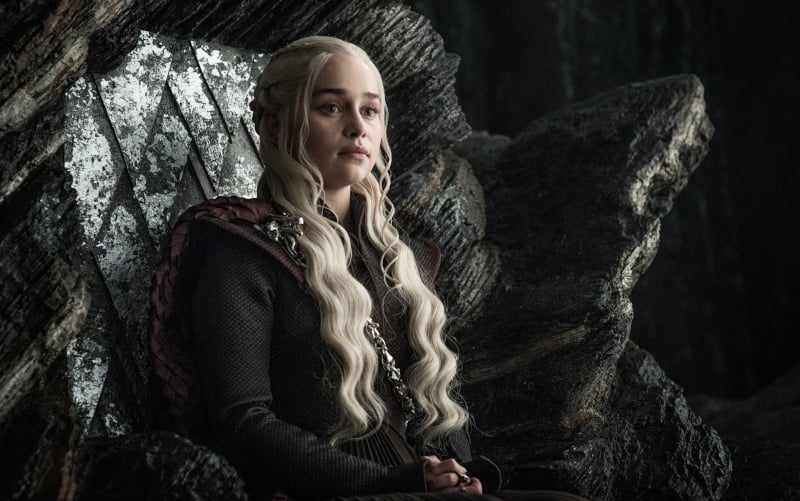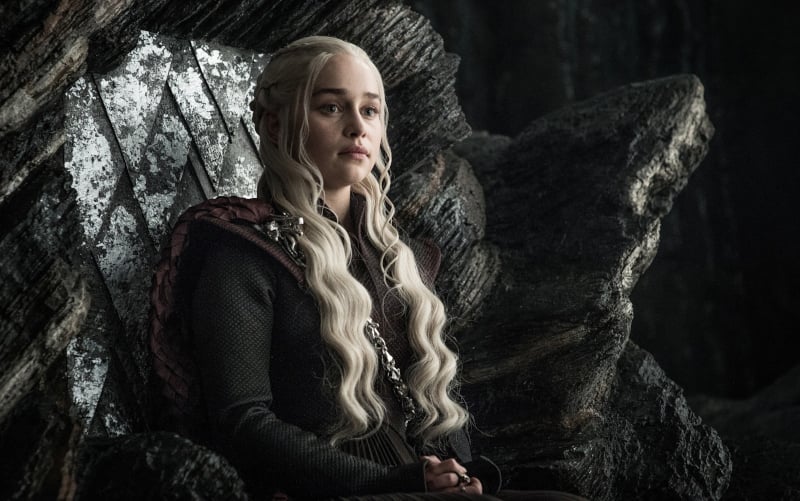 One of the images in question shows Jon Snow and Varys walking on a beach together. It looks like the two are at Dragonstone, which is where Daenerys has been holding up. It is unclear what the two are doing, but it appears like Varys is the first to greet Jon as he arrives onshore.
HBO also released an image of Daenerys mourning Missandei's death and what looks like Tyrion hanging around in the background. Based on the photos, Varys is making moves to take down Daenerys while Tyrion is remaining loyal.
Will Daenerys kill Varys
Speaking of Varys, another Game of Thrones theory argues that Daenerys will catch him plotting a coup and will execute him for treason. There is no telling how Daenerys might catch Varys in the act, though it isn't likely that Jon will go along with his plans.
In fact, there is a good chance that Jon is the one who gives up Varys and tells Daenerys that she potentially has a traitor in her inner circle. After all, Jon has admitted that he does not want the Iron Throne and has no ambition for ruling Westeros (which is why he might be the better choice).
Whatever happens between now the upcoming battle, it is clear that Daenerys has some important decisions ahead of her. If she attacks King's Landing out of rage she will likely cause the deaths of thousands of innocent people. This could cause everyone around her to question her authority, though it would admittedly be nice to see Missandei's death avenged.
'Game of Thrones' finale leaked
With only two episodes to go, there were allegedly some video leaks that contained spoilers for the finale. Fans who watched the leaked footage claimed that everyone is going to be super disappointed by the ending. The fans did not reveal too many details about what happens, but they assured everyone that ending is about as bad as the come.
"F*****g heartbroken after reading the Game Of Thrones leaks. And I'm glad I didn't wait to watch that absolute s**t show play out on-screen," one user shared.
HBO has not addressed the recent leaks, so it is difficult to determine if they are true. Similar leaks surfaced prior to Episode 3 and most of them actually came true. We can only hope that the leaks are not factual, especially considering how much time and energy fans have devoted to the show.
New episodes of Game of Thrones air Sunday nights on HBO.