6 Ways to Get Through 'Game of Thrones' Withdrawal
Game of Thrones may be back, but there are still the grueling waits between each episode — and let's not forget the occasional Sunday when a new episode doesn't air. There's still plenty of downtime when we're trying get our Game of Thrones fix, even during the season. Luckily, there are plenty of waits to enjoy Westeros while you wait. Here are just six options.
1. Read the books
This is probably the biggest no-brainer for any fan of the series, and also probably one of the most common coping techniques for Tyrion withdrawal. There are five full volumes available: A Game of Thrones, A Clash of Kings, A Storm of Swords, A Feast for Crows, and A Dance with Dragons. On top of that, there are another seven novellas available.
Naturally, you should be prepared for a lot of spoilers for the show. Since the show is based on the books, the latest editions are naturally further along in the plot than the series. Also, not everything matches up between the books and television series, so don't expect Westeros to be exactly the same.
A word of warning: If you read all of the books too fast, you may run into an even worse problem than the one you experience between seasons of the show. George R.R. Martin, prolific as he is, is notorious for taking a long time between written installments, so you may find yourself waiting even longer and more painfully after finishing A Dance with Dragons.
2. Read the comic books
If you thought about reading the books but books just aren't your thing, or you never find the time to sit and read — though that probably means you're occupied enough not to go too crazy between Sundays — the comic books offer a good alternative for people who just don't feel like getting through a standard book.
The comic book series won't get you very far into the plot as of yet, but it does offer an alternative option to delve into the Game of Thrones universe that is at least a change of pace. Once again, if you catch up to the latest offering, you'll face new waits between releases. If you just need a little something to get by, the comics may be a good choice. If you have a lot of time to fill and would just pound through the comics in a week, you may need something more substantial.
3. Check out HBO's behind-the-scenes footage and interviews
HBO offers a lot of extra content on the Game of Thrones page on its website. Whether you want to know more about how actors get into the roles or what they're thinking about for the future of their character, the interviews will probably satisfy you. Or, if you want to see what went into making the undead white walkers or the greatest city that ever was or will be, the behind-the-scenes footage should sate that appetite.
4. Try out the video games
That's right, there are video games. With a franchise as massively successful and action-packed as Game of Thrones, it only makes sense for it to have a video game (or two). Yes, there are two, and even more if you include browser-based or mobile games.
A Game of Thrones: Genesis lets you get into Westeroes in strategy game fashion. Between the standard gameplay found in strategy games, A Game of Thrones: Genesis also offers some of the subtle political influence that makes the series so intriguing.  Unfortunately, reviews suggest the game fails to deliver, with a Metacritic score fo 53 our of 100, according to Gamespot.
Fortunately, there's a bit of redemption from Game of Thrones for PlayStation3, Xbox 360, and PC. This game puts you a bit deeper in the realm you fell in love with through the show. The plot fits in the with series but follows specially created characters, so you won't feel like you're just repeating the story that you've already seen. This game didn't receive a much better Metacritic score, with only 58 out of 100, but gamers and Gamespot's reviewers favored it a bit more, giving it a score of 6.8 and 7, respectively.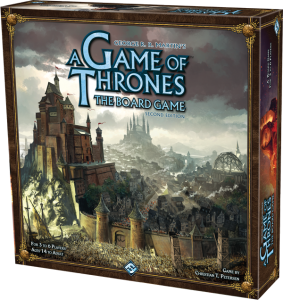 5. Try the board game
Maybe you don't have a video game console or a computer with the gusto to run modern video games, but that doesn't mean you can't get in on the action. A Game of Thrones: The Board Game is a strategy game that shares blood with the classic Risk. However, there is a lot more going on than moving troops around.
In this board game, players lead the various houses of Westeros as they vie for control of the realm. Players can work together to crush foes or backstab one another at any point, all while worrying about the wildlings that keep coming over the wall in greater and greater numbers. The game gets political when players make encouraged verbal agreements that lead to feuds worthy of the series.
If you have a lot of time to fill, the game is perfect for you. Though each game only consists of 10 turns, it can take hours to finish. If you and your friends are antsy on a Sunday waiting for the show to air, pull out the game and play a match or two. Though it can take a while to grasp the rules of the game, it can be plenty rewarding, especially with a half-dozen competitive friends.
6. Start watching the series over again
By now you should have noticed that the plot of Game of Thrones is as twisty as they come; nothing is as it first seems. The series constantly makes your rethink your stance on characters, and it brings many new faces into prominence as it kills off others that had been in the spotlight. At that, it's safe to assume there are things that happened in earlier episodes that went unnoticed or misunderstood. Seeing something a second time gives a lot of new insight and lets you notice things you didn't the first time around.
On top of just catching things you didn't grasp the first time around, re-watching the series will let you go from one episode to the next without the usual delay between episodes or seasons. This will create a lot more momentum to help you get your speculation on about what's going to happen in upcoming episodes, not to mention that it just gives you that much more intense of a cinematic experience.
Luckily for all of us, there are plenty of options for how to cope with the gaps between episodes of Game of Thrones. Whether you choose just one of these six coping techniques to bridge the gap between Sundays or spend all your free time burying yourself in the realm is up to you — just know that there's plenty of content out there to keep you satisfied.
Follow Mark on Twitter @WallStMarkSheet
More From Entertainment Cheat Sheet: