'Game of Thrones' Season 7: All the Secret Season 1 Callbacks You Probably Missed
In the new season of Game of Thrones, we're seeing a lot of characters reconnect. Some of them haven't seen each other since Season 1, so there have been a lot of callbacks to the season that started the television phenomenon. But since it has been a long time since the show's freshman season, you may have been missing these Easter eggs.
So what are they and what do they say about what has yet to come? It looks like things are coming full circle on the show. Here are seven callbacks to Season 1 you probably missed on Game of Thrones Season 7.
1. 'That's not you'
Season 1: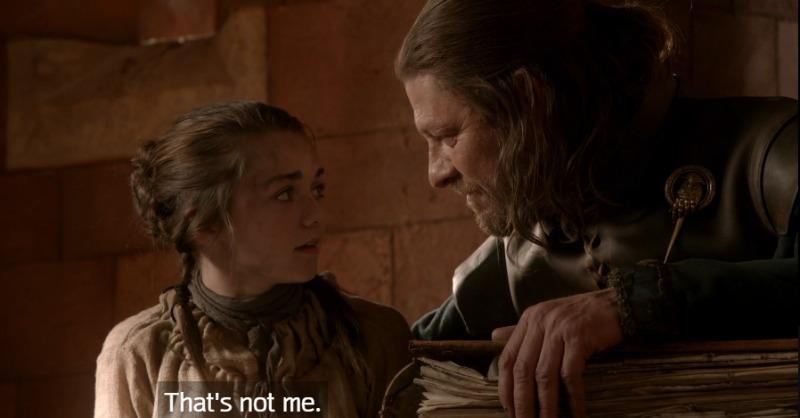 Season 7: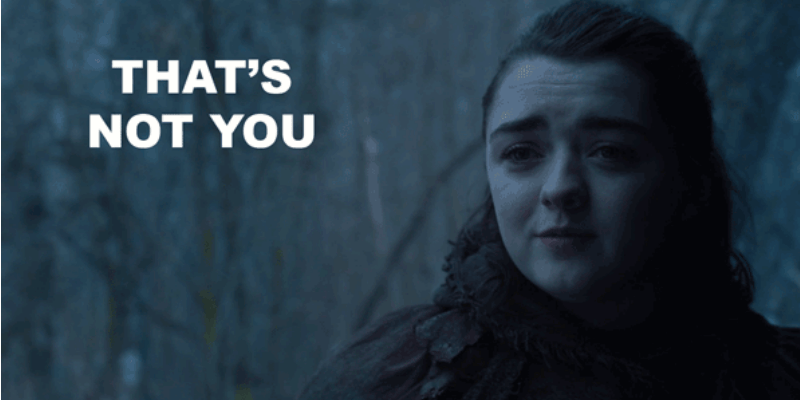 The episode "Stormborn" had somewhat of a cryptic scene with Arya Stark and her lost direwolf, Nymeria. Nymeria approaches her with her pack and after Arya tries to greet her back, Nymeria and the pack leaves. It's somewhat a sad scene, in which Arya says: "That's not you."
This odd response is a callback to the Season 1 episode, "Cripples, Bastards, and Broken Things." D.B. Weiss explains this choice in an interview, according to Vanity Fair.
'That's not you' is a direct reference to what Arya herself said to her father when her father painted this picture for her as a lady of a castle, and marrying some lord and wearing some frilly dress. Arya's not domesticated, and it makes total sense her wolf wouldn't be either. Once the wolf walks away, at first she's heartbroken to have come this close. Then she realizes the wolf is doing exactly what she would do if she were that wolf.
2. 'They cry out for their true queen'
Season 1: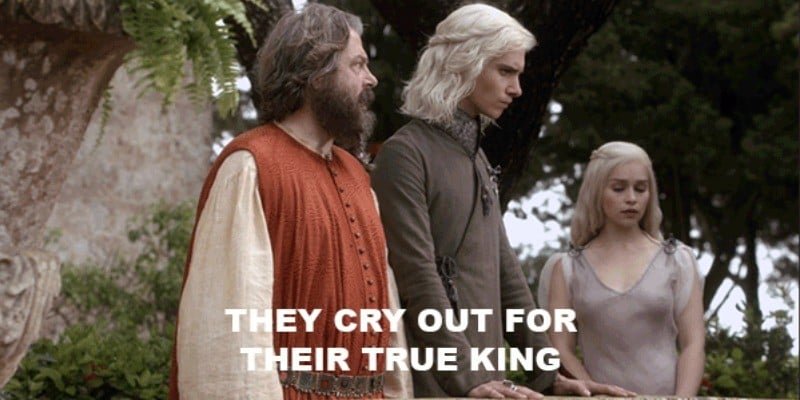 Season 7: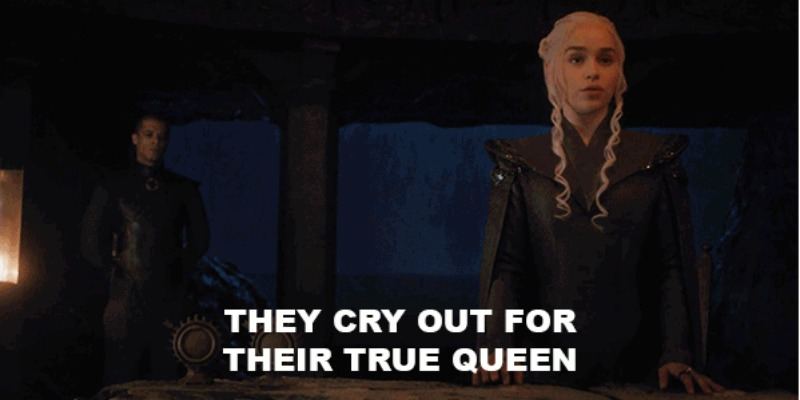 In the very first episode, "Winter is Coming," Viserys and Daenerys Targaryen meet Drogo to see if he will agree to marry Daenerys. Afterwards, their advisor talks about their plan to cross the narrow sea and take back the throne. He claims the people drink secret toasts to Viserys' health and "cry out for their true king."
In Season 7, Daenerys repeats this in "Stormborn," when she is finally back in Dragonstone and talking about making a move on King's Landing to take back the throne. Of course, she replaces "king" with "queen." Hopefully, she isn't as misguided as her brother to think she is destined to rule just because of who her father was.

3. 'Bastards in their father's eyes'
Season 1: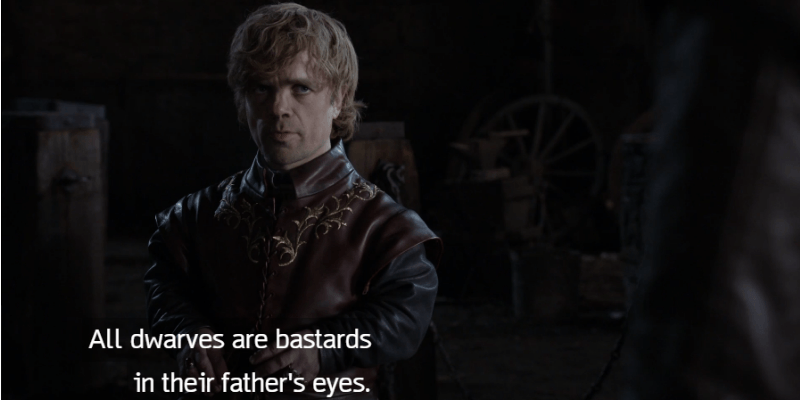 Season 7: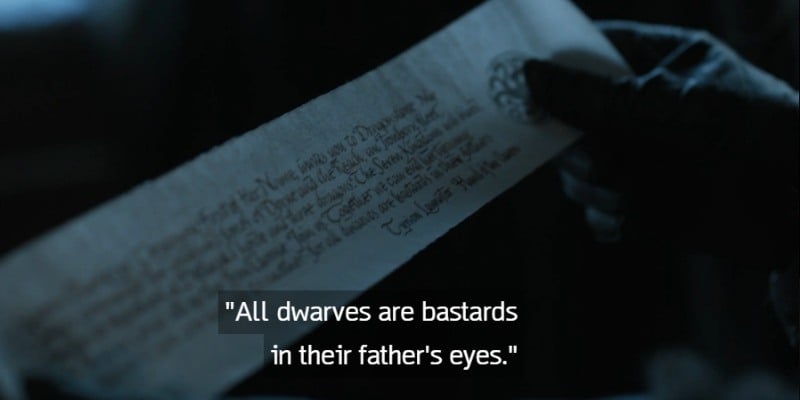 In "Winter is Coming," Jon Snow and Tyrion Lannister first meet. It starts off pretty rocky, given that Tyrion has no problem calling Jon a bastard to his face. He takes offense to this but Tyrion advises, "Never forget what you are, wear it like armor. It could never be used to hurt you."
Jon still challenges him by asking what he knows about being a bastard. He responds, "All dwarves are bastards in their father's eyes."
We see this last line again in the episode "Dragonstone," where Tyrion sends a letter to Jon asking him to come to Dragstone. There is a question of whether this is a trap, but Tyrion ends the letter with the same line — "All dwarves are bastards in their father's eyes" — as a reassurance that they are all on the same side.

4. 'Everything before the word 'but"
Season 1: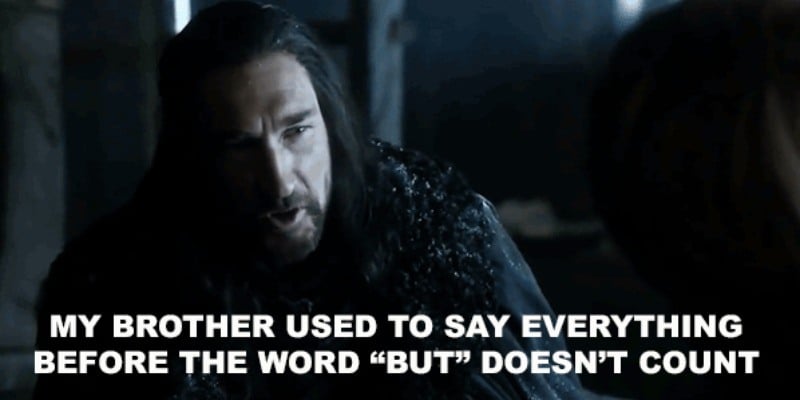 Season 7: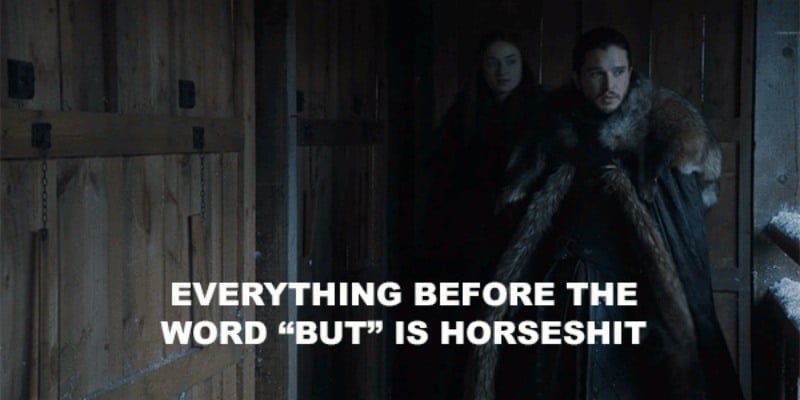 This season, there are callbacks that not only revive relationships between characters, but also remind the audience of some valuable life advice.
In the Season 1 episode "Lord Snow," Benjen Stark refers to Ned Stark's saying, "Everything before 'but' doesn't count." This piece of advice pops back up in "Dragonstone," when Jon puts his own spin on it.

5. Atop the Wall
Season 1: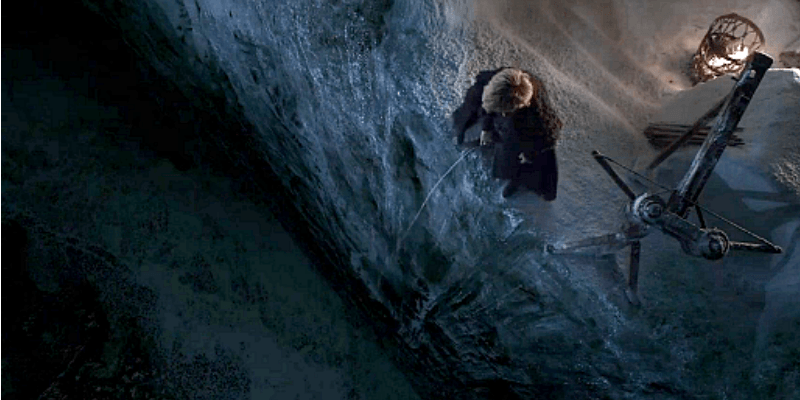 Season 7: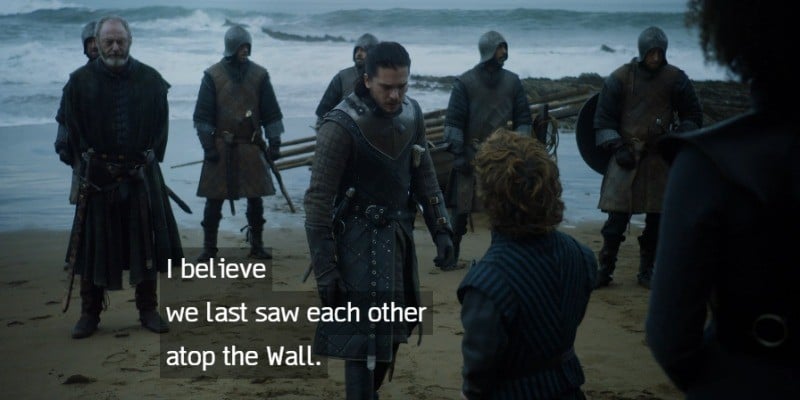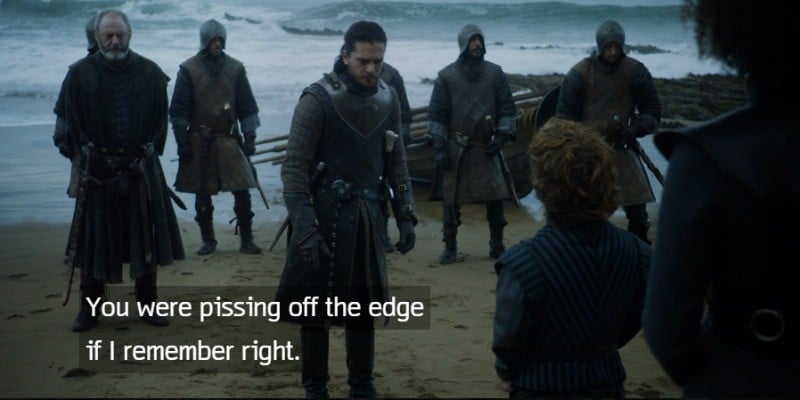 Remember when Tyrion had nothing better to do than to get drunk and pee off the side of the Wall? Jon does! This happens in Season 1's "Lord Snow," after it's also discussed in "Winter is Coming."
When the characters reconnect in "Stormborn," Jon brings it up almost immediately.

6. 'I'll impregnate the b*tch'
Season 1: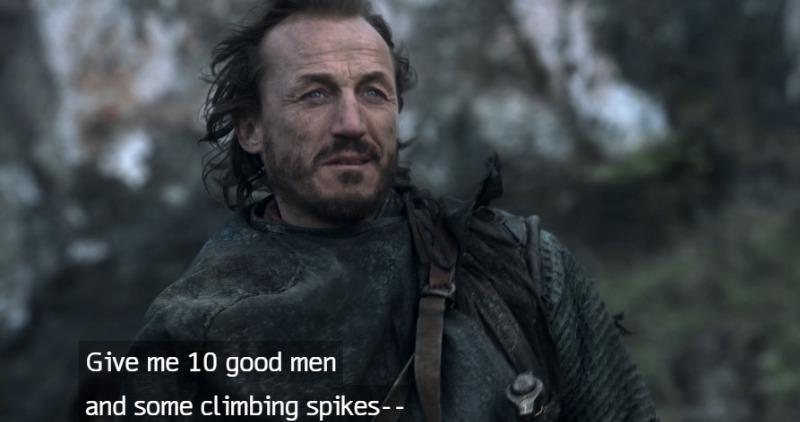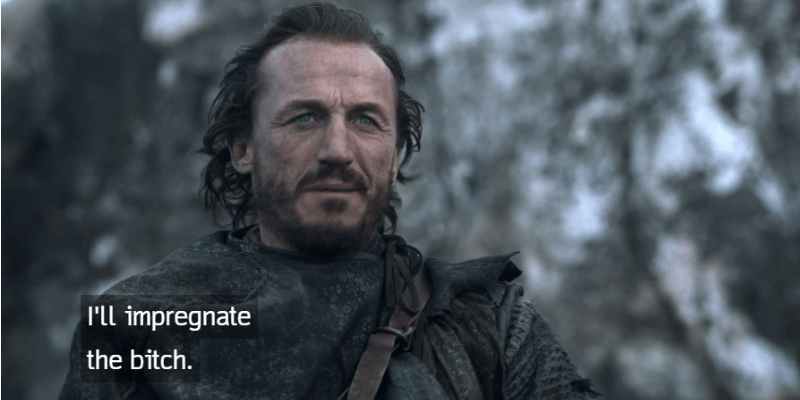 Season 7: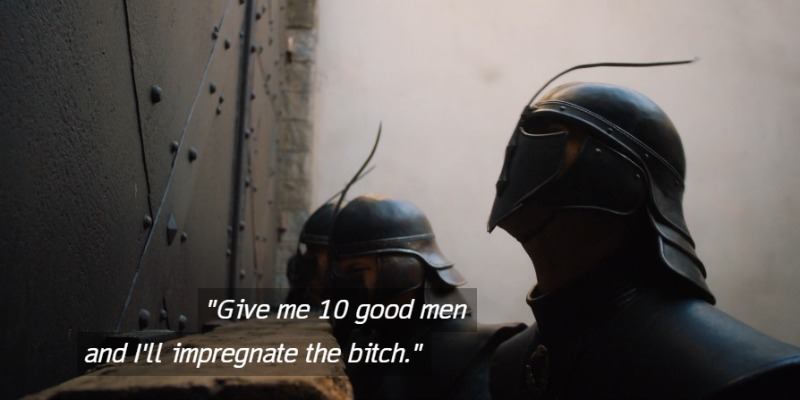 In the Season 1 episode, "The Wolf and the Lion," Bronn, Tyrion Lannister, and Catelyn Stark are headed to the Eyrie so Catelyn can speak with her sister. The Eyrie is described as "impregnable," to which Bronn responds with this crazy line.
It must have stuck with Tyrion, because he repeats the saying after hearing Casterly Rock is designed to be impregnable in Season 7's "The Queen's Justice."
7. 'Be a dragon'
Season 1: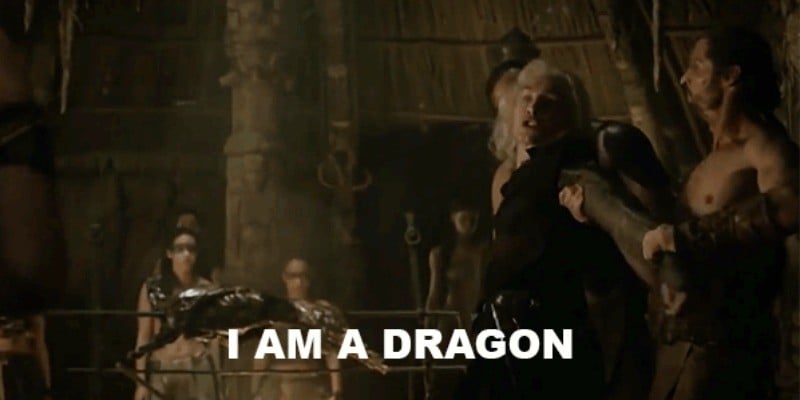 Season 7: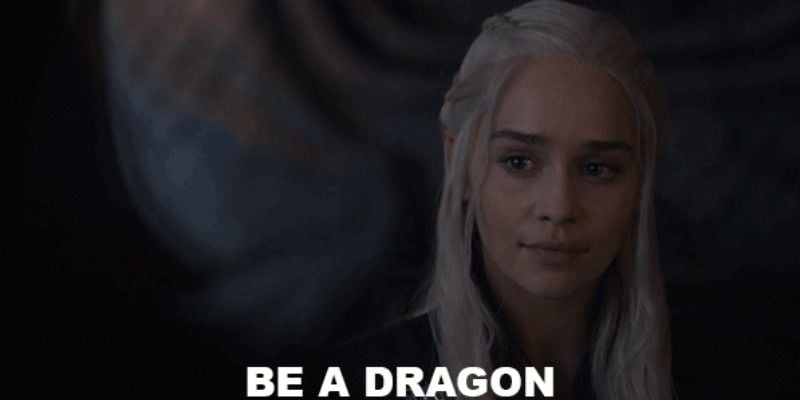 Who could forget Viserys' memorable death after abusing his sister for so long in the episode, "A Golden Crown?" Before he is killed, he declares "I am a dragon." However, that was basically disproven, given that he essentially dies by fire.
In "Stormborn," Olenna Tyrell sits down with Daenerys after a meeting. She gives her some advice on how to rule, including these words: "Be a dragon." Hopefully, this works for her better than it did her brother.
Follow Nicole Weaver on Twitter @nikkibernice.
Check out Entertainment Cheat Sheet on Facebook!