'Game Of Thrones' Season 8: Gwendoline Christie On Brienne and Jaime's Shocking Twist
Given their history over the past six seasons of Game of Thrones, it was somewhat surprising to watch Brienne of Tarth (Gwendoline Christie) and Jaime Lannister (Nikolaj Coster-Waldau) cross over the friend zone and become intimate in "The Last of the Starks." While most GOT fans loved Brienne's romantic twist this season, it was a bigger shocker when Jaime left her in Winterfell to return to Cersei Lannister (Lena Headey) in King's Landing.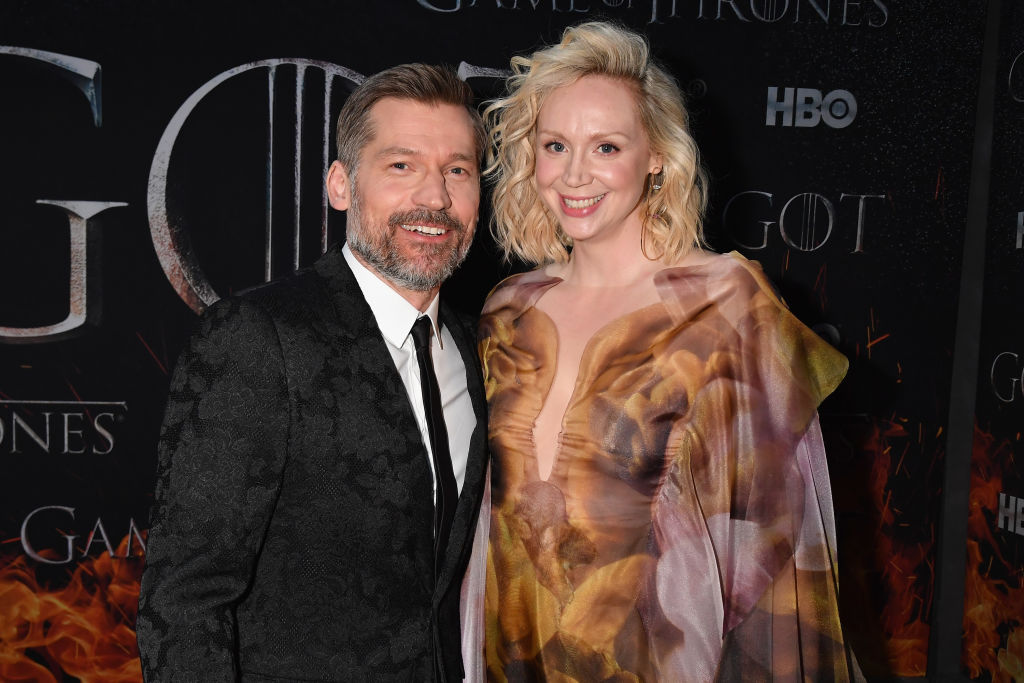 We have to admit that it was pretty heartbreaking watching Jaime betray Brienne and it sounds like Christie is right there with us. With only two episodes remaining, Christie sat down and talked about her character's storyline in Game of Thrones Season 8 and Jaime's decision to leave.
Christie reveals what it was like filming that scene
After the Battle of Winterfell, Brienne found herself playing a drinking game with Jaime and his younger brother, Tyrion Lannister (Peter Dinklage), who correctly guessed that she was still a virgin. Fast forward to later that night and fans around the world watched as Jaime and Brienne made love in what was a surprising twist for both characters.
While Christie couldn't help but laugh when she first read the script for Season 8, the scene quickly took on a deeper meaning for her character.
In an interview with Entertainment Weekly, Christie revealed that she thought about the sex scene from a variety of angles and determined that it added another layer of depth to her character. It is true that Brienne could probably live without sex and still be happy, but allowing her to explore that area of her life was a great way to show that there is more to Brienne than meets the eye.
What about Jaime's decision to leave?
After the original shock wore off from episode 3 of Game of Thrones Season 8, the show threw another curveball by having Jaime ditch Brienne in Winterfell. Just like many fans, Christie admitted that she was heartbroken for her character but never thought Brienne and Jaime would live happily ever after. That didn't make the scene any easier to stomach, and Christie confessed that she understands why fans are so upset.
"I was so upset for her," Christie revealed. "It's so heartbreaking. But it's life, isn't it? Life is heartbreaking. I never assumed they would be together. I didn't think that would happen. And now I can feel a million hearts breaking."
The Game of Thrones star added that she didn't think Jaime had to go back to Cersei but did so because of the dysfunctional nature of their relationship. Although it was sad to see Brienne get her heart broken, Christie assured fans that Brienne is a strong woman and was able to move on quickly.
In fact, she appreciates how the show handled that portion of her character's storyline, which proves that women, or anyone for that matter, do not have to be defined by anyone else.
How did Coster-Waldau react to the scene?
On a more lighthearted noted, Christie revealed that Coster-Waldau thought the sex scene between Brienne and Jaime was funny. After reading the script, the actor texted a laughing emoji to Christie, who responded with a sick one.
Before they sat down to film the scene, Christie told her Game of Thrones co-star that he better not "f**king laugh" and should take the scene a bit more seriously. At the end of the day, Coster-Waldau understood the importance of the scene to Brienne and Christie believes the situation was handled perfectly. Exactly where they go moving forward, of course, is yet to be seen and will likely depend on whether Jaime survives the coming battle.
What's ahead in the next episode of 'Game of Thrones'?
Brienne's sex scene aside, last week's episode was packed with last-minute surprises. With the Night King and his army of the undead soundly defeated, the series turned towards the battle for the Iron Throne.
There is little debate that Daenerys Targaryen (Emilia Clarke) was the frontrunner heading into Game of Thrones Season 8's third episode, but some significant developments have drastically changed the forecast.
Daenerys may have her eyes set on ruling Westeros, but Jon's claim the throne is throwing a huge wrench in her plans. She also lost a dragon and seems to be losing support from her inner circle, which does not bode well for the Mother of Dragons as she prepares to attack King's Landing.
New episodes of Game of Thrones air Sunday nights on HBO.