'Game of Thrones' Season 8: Why Daenerys and Jon Might Have Kids After All
Daenerys Targaryen and Jon Snow grew closer in Season 7 of Game of Thrones. The Queen also started making moves against Cersei Lannister to get the Iron Throne back. One question that came up is who the throne would go to once Daenerys is gone.
She believes that she isn't able to have children, instead referring to her dragons as her children. Her assumption that she can't have kids stems from the loss of her son with Khal Drogo. But perhaps Daenerys is jumping to conclusions far too quickly.
Here, we explore a theory that predicts that she and Jon might have kids after all in Season 8.
The theory: Daenerys is able to have kids, but was poisoned by Mirri Maz Duur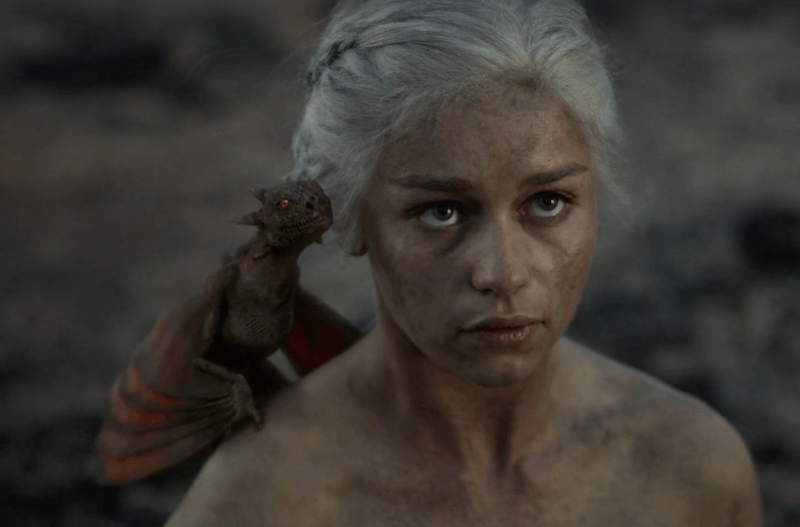 Mirri Maz Duur is a witch who was actually enslaved by Khal Drogo and his men after they raided her people. Daenerys tried to protect her and other women from being raped and killed by having them serve her. But that meant their relationship was very ambiguous.
The mother of dragons still turned to Mirri for help healing Khal when he was wounded. She used blood magic to do so, but Khal got an infection. He ends up in a vegetative state, and Daenerys gives birth to a stillborn son with scales and bat-like wings. We then find out that the witch had to sacrifice a life in order to save Khal and that life was their unborn son, Rhaego.
Many believe this was the witch's doing in order to get back at the Dothraki for raiding her people. The one opportunity she had to poison Daenerys was when she gave her something to drink during labor.
Part of this theory is also based on the fact that Mirri tells Daenerys that the Targaryen queen didn't actually save her, as she had already been raped before Daenerys came along. Her temple had also already been burned.
Why it's possible: In the book, Daenerys gets a prophecy that gives hope
The witch did leave Daenerys with a hopeful prophecy that Khal would come back and that she would have children in A Song of Ice and Fire, saying, "When the sun rises in the west and sets in the east. When the seas go dry and mountains blow in the wind like leaves. When your womb quickens again, and you bear a living child. Then he will return, and not before."
So the book not only says Daenerys will give birth to a living child, but that Khal will return once she does. That gives some mixed messages for what can happen on the show.
Why it's possible: Mirri could have lied about the stillborn baby
Jennifer Vineyard notes in The New York Times that everything we know about Rhaego could be a lie. After all, we see no evidence of him and are only told about the stillborn baby by the witch.
It's possible the baby was born perfectly fine, and she actually killed him.
Why it's possible: The Red Woman could work her magic to help Daenerys
Melisandre was able to bring Jon back to life ,so her powers seem pretty limitless. If there is truly something wrong with Daenerys, it's possible that the mother of dragons will turn to Melisandre for help.
Of course, Jon might have to be kept out of the loop of this plan, but it's a possibility.
Why it's possible: Daenerys and Jon have already done the deed
Season 7 ended with some explosive moments — one of which was Daenerys and Jon doing the deed. So it's possible that the two will surprisingly conceive and be able to have a baby without intervention.
Jon seems to have hope that they can still have children, so we could be getting our definitive answer next season.
Why it's possible: Jorah allowing Jon to keep Longclaw could be a sign
Jorah Mormont lets Jon keep Longclaw, a sword that is passed down in his family. Part of the reason for this is because he embarrassed his father and doesn't feel like he deserves it. But Jorah also notes that he hopes it will serve Jon and his children well.
It seems as if Jorah gets a sense that Jon and Daenerys will marry and have children. He might not know about Daenerys' doubts in her fertility, but it might be the writers' way of saying this will happen.
Why it might not be possible: Mirri's prophecy was cut short in the show
The prophecy in the book was also said by Mirri on the show, except for one part: "When your womb quickens again, and you bear a living child. Then he will return, and not before."
This particular line was cut out of the series. This could be in order to make sure Khal will stay dead. But the fact that the part, "when your womb quickens again," is also omitted could signify that there might not be hope for Daenerys to have children after all.
Follow Nicole Weaver on Twitter @nikkibernice.
Check out Entertainment Cheat Sheet on Facebook!