'Game of Thrones' Showrunners Finally Break the Silence on the Final Season
Game of Thrones is arguably the most popular television series to date, and fans have mixed feelings about how it all ended in the final season. Showrunners David Benioff and D.B. Weiss have been extremely tight-lipped since the show ended, which is understandable considering the backlash from fans. The pair have finally broken their silence, and although they didn't fully address the final episodes and the controversy behind them, they did talk about the now-infamous coffee cup.
What was the showrunners' favorite moment?
The showrunners spoke with Japan's Star Channel about the final season. Their favorite moment, as well as for many fans, would be Brienne's (Gwendoline Christie) knighting scene. "One of the things that sticks out to me, because Brienne of Tarth has always been one of our favorite characters, and the moment where she is knighted by Jamie Lannister is, is just a wonderful thing in the story, and to see Gwen's face in that moment," Benioff said. "I've probably seen that scene four hundred times, and every time, it gets me. It makes me a little bit thrilled, it makes me tear up. I love that scene."
The coffee cup incident was brought up
In the highly controversial final season, a disposable coffee cup was seen in front of Daenerys (Emilia Clarke) in the episode "Last of the Starks." The cup was later digitally removed, but not before millions caught the blunder and took to social media to talk about it.
Benioff compared the coffee cup incident to the flaws in Persian rugs. "It's tradition that you make a little mistake when making the rug, because only God can do anything perfect," said Benioff. "That's why I put the coffee cup there. It was a conscious, concerted statement of our imperfection," Weiss joked.
"We were concentrating so much on Daenerys and Jon Snow that we just didn't see this coffee cup right in the middle," Benioff went further on to explain. "So at first I couldn't believe it, and then it was embarrassment; 'how did we not see this coffee cup in the middle of the shot?' And then, eventually, it was just funny. This one is just a mistake, and it's kind of funny to us now."
What's next for David Benioff and D.B. Weiss?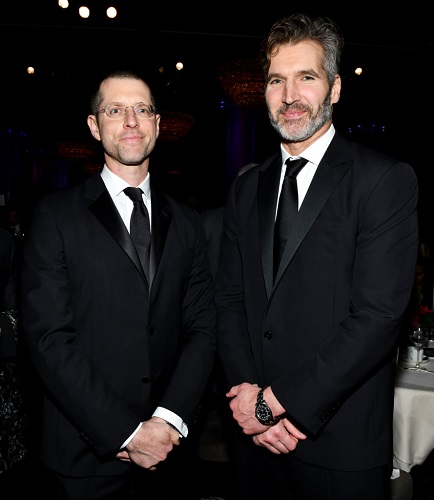 The pair have a lot ahead of them post Game of Thrones. According to The Hollywood Reporter, they have signed a multi-year film and television deal with Netflix. The deal is apparently worth about $200 million. As a condition of the deal, Benioff and Weiss won't produce shows for HBO any longer. They will work on projects for Netflix. An exception to this is the existing deal for the Star Wars franchise with Disney.
Benioff and Weiss said in a statement: "We've had a beautiful run with HBO for more than a decade and we're grateful to everyone there for always making us feel at home. Over the past few months we've spent many hours talking to Cindy Holland and Peter Friedlander, as well as Ted Sarandos and Scott Stuber. We remember the same shots from the same '80s movies; we love the same books; we're excited about the same storytelling possibilities. Netflix has built something astounding and unprecedented, and we're honored they invited us to join them."
The showrunners have a lot of exciting work ahead of them. Fans look forward to seeing what they come up with after working on Game of Thrones for so many years.