'Game of Thrones' Slays 'Mad Men' Season Premiere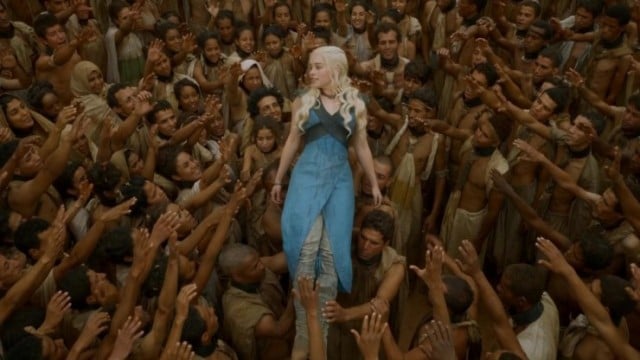 Mad Men's season 7 premiere on Sunday night didn't quite live up to expectations, and Game of Thrones could be to blame. According to The Hollywood Reporter, Game of Thrones' second episode of its fourth season garnered an impressive 6.3 million viewers, while only 2.3 million people tuned in for the premiere of Mad Men. The simultaneous airing of the MTV Movie Awards didn't help the AMC workplace drama, but lack of interest in the show's premiere could be a sign of bad things to come for the show's final season.
Last week, Game of Thrones' season four premiere netted a record-breaking 6.6 million viewers, and the second episode came close to reaching that mark again. The episode, which shockingly killed off one of the show's main characters — though it was probably about time — gained 8 million viewers with an 11 p.m. encore. That's a 48 percent increase versus the second episode of last year's season three. The fantasy series based on George R. R. Martin's novels has been a huge success for HBO.
Mad Men has also historically performed well for AMC, but the premiere of the final season dropped 1.1 million viewers compared to last year's season six premiere, The Hollywood Reporter said. Sunday night's premiere was the least-watched Mad Men opener since the second season in 2008.
In all fairness, Mad Men has always been more about critical acclaim than ratings, as the 1960′s period piece about ad executive Don Draper has repeatedly swept awards shows. The show has been praised for its writing and acting, as well as its highly authentic costumes and set design. Imitating the fashions worn by the women of Mad Men has been a popular way for fans to embrace the show.
Mad Men's sixth season ended high on the drama, with Don Draper having a bizarre and uncomfortable breakdown in front of the Hershey executives, in which he confesses to a childhood spent in a whorehouse emptying the pockets of Johns. Then he gets fired — or at least mandatory time off to face his alcoholism — to perhaps spiral out of control again. The seventh season will chronicle the events of 1969 until the show wraps up before the decade closes. If you don't mind spoilers, here's a review of the premiere episode "Time Zones" from Rolling Stone to get you caught up.
As for Game of Thrones, "The Lion and the Rose" promised another wedding, which was enough to get viewers to tune in after last year's shocking Red Wedding that occurred in the third season's second to last episode. This wedding resulted in more bloodshed, though that's one thing many Game of Thrones fans are tuning in for. If the episode has already been spoiled for you, here's a review from Forbes to give you the complete run down on what happened.
Game of Thrones has had great success at entertaining and even shocking fans of the novels as well as those unfamiliar with the series or even uninterested in the fantasy genre as a whole. Its popularity may continue to steal Mad Men's thunder as Don Draper and company wrap up their tumultuous decade.
More from Wall St. Cheat Sheet:
Follow Jacqueline on Twitter @Jacqui_WSCS