'Game Of Thrones' Star Kit Harington Almost Got Dumped By Rose Leslie Over A Prank Gone Wrong
Landing the role of Jon Snow on Game of Thrones didn't just make Kit Harington a star, it introduced him to his wife, Rose Leslie, who played Ygritte during Seasons 2 through 4. However, just weeks before their June 2018 wedding, Leslie nearly dumped Harington after an April's Fools Day prank gone wrong.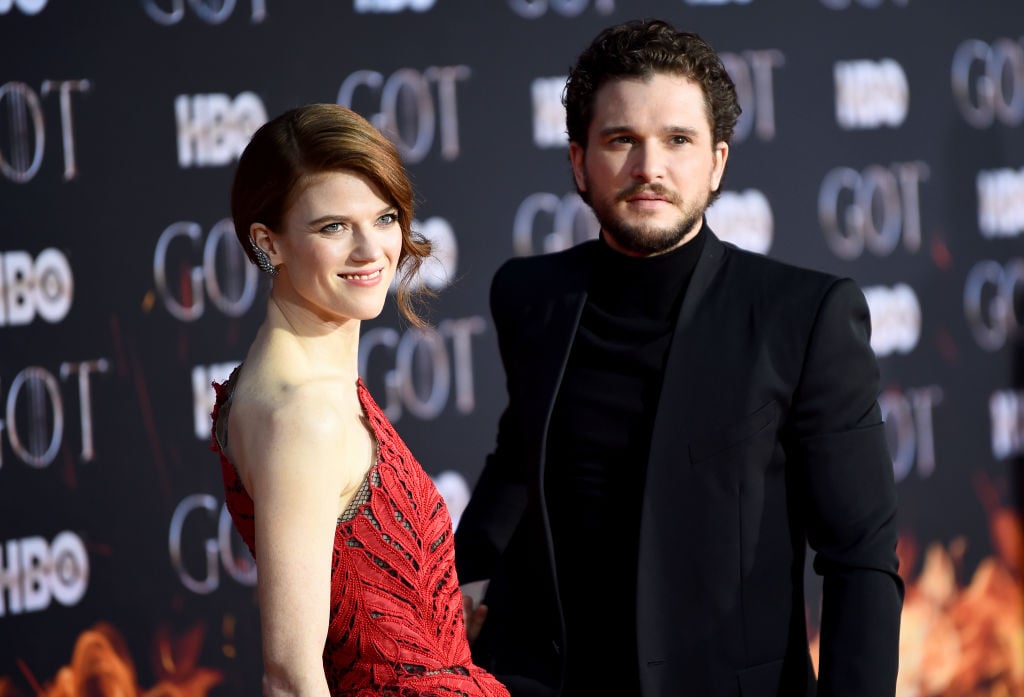 Life imitates art
Kit Harington and Leslie met on the set of Game of Thrones during Season 2 when Leslie played Jon Snow's love interest, Ygritte. As they filmed their scenes in Iceland over the course of three weeks, the couple's on-screen love affair turned into a real-life romance, with Harington calling the country "beautiful" in a 2016 interview because of the magical Northern Lights and because it was the place he fell in love.
"If you're already attracted to someone, and then they play your love interest in the show, it becomes very easy to fall in love," said Harington.
As GOT fans know, Season 4 was Ygritte's last, as she died in Jon's arms during battle, but Harington and Rose's romance continued. He eventually proposed and the couple set a wedding date of June 23, 2018,
Prank gone wrong
As Kit Harington and Rose Leslie prepared to the tie knot, April Fool's Day rolled around, and Harington decided to prank his bride-to-be. According to The Express, Harington placed a model of his severed head in their refrigerator and recorded her reaction when she opened the door. But Leslie didn't find it funny; instead, she screamed and collapsed in fear.
Harington explained that his family does April Fools, but her family doesn't. Apparently, she wasn't even aware what day it was, and while he was yelling "April Fools!" she was in tears.
"It didn't go down well…When my laughing died down, it took some making up," said Harington. "She pretty much told me if I did it ever again that would be it. And I think that's marriage included."
Their 'Game of Thrones'-inspired wedding
Leslie did eventually forgive Kit Harington, and their wedding took place as scheduled. The couple mailed the invitations to 200 friends and family members with Jon Snow stamps and GOT stars such as Emilia Clarke, Peter Dinklage, Sophie Turner, and Maisie Williams were all on the guest list.
The ceremony was at Kirkton of Rayne Church in Leslie's hometown of Aberdeen, Scotland, and the reception took place at Wardhill Castle, which is owned by Rose's dad, Seb.
John Harington – Kit's brother – was the best man, and during his speech, he snuck in the line, "You know nothing, Jon Snow." This was Ygritte's famous line that she first delivered during the seventh episode of the second season, titled A Man Without Honor.
During an appearance on The Tonight Show, Kit Harington admitted that fans often yell the line at the couple when they are out in public, and he hates when people say it. However, when his brother said it at the end of his best man speech, "it was quite sweet" because John went on to say that, "Looking at the woman you're marrying, it shows you do know something, Jon Snow."
'Game of Thrones' changed Kit Harington's life
The popular HBO drama just ended its eight-season run, but it's not lost on Harington how life-changing the show was for both his career and his personal life. He told TIME magazine that he was thankful that the show not only gave him his wife but his future family.
"That's the main thing it did for me, and then it's changed it completely in the last ten years," said Harington. "You could not ask for a better job to have in your twenties, to take you through your twenties than to be an actor on Game of Thrones."