'Game of Thrones' Star, Peter Dinklage Said He Would Do It All Again When Accepting His Emmy
Game of Thrones has set an Emmy record for the amount of nominations for a show for a single season. A lot of those nominations were for technical work on the show, but one cast member has also taken home awards.
Peter Dinklage is that one cast member that has won repeatedly. Find out what he said when accepting his award this year and more.
Peter Dinklage said he read the scripts for the final season differently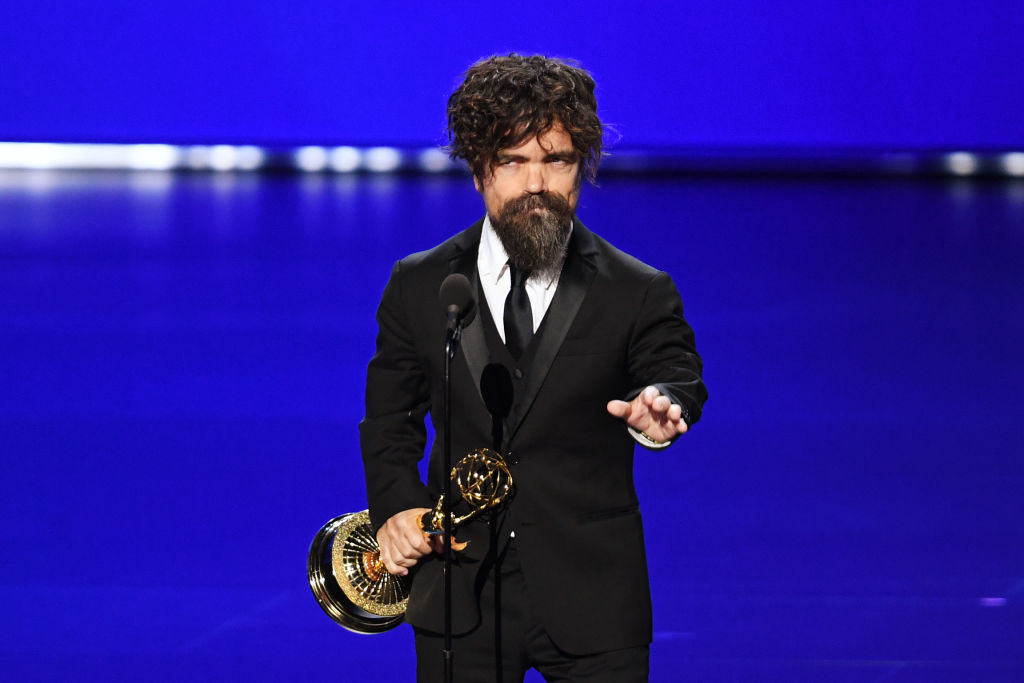 Dinklage played Tyrion Lannister throughout the series. The character went from the least respected person in the rich family to a powerful adviser. The actor talked about approaching reading the scripts for this final season differently.
"This is the first time ever that I didn't skip to the end," he told Entertainment Weekly. "Why? I was probably terrified. We all feel we're the leads of our own show." 
He continued, "As the seasons have gone on, we've all thought how it's going to end. Who's going to be alive? If you die, how do you die? Ten years we've been doing this and it can drive you mad, because [showrunners David Benioff and Dan Weiss] don't tell us and sometimes they change their mind."
The 'Game of Thrones' cast reunited at the Emmys
This year's award show was a big one for Game of Thrones. It was previously announced that the cast would reunite on the stage to give a message.
"You have to look at the trade-off," Fox Entertainment CEO Charlie Collier said according to Galgary Herald. "If you have a host and an opening number, that's 15-20 minutes that you don't have to salute the shows."
Alfie Allen, Gwendoline Christie, Emilia Clarke, Peter Dinklage, Kit Harington, Lena Headey, Sophie Turner, Carice van Houten, Nikolaj Coster-Waldau, and Maisie Williams took the stage to present supporting actress in a limited series or movie.
"I think all of us agree how amazing the entire last season was for us. We had no idea how it would end, who would betray whom, and who would end up with the prize," Turner said to the audience.
"As much as we wish the show could have gone on forever the time had come and tonight is a chance for once again to thank all of those who watched," said Williams. There was then a pause for applause.
Dinklage won for outstanding supporting actor in a drama
Dinklage has previously won three times for his performance as Tyrion. This year was his last chance to win again for the role and he did. The actor talked about being happy to work in the entertainment industry.
"I found myself so fortunate to be a member of a community that is nothing but all about tolerance, and diversity because no other place could I be standing on a stage like this," said Dinklage.
He went on to address showrunners David Benioff and Dan Weiss. "We did nothing but sweat. We did nothing but laugh. Dave and Dan, we literally walked through fire and ice for you. Literally! And I would do it all again in a heartbeat. Thank you."