'Game of Thrones' Stars Emilia Clarke and Rose Leslie Just Went on Vacation Together
Two Game of Thrones actresses and friends, Emilia Clarke and Rose Leslie, recently traveled to India together on an epic girls' trip. Fans will remember Clarke as the Mother of Dragons and Leslie as the tough wilding Ygritte. It looks like the pair had a blast together and shared fond memories. Clarke was good enough to share photos on her Instagram of the experience with Leslie, which even included being robbed by some monkeys.
Emilia Clarke shared photos of their adventure
Clarke shared photos of their trip on Instagram and captioned the images with a long and quirky message. "NAMASKAR India. 🙏🏻🙌✌️ NAMASKAR #anandaspahimalayas this is NOT an ad, this is just two gals buzzed off our faces on India, peace, being robbed blind by monkeys, (we hardly put up a fight) the best two books I've read in years (#theoverstory should be mandatory reading the world over), yoga, spice, mamma earth and figuring out that all you're ever looking for can be found within. Corny as hell but my god is it true," Clarke captioned the images. She also included a few hashtags and a tag reading, "#breathebabyandletthemadnessmeltaway #brainalteringjoy #roselesliehasmyheartandsoulwrappedupinhers #DONTFORGETTHELOVEPEOPLE! #bollocksdoesthatmeanitstimetoworknow? #🙌 #✌️ #🐒 #saltwaterbook #AMUSTREAD! @itbeginswiththebody."
Emilia Clarke and Rose Leslie were robbed by monkeys
Strangely enough, Clarke and Leslie were robbed by monkeys while on vacation. Clarke even shared an image of the four monkeys in their hotel room who were stealing fruit from a bowl on a table. One also appears to be chowing down on some paper. The quirky image has delighted fans at the thought of Daenerys Targaryen being robbed by anyone.
Leslie's husband Kit Harington was recently in treatment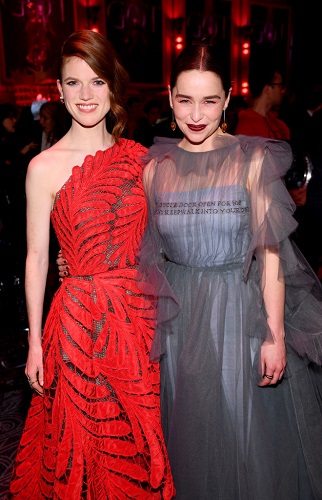 The pair's amazing vacation comes a few months after Kit Harington, who is also Leslie's husband and Game of Thrones co-star, checked into treatment. His rep spoke with Us Weekly saying Harington "decided to utilize this break in his schedule as an opportunity to spend some time at a wellness retreat to work on some personal issues."
According to Page Six who reported on it at the time, Harington had been staying in a luxury rehab facility for a month to treat stress and alcohol abuse after the ending of the show in which they were all apart of, Game of Thrones.
Fans weren't happy with the ending of 'Game of Thrones'
As is always true in life, you can't please everyone. Numerous fans were upset with how Game of Thrones ended and wanted another on the Iron Throne. But, it turns out, George R.R. Martin reportedly also plans to end his novels with Bran on the throne. Isaac Hempstead-Wright, who plays Bran, spoke about the planned ending during an interview for HBO's Making Game of Thrones.
"David and Dan told me there were two things George R.R. Martin had planned for Bran – that was the Hodor revelation, and that he would be king. So that's pretty special to be directly involved in something that is part of George's vision. It was a really nice way to wrap it up," said Wright.
Whatever fans may think, Game of Thrones was a huge show that millions have enjoyed. It had to end sometime, and it's impossible to make everyone happy with the ending of such an enormous production. Fans will always remember the beloved characters, as well as the actors themselves, and how they continue to influence pop culture.