'Game of Thrones' Stars Kit Harington and Rose Leslie Deny Split Rumors Amid Her Family's Money Trouble
Game of Thrones star Kit Harington continues to battle rumors that his marriage is in trouble. The divorce talk resurfaced following Harington's solo appearance on the red carpet for the 2019 Emmys a few months ago, with some sources claiming that Harington and Rose Leslie are headed towards a major split. The couple has since denied the breakup rumors as Leslie's family battles financial woes.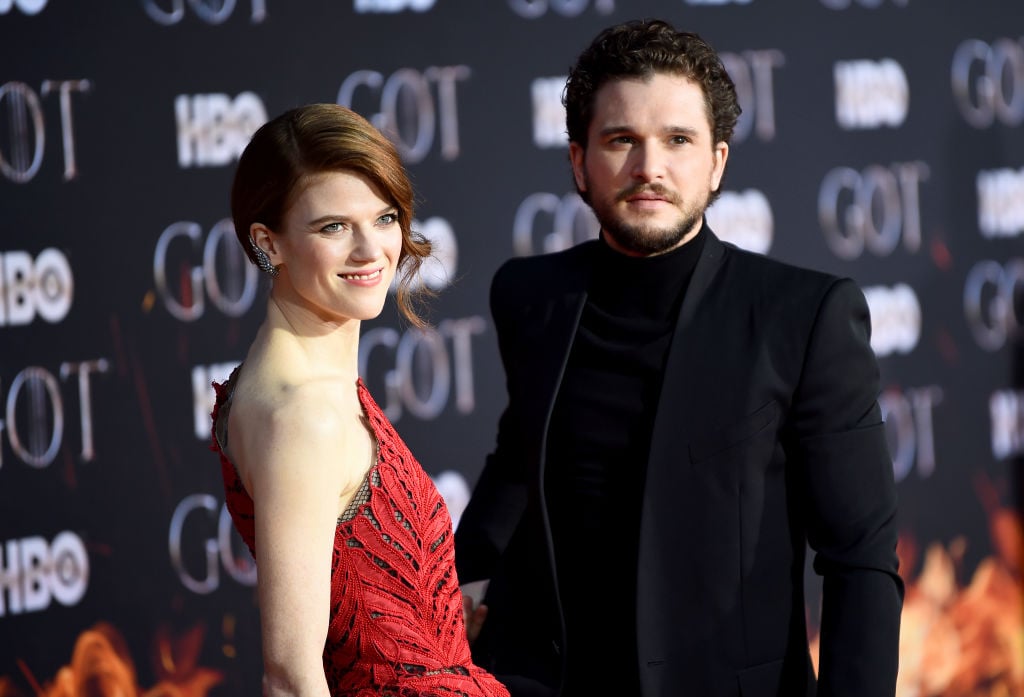 Are Kit Harington and Rose Leslie headed for a split?
The divorce rumors heated up after Harington was forced to enter rehab earlier this year. The Game of Thrones star checked into a wellness facility in the spring and got out just in time for his Emmy appearance.
Fans were hoping to see Kit Harington and Rose Leslie on the red carpet but she reportedly couldn't make the event because of prior commitments.
According to Business Times, Harington did not spend a lot of time on the red carpet and skipped out on giving an interview. He did, however, answer a few questions after the show won Best Drama Series.
Even still, fans questioned why Leslie did not walk the red carpet with Harington, especially following his rehab stint. A source claims that Harington went to the facility to get help for stress, though nothing specific has been confirmed.
Despite the divorce rumors, a rep for the couple says that their marriage is stronger than ever.
"[They are] very much happily married," the rep shared.
An insider also says that Kit Harington has been spending a lot of time with Leslie since leaving the wellness center. This includes celebrating their first wedding anniversary this summer. While we wait to learn more, Leslie's family is facing serious financial troubles that are no doubt putting pressure on the couple.
Inside Rose Leslie's financial woes
In a recent interview, Leslie's father, Sebastian Leslie, revealed that he had to borrow money after a bank seized the family's Lickleyhead Castle, which is in Insch, Aberdeenshire.
Sebastian found himself in a tricky situation after a loan company sued him for not paying back a debt. The courts seized the castle over the dispute and Sebastian was forced to hand over the keys. In light of his financial troubles, Sebastian borrowed money from Kit Harington and Rose Leslie, though he refused to say how much the couple gave him.
Sebastian and his wife, Candy, moved to Edinburgh after their castle was seized. He has since claimed that he gave up the property to expose corruption in the banking system.
In response, a spokesperson for the financial institution challenged Sebastian to give evidence to support his claims. He has yet to provide such evidence, other than claiming that other people have also fallen victim to the system.
Harington and Leslie have not commented on the situation.
Kit Harington reveals April fool's joke gone wrong
Amid all the rumors, Harington recently opened up about a prank he played on Leslie that completely backfired.
During an appearance on Late Night With Seth Myers, the Game of Thrones star explained how his wife loves almond milk but will only buy a certain brand. To mess with her, Harington wrote an article about how the company is going out of business.
After hearing the news, Leslie took Kit Harington's bank card and spent close to $200 on bulk almond milk – which hopefully had a long shelf life.
Since the end of Game of Thrones, Harington has been distancing himself from the series. To that end, the actor just landed a part in the Marvel Cinematic Universe as Dane Whitman (Black Knight).
Harington is set to play the character in Marvel's upcoming film, The Eternals, which will open in theaters in 2020.
Harington, of course, is best known for playing Jon Snow in HBO's hit fantasy drama, which wrapped up its final season earlier this year. The Game of Thrones finale was met with a lot of negative reviews from fans, though that hasn't appeared to bother Harington in the slightest.
There is no telling if Kit Harington and Rose Leslie's marriage will stand the test of time, but we certainly hope for the best.