'Game of Thrones' Stars Kit Harington and Rose Leslie Put Split Rumors To Rest With Rare Public Appearance
After months of laying low, Game of Thrones stars Kit Harington and Rose Leslie made a rare public appearance together this week. On Tuesday, December 10,  fans spotted the pair attending the MS Society's Carols by Candlelight at St. Botolph-Without-Bishopsgate Church. The sighting was a rare one for Harington and Leslie, who have been fighting rumors of a split for several months.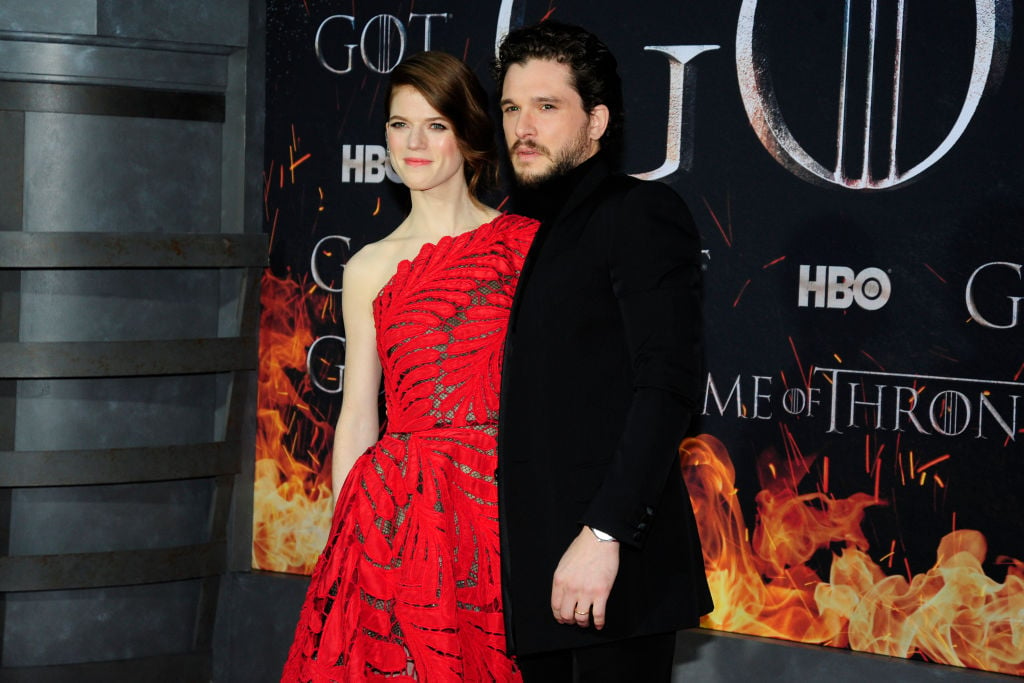 Kit Harington and Rose Leslie enjoy a night out
The last time Harington and Leslie were spotted in public was when he was leaving a wellness center last summer. They have stayed out of the public eye ever since, but that all changed this week when the pair stepped out for a night of singing and dancing.
According to Entertainment Tonight, Harington looked very handsome in his black jacket, while his wife rocked a colorful orange, blue, and green coat. Leslie completed her look with a red and black gown and looked happy alongside her husband.
The outing, meanwhile, comes shortly after Harington snagged a 2020 Golden Globes nomination for his role as Jon Snow in Game of Thrones. Kit Harington will be competing in the category of Best Performance by an Actor in a Television Series Drama.
While the two have not addressed the split rumors, their latest outing seemingly confirms that their marriage is still going strong.
Inside those pesky divorce rumors
Back in August, reports surfaced that Harington and Leslie were facing marital issues in the wake of a disappointing Game of Thrones finale.
Inside sources claimed that Harington was unhappy with how the show ended and that some of his frustrations were starting to take a toll on his marriage.
One source explained that Rose Leslie was trying to be understanding, but she also felt like Kit Harington needed to move on. To make things even worse, the final season was being filmed around a year after the couple tied the knot, and Leslie was looking forward to their honeymoon.
"This should be the happiest time of their life and Kit is spending it crying in a corner over a TV show," the source added.
Despite all of the split rumors, there does not appear to be any truth behind the idea that Harington and Leslie are headed for a divorce. In previous interviews, Harington has said that Game of Thrones ended at the perfect time in his life, and he and Leslie always appear close whenever they step out in public.
Kit Harington finishes wellness retreat
The split rumors may not hold any truth, but there is no denying that Harington had a difficult year in 2019. Following the conclusion of Game of Thrones, Harington decided to check himself into a wellness retreat as he dealt with a few obstacles in his personal life.
"Kit has decided to utilize this break in his schedule as an opportunity to spend some time at a wellness retreat to work on some personal issues," Harington shared through his rep.
The Game of Thrones star reportedly went to a center in Connecticut for around 30 days. He checked in only a few weeks before the season 8 finale of Game of Thrones was released on HBO.
Sources say that Kit Harington received help for exhaustion, stress, and alcohol addiction. Although the actor found himself in a bad place, his wife was reportedly very supportive as he got professional help.
The insider added that Harington needed a lot of rest after he left treatment, which could explain why he and Leslie have been laying low in recent months.
Rose Leslie's family faces money woes
While Kit Harington got the help he desperately needed, Leslie's family faced money woes of their own. The actress's father, Sebastian Leslie, recently revealed that he borrowed a lot of money from his daughter and Harington after he was forced to vacate their family's castle in Insch, Aberdeenshire.
He did not reveal how much the couple gave him, but he did note that they were both very generous in their giving.
The family's estate, Lickleyhead Castle, was taken after Leslie's father failed to pay off a loan.
Leslie and Harington have not commented on her family's money issues, but it is fairly evident that they are both very supportive of her family.
The pair originally met while working on the set of Game of Thrones. They tied the knot in June of 2018 in a private ceremony at Lickleyhead Castle. Rose Leslie and Kit Harington marked their one-year anniversary as soon as he got out of the treatment facility.