'Game of Thrones': The 10 Best Episodes (So Far)
For more than six seasons, Game of Thrones has surprised us, exhilarated us, traumatized us, and entertained us. Since it debuted on HBO in 2010, the epic fantasy series has shaped the way we think about television and become a staple for TV fans around the world. It hasn't always been perfect — over the past few years, there's been plenty of controversy over storylines and debate about how George R. R. Martin's popular book series has been adapted for the small screen. But few can argue that Game of Thrones is one of the most imaginative and riveting series on televisions today. And it's managed to do what few other fantasy series have: become a mainstream hit.
From the series' opening moments to its explosive sixth season finale, it's had more highs than lows. So much so that it's difficult to compile a list of the series' best episodes without feeling like you're leaving out some vital moments. Still, there are some episodes that stand out far above the rest. Here are the 10 best Game of Thrones episodes so far.
1. "Winter is Coming" – Season 1, Episode 1
The idyllic moments in Winterfell, when the Starks and Baratheons feast and toast each other, feel like a distant memory. But they're the centerpiece of "Winter is Coming," the first Game of Thrones episode — and still one of its strongest. The pilot of the HBO series does exactly what a great opening episode needs to do. It introduces us to vital characters and themes. It gives us a glimpse of the world in which the series takes place. And it gives us a reason to tune in again.
"Winter is Coming" features iconic Game of Thrones moments — the introduction of Daenerys Targaryen (Emilia Clarke), whose meek deference to her seriously sinister brother Viserys (Harry Lloyd) reminds us of her tremendous character growth; the revelation of an illicit affair between Cersei Lannister (Lena Headey) and her brother Jaime (Nikolaj Coster-Waldau); and the titular mantra that sets the somber, foreboding tone for the rest of the series.
2. Baelor — Season 1, Episode 9
Fans of George R. R. Martin's A Song of Ice and Fire book series knew it was coming. But for Game of Thrones viewers that remained spoiler-free, "Baelor" was an absolute shocker of an episode — and a true game-changer for the series. It's the penultimate episode of the first season — and the way in which it draws viewers in as we wait to learn Ned Stark's (Sean Bean) fate at the hands of newly-appointed King Joffrey (Jack Gleeson) is spell-binding. As is the episode's closing moments, when Ned loses his head and the series loses its most obvious protagonist.
3. Blackwater – Season 2, Episode 9
Game of Thrones has come to be known not only for its addictive plotlines, but for its intense battle sequences. And for many, the explosions and carnage at the center of "Blackwater" make the battle the series' best to date. In many ways, the penultimate second season episode is one of the series' most unique — for one, it's the first to take place entirely in a single location. But what really makes this action-packed episode so memorable is the way that writer George R. R. Martin and director Neil Marshall blended violence with moments of quiet reflection. As such, it's an episode that is every bit about the warriors as it is about the war.
4. Kissed by Fire – Season 3, Episode 5
Despite its heated title, the best moments in this third season gem all occur in and around water. "Kissed by Fire" furthers several important Game of Thrones plotlines — one of the most memorable being Jon Snow losing his long-discussed virginity to his fiery Wildling sweetheart, Ygritte (Rose Leslie). Yet when push comes to shove, the best moment in the episode comes in a quiet moment between recently-freed Brienne of Tarth (Gwendoline Christie) and the bruised, battered, and recently handicapped Jaime when he confesses his sins to her as they cleanse themselves in the Harrenhal baths.
5. The Rains of Castamere — Season 3, Episode 9
All you have to say to a Game of Thrones fan to make him or her emotional are these three words: the Red Wedding. And though that carnage-filled celebration — which ends with the murders of Robb Stark (Richard Madden), his pregnant wife Talisa (Oona Chaplin), and his mother Catelyn (Michelle Fairley) — only comprised the final act of "The Rains of Castamere," the entire episode has a sense of foreboding. The penultimate episode of Game of Thrones's third season isn't just notable because of the way it shifted the series' story once again, but for the brilliantly brutal and at times visceral way in which director David Nutter constructed the sequence. From the moment the somber titular song begins to play to Catelyn's horrific, agonized scream moments before her own demise, it's impossible not to hold your breath in horror and hope it will all be over soon.
6. The Lion and the Rose — Season 4, Episode 2
There are few moments of catharsis when it comes to Game of Thrones. That's because so often, it feels like the characters we're rooting for the most are the ones that end up on the uglier side of tragedy. But "The Lion and the Rose" is a rare exception — an episode that brings about one of the most satisfying deaths in the series' history. After he's been responsible for the abuse of Sansa Stark (Sophie Turner) to the brutal murder of her father Ned, there's a genuine joy in witnessing Joffrey's death — by way of poisoning — at his own wedding to Margaery Tyrell (Natalie Dormer).
7. The Mountain and the Viper — Season 4, Episode 8
A whole lot happened in this dramatic Games of Thrones episode. But it's difficult to remember anything beyond the intense battle between Gregor Clegene (Hafþór Júlíus Björnsson) and Tyrion Lannister's (Peter Dinklage) champion Oberyn (Pedro Pascal). Not only does this sequence deliver a fan-favorite character a tragic conclusion — and arguably the most gruesome death in Game of Thrones history. "The Mountain and the Viper" sets events in motion for Tyrion's biggest challenge to date, as Oberyn's defeat means Tywin (Charles Dance) will charge his son for the death of his nephew, Joffrey — a crime he most certainly did not commit.
8. The Watchers on the Wall — Season 4, Episode 9
In Game of Thrones's earlier episodes, Jon Snow (Kit Harington) and his life with the Night's Watch was often relegated to a subplot. But throughout the course of the fourth season, the tension between the men on the Wall and the Wildlings became central to the series' story. And when it all came to a head — with a battle that rivaled "Blackwater" — Jon proved himself as a warrior and lost more than he bargained for in the process. "The Watchers on the Wall" remains one of the most exciting and excruciating episodes in Game of Thrones history, thanks to a brilliantly executed battle sequence and the unforgettably tragic final moments between Jon and his lover Ygritte.
9. Hardhome — Season 5, Episode 8
Game of Thrones is at its best when it mixes action and drama — and there was plenty of both in "Hardhome." This episode saw a crucial alliance being formed between Daenerys and Tyrion Lannister, and tension mounting at Winterfell as Reek (Alfie Allen) makes a confession to Sansa. But the most unforgettable moments of this gripping episode occurred as Jon Snow and his fellow Night's Watch men took up warms against the White Walkers. It's hard to ignore the feeling, as the episode progresses, that much of what we as fans have been waiting for — including that elusive winter we've been told about — is finally arriving.
10. The Dance of Dragons — Season 5, Episode 9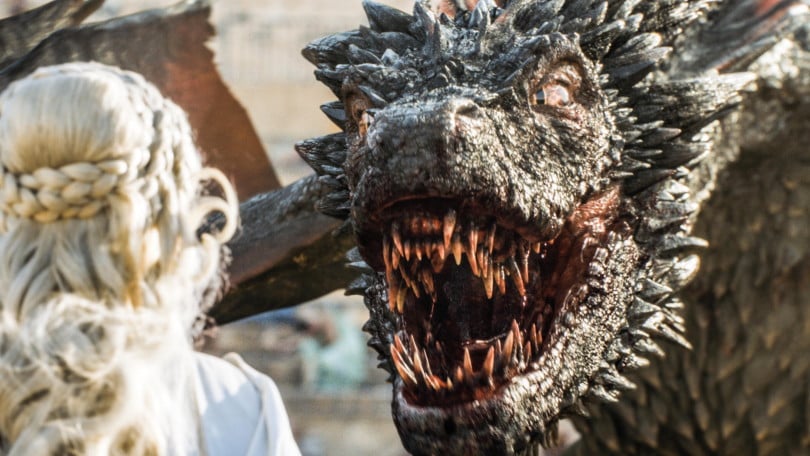 To borrow sentiment from another literary classic, it was the best and worst of times in the penultimate episode of Game of Thrones's fifth season. And as a result, "The Dance of Dragons" is one of the most thrilling installments of the series to date. It features a scene that was a shock even to fans of the books — in which Stannis Baratheon (Stephen Dillane) kills his daughter Shireen (Kerry Ingram) at the bequest of Melisandre (Carice van Houten). And as a dramatic and less traumatic counterpoint, the action in Meereen as Daenerys, Jorah (Iain Glen), Missandei (Nathalie Emmanuel), and Tyrion keeps us edge of our seats as they stand surrounded by insurgents. But the most exciting moment of this incredible episode comes in the closing seconds, when our favorite Mother of Dragons shocks her enemies and allies by climbing aboard Drogon and setting off on a victorious flight.
Bonus Episode: Battle of the Bastards – Season 6, Episode 9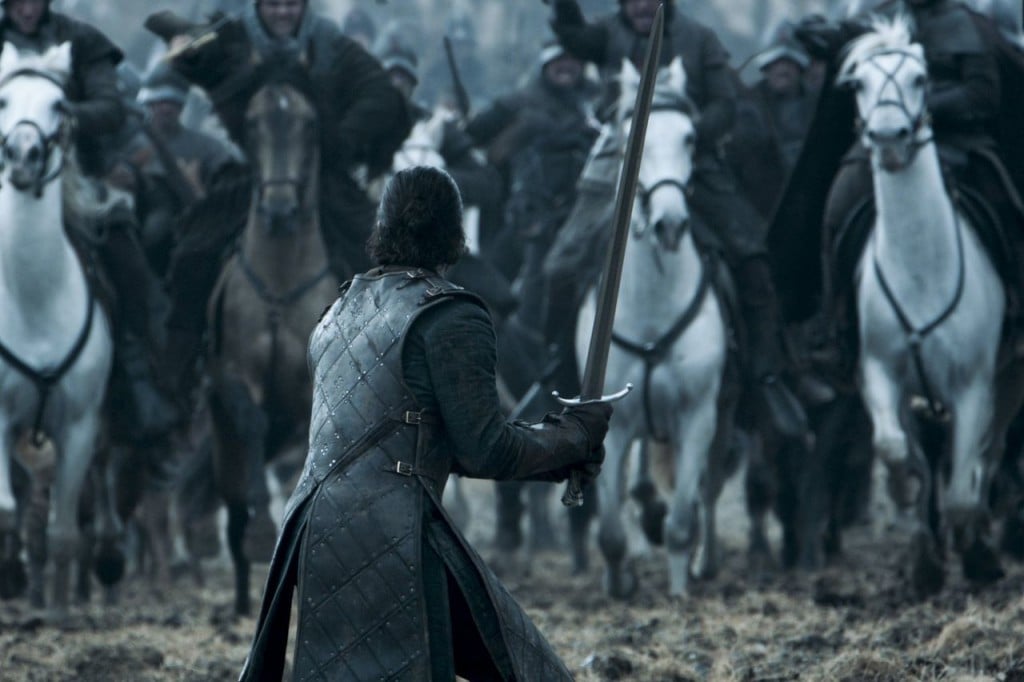 Of all the crazy episodes Game of Thrones has features, none have featured the insane scope we saw in "Battle of the Bastards." We finally got to see Ramsay Bolton get his just desserts, as the show's de facto villain got his face eaten off by the very dogs he used to do the same to others. Budget-wise, HBO spared no expense either. Entertainment Weekly reported the use of 600 crew members, 500 extras, 160 tons of gravel, 70 horses, 25 stuntmen and women, 25 days of shooting, and 4 camera crews, all to shoot a single hour-long episode of the show. Yeah. This one was huge. 
Battle of the Bastards" garnered seven of the 12 total Emmys awarded to Game of Thrones at the 2016 Emmys. As noted by GQ, this is a record number of Emmys for a single episode on any show.
Follow Katherine Webb on Twitter @katiedoubleyew.
Additional reporting from Nick Cannata-Bowman
Check out Entertainment Cheat Sheet on Facebook!