Gangster Role Could Earn Depp Back His Street Cred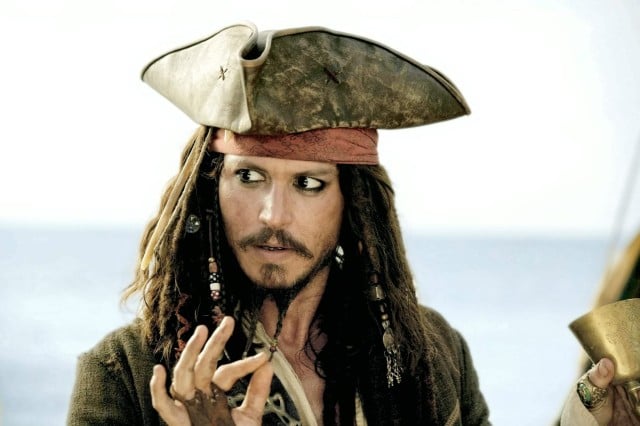 Johnny Depp is one of the most unusual and well-respected actors of his generation, but his most recent string of films have been critical disappointments and many have even done badly at the box office as well. This spring's science fiction thriller Transcendence, in which Depp played a scientist who created artificial intelligence technology and was murdered by an anti-technology group, was a massive flop. Venerable Rolling Stone film critic Peter Travers even went so far as to call Transcendence "one of the biggest disappointments of the year."
Before that, there was Disney's The Lone Ranger, which also received poor reviews and only made $89 million domestically during its run in theaters, per Box Office Mojo. Tim Burton's adaptation of the 1960s TV show Dark Shadows saw Depp playing a wimpy vampire and got pitiful reviews that questioned what had happened to the once-formidable and exciting team of Burton and Depp. The most notable thing to come from the adaptation of Hunter S. Thompson's The Rum Diary was Depp's impossibly young and hot new fiancée (Amber Heard), and while Burton's Alice in Wonderland made a bunch of money ($334 million domestic), it left critics cold. That's not even mentioning the bloated Pirates of the Caribbean franchise. Depp needs to make a good movie if he wants to keep his reputation as one of the most exciting actors in Hollywood intact.
There are some upcoming films from the actor that seem promising, and could restore his credibility with critics and fans of his earlier, more serious work. Warner Bros. announced on Monday that Depp's upcoming crime drama in which he plays Irish-American gangster Whitey Bulger will hit theaters on September 18, according to an article from The Hollywood Reporter. The as-yet-untitled movie is based on the book Black Mass: Whitey Bulger, the FBI, and the Devil's Deal by Dick Lehr and Gerard O'Neill. The movie was directed by Scott Cooper and co-stars Benedict Cumberbatch, Adam Scott, Kevin Bacon, and Juno Temple.
The real Whitey Bulger was in the upper ranks of the Irish mafia in Boston during the 1970s and served as an informant to the FBI on his Italian mafia rivals. In 1994, after being tipped off about his impending indictment, Bulger went into hiding and remained on the loose for 16 years until he was arrested in Santa Monica in 2011, at the age of 61.
Depp has had success with gangster material before. His 1997 film Donnie Brasco co-stars Al Pacino as a low-level gangster and Depp as the undercover FBI agent sent to infiltrate the mob, and is considered to be one of the best performances of Depp's career, with an 87 percent Fresh rating on Rotten Tomatoes. More recently, Depp portrayed famed gangster John Dillinger in Michael Mann's Public Enemies, which has a 68 percent Fresh rating with most reviews praising his performance as the best part of the film.
Other upcoming projects from the actor include the film adaptation of the Sondheim fairytale musical Into the Woods, in which he plays The Wolf, and the action-comedy Mortdecai, based on the crime novels The Mortdecai Trilogy, in which he plays an art dealer seeking to recover a stolen painting that contains the secret code to a bank account with Nazi gold inside. Of course, there are sequels to Alice in Wonderland and Pirates on the horizon as well.
After playing a pirate, a Native American chief, a vampire, and a Mad Hatter, a gangster might be just the right role for surprisingly Oscar-less actor to break his recent string of flops.
Black Mass: Whitey Bulger, the FBI and a Devil's Deal, by Dick Lehr and Gerard O'Neill. – See more at: http://www.hollywoodreporter.com/news/johnny-depps-whitey-bulger-movie-715943#sthash.sxajRHZc.dpuf
More From Wall St. Cheat Sheet:
Follow Jacqueline on Twitter @Jacqui_WSCS