Gayle King Just Celebrated A Milestone Birthday And Was Treated to This By Bestie Oprah Winfrey
CBS This Morning lead anchor Gayle King recently enjoyed a birthday celebration spearheaded by BFF Oprah Winfrey. Besties for over 40 years, the two media powerhouses have been pals since their early days in local news. Commemorating King's milestone birthday, Winfrey arranged for some special treats on her best buddy's big day.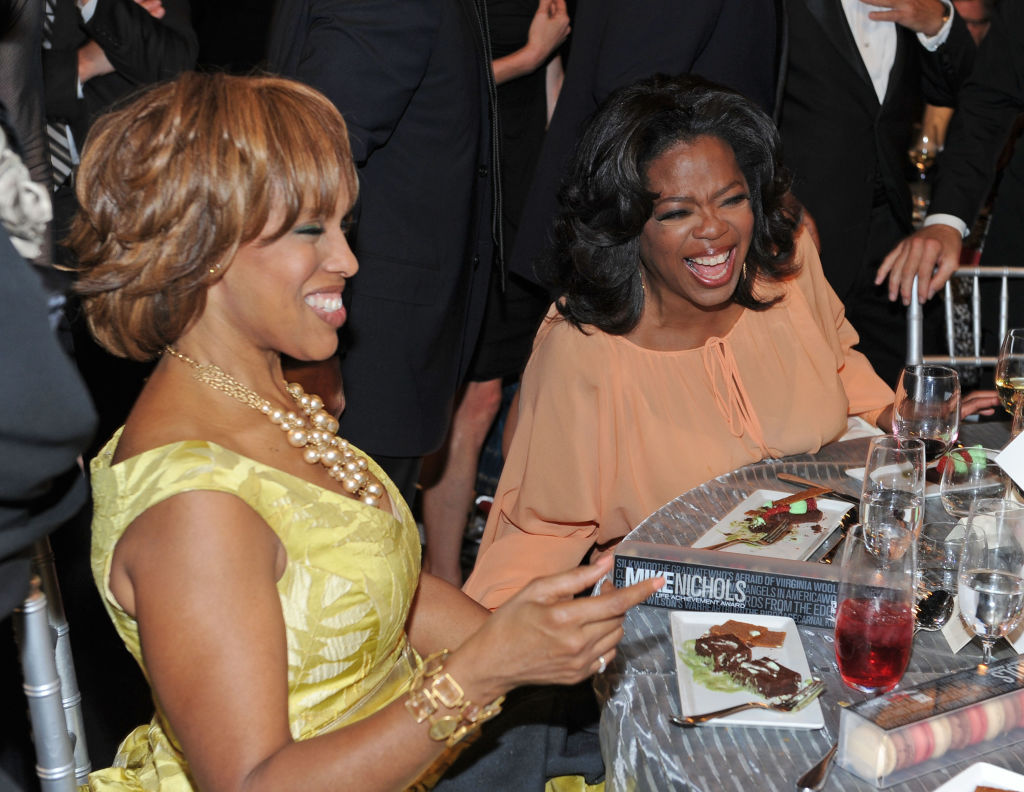 Started with a snowstorm
According to E! Online, Winfrey and King met while working at a Baltimore TV station in 1976. One night when a massive snowstorm was forecast to hit their area, 22-year-old Winfrey, who was the 6 p.m. news anchor at the time, invited King, a 21-year-old production assistant, to stay at her house. King never forgot the thoughtful gesture. "When I said I didn't have any clothes with me, she said 'you can wear mine,' and when I said I didn't have any underwear she said, 'you can borrow mine, it's clean!" King told the Huffington Post in 2015.
The two continued to bong with a field trip to the mall the following day, where Winfrey surprised King by spending $19.99 on two-for-one sweaters. "We became friends that first night because for the first time, I met somebody who I felt was like me," King said. 
Oprah's big day
Back in January, King helped Winfrey celebrate her 65th birthday in St. Bart's. According to The Blast, Winfrey wanted to keep the event 'low key' – so much so that she didn't even want a cake. But King decided to override that choice.
"Happy birthday DEAR @oprah who did NOT want a bd cake so I requested the kind I like!" King posted on Instagram in January. "It was delish perfect for the birthday girl!"
Despite her desire to avoid any major fanfare, Winfrey enjoyed her milestone birthday with a group of friends on a gorgeous yacht.
Gayle's big day
King turned 65 on December 28. Winfrey decided to start off the festivities by treating her to a manicure. "It's 65, but the good thing is, I don't feel 65," King said while getting her nails done, according to the Daily Mail. "What does 65 feel like? I don't know, but I don't feel that."
Posting a video of King getting the pampering spa treatment on her Instagram Story, Winfrey could be heard responding, "It feels like whatever you feel like," to which King said, "Then I feel 40-something. And the doctor said my body is 40-something. So, I'll take that." 
The CBS This Morning anchor posted some pics of the dinner party that Winfrey threw for her later that day. "When turning 65 feels like 40 something!" she captioned the photos. "Thsnx @Oprah for a very special dinner ..my fav color my fav menu and my fav people all in one room ! Here's to 2020!!!"
King posted the specially-designed menu for the birthday bash, which included items such as Hand-Cut Wild Mushrooms Tortelloni, Pan Roasted Dover Sole, and Slow Braised Wagyu Short Ribs.
Winfrey took to social media as well, putting up more videos showcasing the prep for King's dinner party, which included a long table decked out with candles and floral arrangements in King's favorite color – yellow. "So, happy birthday to my friend Gayle," Winfrey said in the video. "Tulips, narcissus, daffodils, all the spring flowers in the middle of winter, and that's what's so fantastic."
The media mogul referenced how long they've enjoyed their invaluable friendship. "We've been friends since she was 21 and I was 22," Winfrey posted on Instagram to her bestie. "Still celebrating! Happy birthday @gayleking 🎉🎉🎉"
It's safe to say that King thoroughly enjoyed ringing in her 65th year with her BFF Winfrey and that these two besties will continue to celebrate their special days together.
Happy birthday Gayle!