George R.R. Martin vs. HBO: 'Game of Thrones' Movie?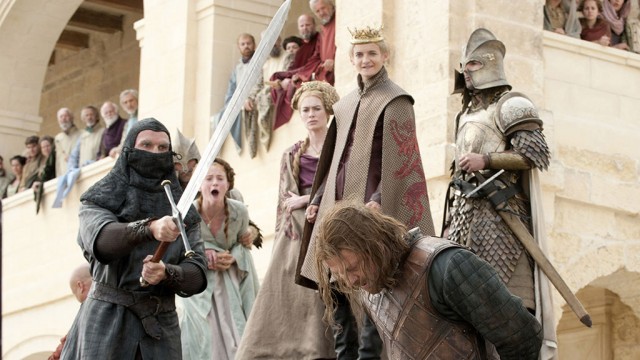 HBO, show creators David Benioff and Dan Weiss, and author George R.R. Martin have some conflicting ideas about how the extremely successful television series Game of Thrones should end. Game of Thrones is one of the most popular shows on television and according to Uproxx its recent fourth season finale was watched by a whopping 7 million people. Now the various voices that guide the series are working out how the show will end, or not end.
In an article from Entertainment Weekly, HBO programming president Michael Lombardo has said he, and probably anyone else with any financial interest in HBO, would prefer to see the series last longer than Benioff and Weiss's planned seven seasons. Meanwhile, there's still the question as to whether the series could end with a full-length feature film. George R.R. Martin has endorsed this idea, but the HBO execs aren't so sure about making subscribers pay to go to the theaters to finish out the series.
"Certainly there have been conversations where it's been said, 'Wouldn't it be cool to do that?'" Lombardo said to Entertainment Weekly about a possible film. "But when you start a series with our subscribers, the promise is that for your HBO fee that we're going to take you to the end of this. I feel that on some level [a movie would be] changing the rules: Now you have to pay $16 to see how your show ends."
Martin cleared up his position on the matter in a post on his blog, saying that while he thinks a movie is a really exciting prospect the idea of making a film did not originate from him. "Sure, I love the idea. Why not? What fantasist would not love the idea of going out with an epic hundred million feature film? And the recent success of the IMAX experience shows that the audience is there for such a movie. If we build it, they will come. But will we build it? I have no bloody idea," Martin wrote, referencing a recent very successful run of Game of Thrones episodes in IMAX theaters.
As for when the show will end, that's more of a conflict between Benioff and Weiss and HBO than anything to do with Martin, who has said he'll support the series whether it decides to continue past the seventh season or not. "Seven seasons, ten seasons, with or without one or two feature films… in the end, all that matters is that we tell a great story, with a great end," Martin wrote. In the blog post Martin also said he's long known that HBO wants to keep the show going for as long as possible, but the showrunners have been pretty adamant that by the end of the seventh season they'll have finished telling the story they want to tell and reached the creative end point.
"This is the hard part of what we do," Lombardo said to EW. "We started this journey with David and Dan. It's their vision. Would I love the show to go 10 years as both a fan and a network executive? Absolutely." Lombardo said that there would be "an honest conversation" about continuing the show, but if the showrunners say that season seven is the end of the story then the network will trust their creative decision. It's worth noting that Lombardo referred to such a creative decision as "horrifying."
Obviously HBO has the bottom line firmly in mind when looking at when to end Game of Thrones. The longer the show goes on, the more money HBO can make on it. Martin is still writing the incredibly long A Song of Ice and Fire book series, so it seems like the show could almost go on interminably with him continuing to write new material even though his book writing doesn't exactly keep pace with the show. However, the show's creators don't want to sacrifice the show's creative integrity by continuing to pump out material when they feel like the part of the Song and Fire series they are telling has reached its end.
It's going to be a delicate dance as the three parties negotiate the lucrative, highly rated, and critically acclaimed series to its conclusion. So far all seem to have the creative integrity of the show and the satisfaction of fans first in mind. Hopefully figuring out the beloved fantasy series' conclusion won't turn out as bloody as the plot in a typical episode.
Follow Jacqueline on Twitter @Jacqui_WSCS
More from Entertainment Cheat Sheet:
Want more great content like this? Sign up here to receive the best of Cheat Sheet delivered daily. No spam; just tailored content straight to your inbox.