Giada De Laurentiis: 5 Party Appetizers and Cocktails For Your New Year's Eve Celebration
Now that Christmas is in the rearview mirror, it's time to get ready to usher in the new year!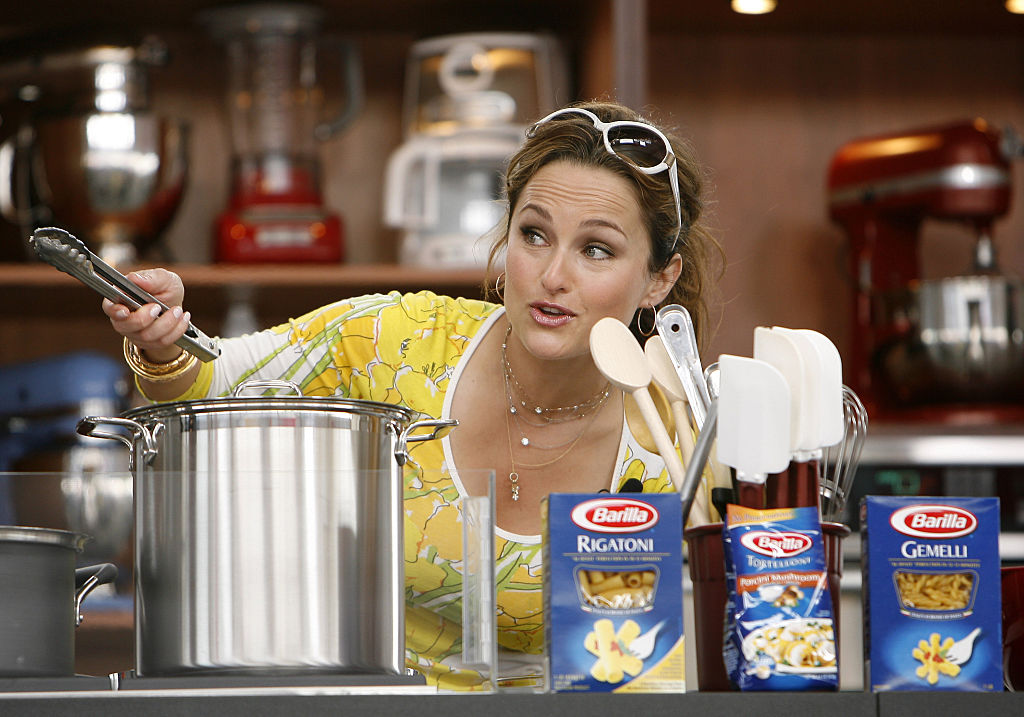 Here are five appetizer and cocktail recipes from the kitchen of Giada De Laurentiis that are perfect for your New Year's Eve celebration, or any festive occasion.
White Bean Dip with Pita Chips
De Laurentiis in her book, Everyday Italian, calls this appetizer "the Italian version of hummus."
This dip recipe calls for one can of cannellini beans, fresh parsley leaves, freshly squeezed lemon juice, and a garlic clove.
". . . in my opinion it's smoother and tastier [than hummus]. This is a staple antipasto when I'm entertaining. The pita chips aren't Italian, but they work really well with this dip."
Both the pita wedges and bean dip can be made one day ahead.
Panini with Chocolate and Brie
A decadent party treat, this combination is, as De Laurentiis says in her book, Giada's Kitchen, "always a conversation starter."
A panini press and hungry appetites are required for this appetizer, which calls for twelve ounces of Brie cheese, semisweet chocolate chips, and, surprisingly, basil leaves.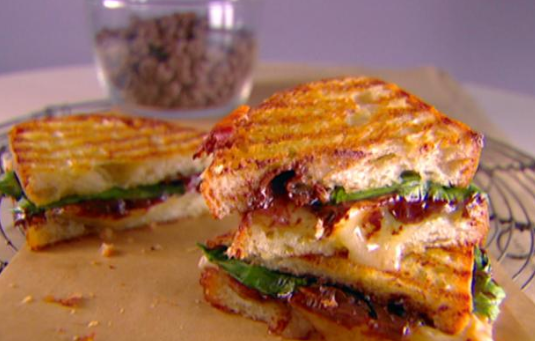 The 49-year-old states enthusiastically in her book about these mini-sandwiches: "I could eat this sandwich every day for the rest of my life and never get tired of it."
"The heat of the panini press melts the chocolate and Brie together, and the salty-sweet-gooey goodness that results is my idea of heaven. . . . [for a cocktail party, I cut] each sandwich into four small squares."
Roasted Asparagus Wrapped in Prosciutto
De Laurentiis explains in Everyday Italian how this particular appetizer was created from her food business days.
"This is one of those dishes that was born out of my years of catering and the necessity to come up with something new for cocktail parties. Roasting the asparagus is fast and easy and gives a lot more flavor than simply steaming."
With only three ingredients (not including salt and pepper, of course) – asparagus stalks, olive oil, and paper-thin slices of prosciutto – this appetizer recipe is quickly thrown together even at the last minute.
Pomegranate and Cranberry Bellinis
De Laurentiis says in Giada's Kitchen, "Pomegranates and cranberries are both widely available in the fall, making this the perfect cocktail for any holiday party."
This tangy cocktail can be made in a punch bowl, or alternately, in a 6- to 8-cup pitcher. Pomegranate seeds are placed in twelve champagne flutes, along with a slice of lime and a sprig of mint.
The bellini mixture of pomegranate juice, cranberry juice, Prosecco, and simple syrup is poured into each flute for a refreshing and festive holiday cocktail.
Lemon Hazelnut Spritz
The combination of lemon peel, Frangelico hazelnut liqueur, and prosecco sounds a little odd, but it's tart, it's warm, and it's elegant. Above all, its bubbliness gives it a festive feel.
As De Laurentiis says on her website, Giadzy, "It doesn't get any easier than this. I like to think this is the best of Italy colliding into a perfectly light and refreshing cocktail."
"With some prosecco to fit our theme, and a bit of Frangelico, a hazelnut liqueur, to add some nuttiness and depth, you've got a delicious spritz to pair with a decadent dessert."
"It's all about balance!"
Read more: This is How Giada De Laurentiis Beats the Holiday Bloat