Giada De Laurentiis and Bobby Flay Just Engaged in Playful Banter on Instagram
Whether you're a certified foodie or a casual cook, there's no doubt the Food Network has a TV show for everyone. And there are certain chefs who've been on the air for years. Giada De Laurentiis is known for her Italian cuisine, and she has quite a complicated history with infamous chef Bobby Flay. From cheating rumors to a rift in their friendship, they've been through it all — and now it seems they're playfully responding to each other on Instagram for all the world to see.
Here's what was posted to the 'gram from De Laurentiis and what Flay commented back.
Bobby Flay and Giada De Laurentiis were rumored to have had romantic relations in the past
There are few networks as wholesome as the Food Network, but even the food channel has some drama attached. While De Laurentiis is no longer married to her ex-husband, Todd Thompson, there were rumors circulating that she was cheating on him with multiple other men. First, the rumors stated De Laurentiis was having relations with disgraced Today host, Matt Lauer. And in 2014, they then surrounded her and Bobby Flay.
Back in 2014, E! News reported that the night before De Laurentiis announced her divorce from Thompson, she was out on the town with Flay. While Flay was also married to Stephanie March at the time, the publication said De Laurentiis and Flay were spotted at Cecconi's at Soho Beach House Miami after attending a work event together. And the reports also noted that De Laurentiis was apparently in high spirits despite the sad news of her divorce.
While Flay's representatives said the two were just friends having drinks, the outing caused many to think otherwise.
De Laurentiis noted she stopped talking to Flay at one point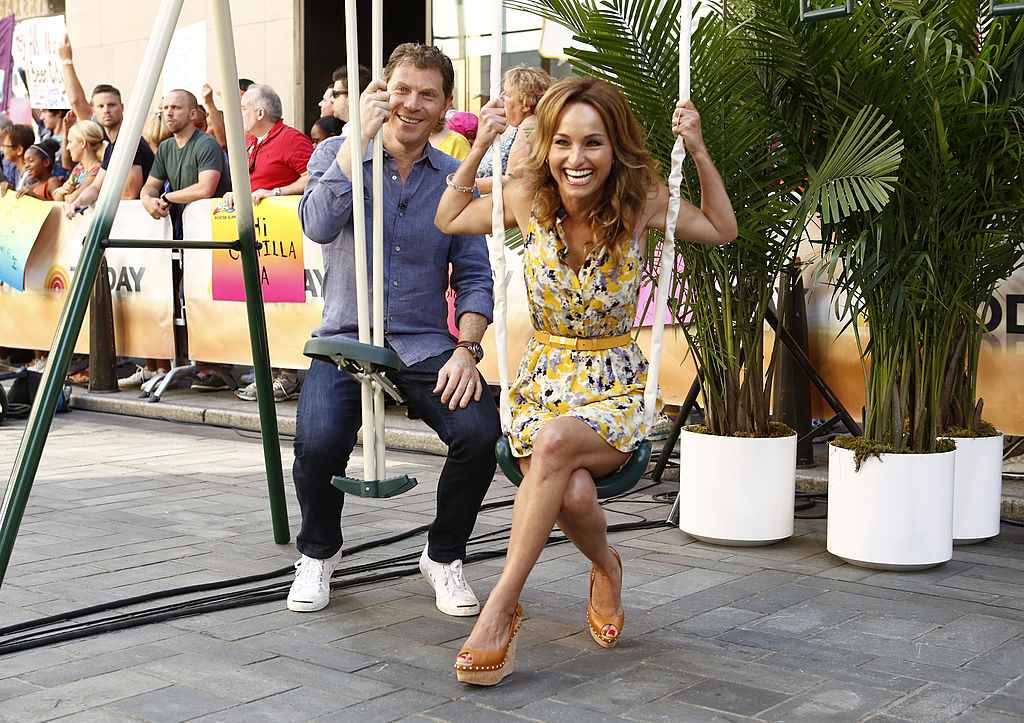 While Flay and De Laurentiis seemingly have a good friendship now, it wasn't always that way. People notes back when De Laurentiis and Flay were paired together on Iron Chef America in 2006, the duo had a serious falling out. "We lost and he thought it was funny. He didn't think it was any big deal that we lost. I did not talk to him for eight months' eight months! I did not. Nothing. Silence," De Laurentiis said of the event.
As for why De Laurentiis was so offended by Flay's nonchalance, she further explained that she really wanted to take the battle seriously whereas Flay and chef Mario Batali didn't have the same competitive spirit. "It was just TV [to him]. I took it very seriously. I think Rachael took it very seriously, and I was really disappointed," De Laurentiis continued.
She never got a sincere apology either, as she added, "He didn't say, 'Hey I'm sorry that we lost,' or 'Hey, you know we'll do it again.' Nothing. He's just like walked away and I thought, you're a jerk and I'm never — I never want to be around you again."
Now, they're playfully responding to each other on Instagram
Despite the tension and the rumors of the past, Flay and De Laurentiis are good friends now — and it's showing on Instagram. Recently, De Laurentiis posted a photo of her reading a cookbook that's assumed to be Flay's with the caption, "A little birdie told me that @bobbyflay's Calabrian chili crab spaghetti from his new book #BobbyatHome rivals mine." To that, Flay commented, "I think the phrase used was 'best thing I ever ate,'" along with a winking smiley face.
So, is this banter more than just fun and games? According to Instagram comments on this post, Flay announced he's single on Beat Bobby Flay. Unfortunately, while De Laurentiis is divorced, she seems to still be with her boyfriend, Shane Farley, to our knowledge. It's likely the two are just commenting on each other's pages as friends and nothing more, though we'd sure love a Food Network romance! At the very least, we can hope for De Laurentiis to appear on Beat Bobby Flay to throw down on that spaghetti recipe.
Check out Showbiz Cheat Sheet on Facebook!