Giada De Laurentiis' Most Embarrassing Moment Happened on This Show
Celebrity chef Giada De Laurentiis has solidified herself as one of today's most popular culinary gurus. While the Food Network star, who hosts a score of shows including Everyday Italian, Giada at Home, Giada Entertains, Giada in Italy, and Giada's Weekend Getaways, has clearly mastered her culinary craft, she does have a few blunders on her record.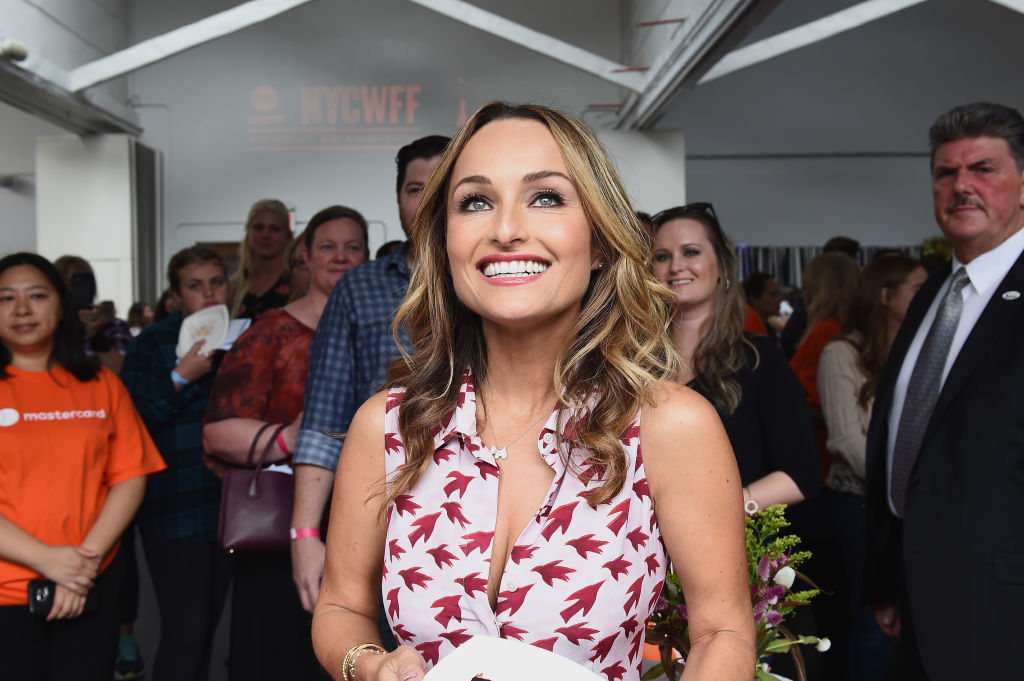 Major kitchen fail
Today, the seasoned chef is clearly a master when it comes to the kitchen. Yet when she was first starting out, De Laurentiis made a major faux pas on a holiday synonymous with food – Thanksgiving.
"When I first started catering, I worked for a family, and the first meal I made for them was Thanksgiving. I love cooking Thanksgiving," she said, according to Food & Wine. "It's actually, for me, one of the easier meals to cook because there's so much planning you can do in advance, that you can plan it out in different stages."
Though De Laurentiis was well-trained in dealing with meal prep and execution, she was not accustomed to working around family pets. "The thing is, they had a big dog, and I wasn't used to cooking around dogs," she revealed. "I tripped over the dog once I put the turkey on the platter. Once the turkey hit the floor, that dog got to it before I did."
Salvaging the holiday dinner took some creative improvising. "So, there was no longer a turkey for Thanksgiving, but lots of sides," she recalled. "The woman I was cooking for had some pasta sauces in her pantry, so I whipped up some pasta really fast. It was one of my first jobs out of school. I was pretty horrified."
Stage fright
While De Laurentiis can command a kitchen, the environment takes on a different dynamic in front of a camera – and millions of viewers. "In the beginning it was very intimidating," she told People last year regarding her first venture into television.
De Laurentiis didn't start out intending to be an on-air talent. The chef was working as a food stylist when she was literally discovered by a bigwig from Food Network. "I was styling for one of Food & Wine's Thanksgiving shoots, and someone at the magazine asked to do a story on my family and their food-lunch with the De Laurentiis family," De Laurentiis recalled. "An executive at the Food Network found the article and read the recipes, and called me up saying he was looking to do an Italian cooking show and asked if I had experience. He said he had seen my recipes and seen me but didn't know how I'd be on camera, so he asked me to put together a demo. Nine months later I did it, and Everyday Italian was born—purely accidentally."
Hosting Everyday Italian in 2003 with no on-camera experience was a daunting prospect for De Laurentiis. "I think I just wasn't open enough; I wasn't secure enough," she told People. "Italian culture and Italian food were such a part of my every day that I didn't realize other people wouldn't understand certain things. Everybody cooks their pasta al dente, don't they?I think I lost like five pounds in three days filming the pilot."
Raw embarrassment
De Laurentiis soon became accustomed to on-air cooking and started making guest appearances on NBC's Today Show. The culinary queen can recall one particular segment she would prefer to forget. Cooking with host Al Roker, De Laurentiis was preparing a chicken meal for her first time on live television.
"I made a grilled chicken with three different pestos, but it was actually the stylist who cooked the food," the Food Network star revealed. "We get to the point where Al says, 'Let's taste it' and cuts into the chicken, and it was raw inside!"
Naturally, De Laurentiis was horrified – and very embarrassed. "I just froze, my entire body and mind froze," she remembered.
Despite the (major) flub, De Laurentiis has gone on to more than prove herself as a culinary goddess both in the kitchen and on the air!