Giada De Laurentiis Says This Is the One Food She Never Eats
Food Network star Giada De Laurentiis is a chef who truly loves all types of food. The Italian culinary queen enjoys everything from grains and pasta to eggs and meat. When she wants an extra special treat, she'll have spaghetti with melted chocolate (we're not making this up!).
The host of a plethora of shows including Everyday Italian, Giada at Home, Giada Entertains, Giada in Italy, and Giada's Weekend Getaways, also has one edible eatable that she stays away from – always.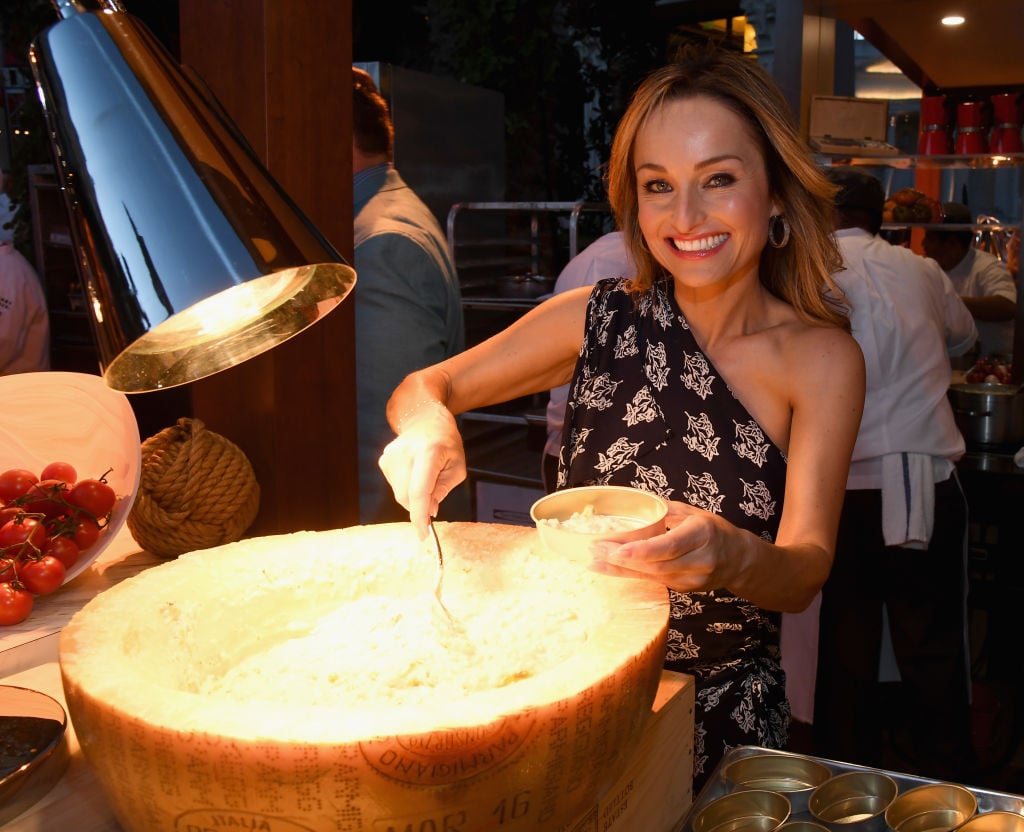 A food she eats often
De Laurentiis is obviously a pasta lover, frequently enjoying the meal as one of her favorite foods. She previously shared the top mistakes most people make when preparing the Italian favorite. "Overcooking it. Not salting the water enough. Dumping all the pasta water," she revealed, according to The Feast. "Sometimes adding oil to the pasta—other than ravioli. You need to season the pasta water!"
The celebrity chef recommends saving the pasta water to "create the velvety texture of the pasta. It brings it together," she said.
When it comes to seasoning, De Laurentiis has much to say on the subject of salt. "I think a lot of people don't realize how much salt you actually have to add to really season a strand of pasta. It's a lot," she said. "For me, it's almost a handful—for six quarts of water, though. A lot of people don't use enough water to cook their pasta. I use kosher salt—bigger chunks of salt."
The Food Network star advises to add salt when the pasta is boiling. "If you add it before, it settles to the bottom and it actually stains [the pot]. It oxidizes it. Once the water's boiling, add the salt," De Laurentiis suggested. "It immediately will melt into the water, and then you add your pasta. Stir it, and then let it go."
While she's pro-salt, De Laurentiis sees adding oil as a no-no. "Because people were using pots with not enough water, pasta wouldn't have enough space to swim, and they were adding oil to it," she said. "If you do that, the sauce never sticks to the pasta. It just slides right off. [Use] six to eight quarts of water, or you can cook it in a frying pan or a saucepan that's wide, so the pasta has enough room to swim."
Not nuts about this food
De Laurentiis is a true foodie and rarely leaves out any main items in a meal plan. Though today's diet trends eschew (pardon the pun) carbs, the Everyday Italian host embraces them, enjoying classics like breads, brown rice and pancakes. She also consumes a panel of proteins like meat, eggs and fish, as well as a host of cheeses, chocolates, and sweet treats.
There is one food item she is adamant on not eating. "I don't eat coconut. I don't like anything with coconut. Not [coconut] water. Just no coconut—at all. In anything," she said emphatically.
Now about that spaghetti and melted chocolate dish …
A favorite meal from her childhood, De Laurentiis still indulges in the sweet-and-savory dish from time to time. While the culinary guru may have a special place in her heart for the sentimental dish, it doesn't seem to be a favorite of her daughter, Jade. "I made it for my daughter recently, but she didn't like it," De Laurentiis told Bon Appetit. "She thinks it's slimy and gross. I guess it's not for everyone?"
The Food Network chef has better luck with a different treat for Jade. "Triscuits with whipped ricotta and chocolate chips. My daughter loves that, but I only give it to her when she finishes her lunch at school," De Laurentiis revealed.
Original recipes that are definitely worth a try!
Read more: Celebrity Chef Giada De Laurentiis Speaks on Self-Care, Her Daughter, and Divorce