Gigi Hadid Calls Herself One Singer's 'Biggest Fan'
Gigi Hadid is young, smart, talented, and beautiful. Already in her career, she debuted as part of the top 50 models in the world, has been featured on 35 international Vogue magazine covers, and was named "International Model of the Year" in 2016 by the British Fashion Council.
https://youtu.be/kQ2r6VBTlaI YouTube video of Gigi Hadid winning International Model of the Year.
It is fair to say Hadid is a supermodel, but you might not know that she is also a super fan. Want to know the singer she is absolutely gaga over (and no it is not Lady Gaga)? If so, read on.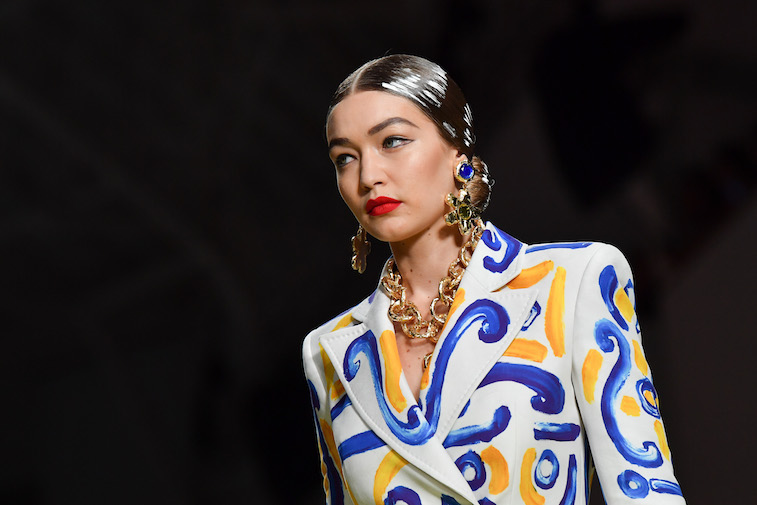 What makes this singer so special to Gigi Hadid?
Hadid said this about the singer in a Variety interview, "She is a songwriter that I've connected to through my childhood into my adult life, and us becoming friends has given me an insight into the mind that creates those lyrics."
So, Hadid is a fan and they are friends. Hadid also said in the interview, "She writes words that people experience but can't put into words themselves." We can relate to that.
So, who is the singer and how did they meet?
Ok, enough with the suspense, the singer that Hadid is a super fan of is Taylor Swift. However, Hadid and Swift have always been a part of a mutual admiration society.
They might not have realized it until at an Oscars party in 2014, Swift photobombed a picture being taken of Hadid and fellow model Karlie Kloss.
Once Hadid realized that Taylor was a fan, she came clean to Swift, and admitted her adoration for the singer. It wasn't long until they were fast friends.
Have Gigi Hadid and Taylor Swift ever worked together?
Swift alone in a music video is enough to make it a "Music Video of the Year" but add in some supermodels, other singer-songwriters, and an actress of the moment, and it is a guaranteed award winner. 
Swift's music video, Bad Blood, debuted at the Billboard Music Awards in 2015, and featured Swift's "hottest friends."
The music video starred supermodels Gigi Hadid and Karlie Kloss; Ellie Goulding, the British musician, singer, and songwriter whose album Lights debuted at number one on the UK music charts; and Lena Dunham the critically acclaimed director, actress, and writer of Girls, the HBO hit show.
Did Taylor Swift's music video 'Bad Blood' win any awards?
Swift's music video, Bad Blood, won numerous awards. After debuting at the Billboard Music Awards, the video won "Best Collaboration" for Swift, Kendrick Lamar, and Big Machine Records.
It also won "Video of the Year" for Swift at the 2015 MTV Video Music Awards. Additionally, Bad Blood won a Grammy Award in 2016 for "Best Music Video."
Other than their great friendship, what makes Gigi Hadid a super fan of Taylor Swift?
What is a super fan anyway? We all can claim to be a super fan at one time or another by listening to one song over, and over, and over again. But we would guess no one we know has gone to the same concert 10 times in a row?
That is exactly how many times Hadid went to Swift's "Reputation" tour, which cemented her super fan status.
Gigi Hadid concluded her interview with Variety by saying, "It's an interesting duality to experience in a friendship" that before the concert they are chilling as friends, "I am watching her get ready" and then "I'm a little tipsy, dancing at her concert."
We think all this is super precious because as Hadid added, "I love her and cherish her as a friend. But I'm also her biggest fan."
Wow. All we can say about this is, we are now super fans of Gigi Hadid.