Gigi Hadid Spotted At SNL After-Party Post-Tyler Cameron Split
The Gigi Hadid and Tyler Cameron relationship came and went before anyone could blink. Speculation over The Bachelorette runner-up and model's relationship have run rampant over the last few weeks. Now, it looks like they've called it quits and both are moving on.
When did Gigi Hadid and Tyler Cameron break up?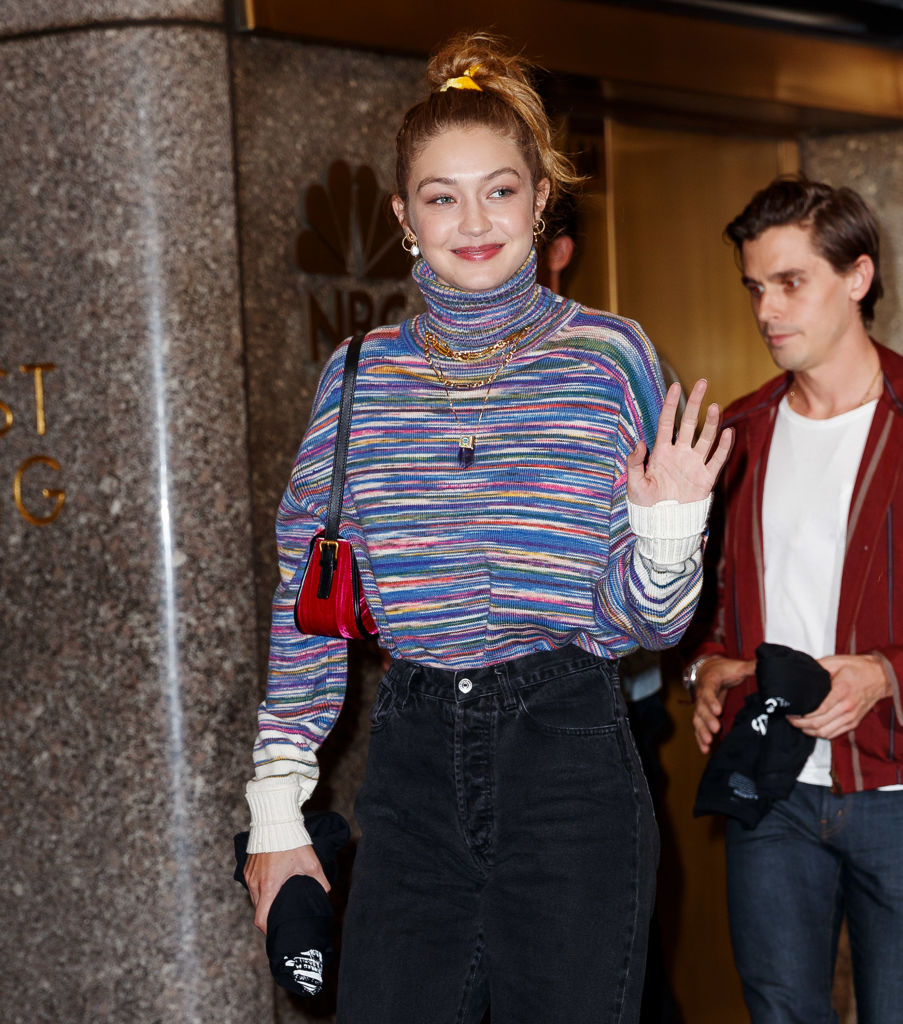 Though the two never actually confirmed the relationship at all, a breakup was confirmed after just two months of "hanging out."
"The relationship was moving quickly and was too much for both of them," a source told E! News. "The split was amicable and they are still friendly."
If you'll remember, Cameron and Hadid were first spotted out the night after he and Bachelorette, Hannah Brown, got those drinks she asked him about on the Bachelorette live finale.
Though Hadid hasn't spoken much at all about Cameron, he's appeared on numerous TV shows with references pointing towards his singledom.
Another source told Us Weekly Cameron and Hadid called it quits before he confirmed as much, saying, "Tyler is single…He and Gigi Hadid are no longer together."
The source continued, "They will definitely hangout again but decided to slow things down romantically. "Gigi is busy traveling and Tyler is trying to get situated in NYC. Tyler would definitely pursue a romantic relationship with Gigi again but is letting things cool down for now."
If that's not enough proof Cameron and Hadid's fling wasn't meant to be, former Bachelor contestant, Ashley Iaconetti, told Entertainment Tonight of the split, "It burned hot and burned out fast. I want to know what happened to make it break off so soon after the funeral. It's just such a big moment."
Why did Gigi Hadid attend the 'SNL' afterparty?
Hadid's first public outing to SNL's cast afterparty at Zuma in New York City happened mere hours after Hadid's bestie, Taylor Swift (ever heard of her?), performed on the show.
Along with Hadid, fellow Victoria's Secret model and another friend of Swift's, Martha Hunt. Hadid is said to have been dressed in a bright turtleneck and black jeans. The look finished with tie-dye boots and a red purse. Onlookers claimed she was "all smiles."
What is Tyler Cameron up to post-breakup?
Cameron's been busy. Not only has he made numerous appearances on shows like Watch What Happens Live With Andy Cohen and Lights Out With David Spade, but his new crew involves Hadid's former stepsister's, Erin and Sara Foster.
Just last week, Cameron hung with the pair at La Mer event in New York City. Cameron and the Foster sisters posed for pictures and traded jokes in the captions and comments.
"Had a great time at the @lamer event with my younger sisters… now I got some moisturizer for this crusty face of mine," Cameron captioned one of the photos of himself between the sisters.
Erin commented on the photo: "I didn't approve this pic. But I look great so I'll allow it." Sara chimed in, "Family is everything."
And because they like to keep it all in the family, Erin also shared a post from the event. She said: "Sara's a big fan of their anti-aging serum."
Sara responded saying, "You should try it so people will stop asking if I'm the younger sister," but the best part is that Cameron also weighed in stating he loved the "clap back."
As for who Cameron's dating now, he told People he isn't sure what he's doing. "What's out there is out there," he said. "I'm just focusing on myself right now."
There you have it. No drama. Cameron and Hadid are just fine together, and apart.