'Gilmore Girls' Christmas Episode Guide
Get in the holiday spirit with Gilmore Girls Christmas episodes. From Luke's romantic holiday gestures to Lorelai and Rory's never-ending family drama, we share how to watch Gilmore Girls Christmas episodes in order, ahead.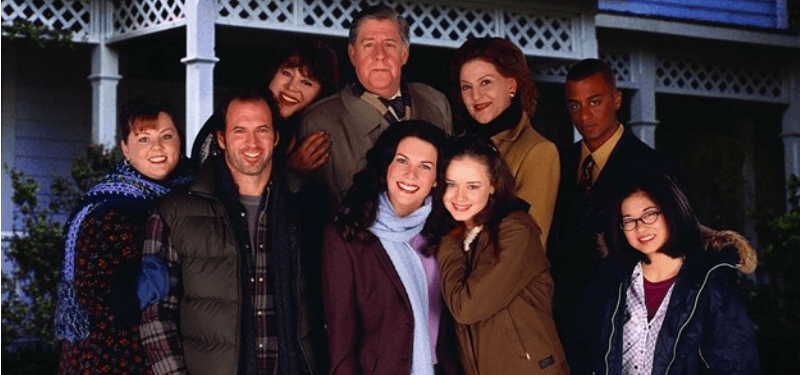 'Gilmore Girls' Christmas episode guide
While not every episode boasts the same kind of festive spirit as our favorite Christmas movies, Gilmore Girls never missed a chance to ring in the Yuletide season. Up ahead, we break down every Gilmore Girls Christmas episode for your holiday binge-watching.
'Forgiveness and Stuff'
Season: 1
Episode: 10
Our first look at a Gilmore Girls Christmas is both festive and full of drama. In season 1's Forgiveness and Stuff, Lorelai is upset with her mother, Emily for uninviting her to the annual holiday party. She also has it out for Dean after he and Rory fell asleep in Miss Patty's studio. In a scary turn of events, Lorelai's father, Richard has a heart attack, which really puts things into perspective. Eventually, everyone pulls it together and makes it a memorable holiday.
'The Bracebridge Dinner'
Season: 2
Episode: 10
Getting together with family for the holidays can be full of drama for Rory and Lorelai (note: season 1's Christmas episode). However, season 2's The Bracebridge Dinner is not nearly as bad as the last Gilmore Girls Christmas episode (in terms of drama). Aside from Richard retiring from his company without telling Emily, everyone is pretty merry. There are horse-drawn sleighs and even a nice holiday dinner at Independence Inn.
'That'll Do, Pig'
Season: 3
Episode: 10
As it turns out, Emily isn't the only one that causes family drama — her mother-in-law Trix does, too. In season 3's That'll Do, Pig Emily and Richard get a visit from Trix and it's revealed that the two clearly don't get along. Meanwhile, back at the winter carnival, Rory is in a pit of her own drama. After breaking things off with Dean and then going out with Jess, Rory spends the holiday extravaganza accompanied by both her ex and her new boyfriend. A clearly upset Dean ends up threatening Jess and it's kind of a mess.
'In The Clamor and Clangor'
Season: 4
Episode: 11
The Clamor and Clangor is probably one of the least festive Gilmore Girls episodes. However, there is snow and drama — a Gilmore Girls holiday must. After Luke moves without telling Lorelai, she (understandably) gets mad at him. However, they pull it together and the dust settles fairly quickly. Lane also has some holiday drama of her own after confessing her love of rock and roll (something forbidden in her household) to her strict mother. She ends up getting kicked out of the house over it.
'Women of Questionable Morals'
Season: 5
Episode: 11
In this Gilmore Girls Christmas episode, Lorelai has it out for the snow. But, in true Luke fashion, he manages to turn something that makes her miserable into something truly romantic by building an ice rink in front of her house. Meanwhile, Rory and her father, Christopher struggle with some father-daughter relationship stuff after he begs Rory to give him another chance. Emily and Richard have some drama of their own, but they manage to work things out in the end.
'Just Like Gwen and Gavin'
Season: 6
Episode: 12
Drama strikes again in this Gilmore Girls Christmas episode. Just Like Gwen and Gavin boasts a lot of unease between Luke and Lorelai after she finds out about Luke's pre-teen daughter Luke didn't know he had. Luke and Lorelai ultimately break up over the tension. The winter carnival still goes on but doesn't make the unfestive episode any merrier.
'Santa's Secret Stuff'
Season: 7
Episode: 11
After spending Christmas in London with her college boyfriend Logan, Rory comes home to a delayed celebration with her mother. However, things go south when Lorelai starts to doubt her and Christopher's marriage and writes secret letters about Luke. Meanwhile, Lane is pregnant with twins and panicking about her future role as a mother.
Check out The Cheat Sheet on Facebook!