'Glee' Star, Heather Morris Plans to Interview This Former Co-Star on Her Podcast, 'The Dance Room'
Heather Morris went from Glee to more acting roles and competing on Dancing with the Stars. Now she's creating a podcast called The Dance Room to talk about dance. She plans to interview a former co-star. Find out which one and more about their plans.
Heather Morris previously shared a post for Glee's 10th anniversary
Heather Morris played Brittany S. Pierce who eventually fell in love with fellow cheerleader, Santana Lopez (Naya Rivera.) The actress shared a post in celebration of the anniversary of the show with a picture of the characters together.
"I want to thank @mrrpmurphy @bradfalchukand#ianbrennan for the most incredible and breakthrough storyline anyone could've asked for. The fans spoke and they listened and it blossomed into something no one could've expected but I'm so honored to have represented such an incredible community. #glee10thanniversary," she wrote in the caption.
She shared another picture of the cast together throwing up an L over their foreheads. Morris wrote, "This family forevermore be in my heart of hearts. I remember watching the pilot and knowing instantly this was a classic show, it was unexpected and quirky and represented such an amazing quality of life. But the connection to the entire cast and crew was something else entirely. It was my second family and it was my home basically for 6 years #glee10thanniversary (ps it only lets me tag 20 people so I'm sorry for whoever I couldn't include )."
She started a podcast called The Dance Room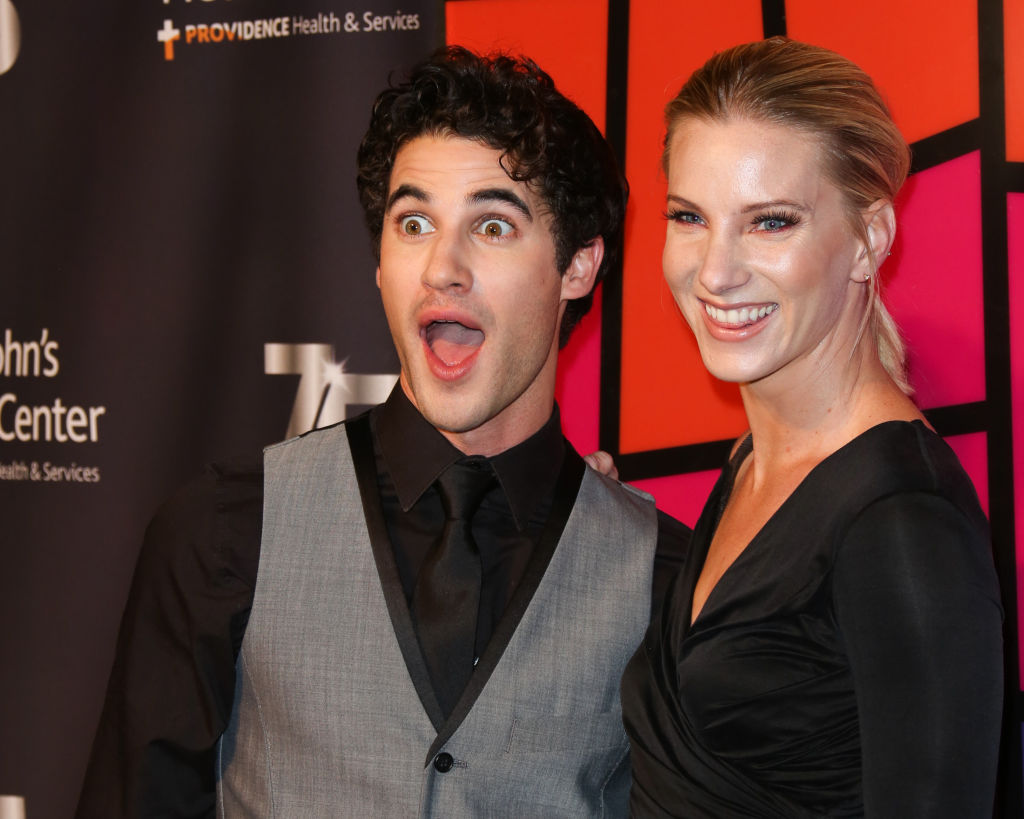 The dancer performed with Brittany Spears before breaking into acting. Now she is ready to dive into the dancing world on her new podcast.
"I was with my husband, sitting watching sports channels and ESPN and there were all these recap shows that as a wife, you just sit there and watch all the time and I was like, 'Why is there not an avenue for dancers to recap shows?' We have Dancing with the Stars, So You Think You Can Dance, World of Dance, Dance Moms, just so much on the air that there's no one recapping it or no one kinda giving it an opinion,'" she told Page Six.
The podcast won't just involve recaps. She will be interviewing choreographers and dancers too. There is also a Glee star she is hoping to interview.
She plans to interview Harry Shum Jr. and his wife
Harry Shum Jr. played Mike Chang from seasons one to six on Glee. He is also a dancer and choreographer who worked on Step Up 2: The Streets and Step Up 3D before the singing show. He has continued to act and more recently was in Shadowhunters and Crazy Rich Asians.
He is married to dancer Shelby Rabara, who will also be on the podcast. Rabara used to be a dancer for the Laker Girls. She made the transition to acting was in Goliath, Me and My Grandma, and Steven Universe.
Morris said it will be a "power couple segment." She said, "I just wanted to hear what their dynamic is. They have a new baby. I want to just know their home life and how that's going and just get their personal choreo dynamic at home as dancers and all that jazz." Chances are a lot of Glee fans are looking forward to the mini-reunion.