Golden Globes: 'True Detective' Shut Out Again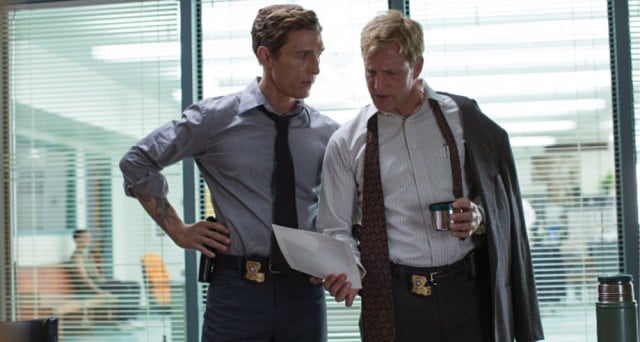 Despite being one of the most talked about and critically acclaimed shows to come out last year, it seems HBO's True Detective will walk away from awards season empty-handed, and perhaps we can call the "McConaissance" officially over. The series surprisingly didn't win any Emmys last year, even though the show itself and performances from stars Woody Harrelson and Matthew McConaughey were considered frontrunners in their categories, and at the Golden Globes the series was beaten out by the fellow anthology show Fargo.
Like the Emmys, the philosophical detective show's biggest Golden Globe nominations were for best series and the two lead actors competed against each other in the best actor category. HBO decided to take a different strategy at the Globes as it did at the Emmys, putting the show in the miniseries category rather than the drama category. True Detective's anthology format means that it can go either way, though many television awards watchers were surprised during last year's Emmys when HBO took the risk of running True Detective as a drama against the final season of Emmy favorite Breaking Bad. The risk didn't pay off for the show, but fans of True Detective and HBO were optimistic that the Golden Globes represented a second chance for the series to receive some accolades.
It was predicted that True Detective would face its strongest competition from fellow highly acclaimed anthology series Fargo, and the Coen brothers-inspired show ended up taking the trophies that True Detective was nominated for. Fargo won best TV movie or miniseries and star Billy Bob Thornton won best actor in a TV miniseries or movie.
The fact that Matthew McConaughey hasn't won any awards for his portrayal of the detective Rust Cohle is a big blow to last year's media-labeled "McConaissance" craze, in which people freaked out over the revelation that the former rom-com leading man could actually act. McConaughey took home an Oscar for Dallas Buyers Club, then played Cohle in what some called the best performance of his career. Even co-star and competitor for the award Woody Harrelson said that McConaughey deserved the Emmy. Now he hasn't even gotten the Golden Globe.
Fargo and True Detective actually have a lot in common aside from the anthology format. They're both dark crime dramas with two movie star male leads who have been praised for strong writing. They both landed near the top of many critics' year-end top 10 lists, but Fargo is actually coming out on top more frequently than True Detective. NPR critic Eric Deggans echoed the sentiment of many critics in saying that True Detective's rushed ending was its weakest point and prevented it from being the best show of 2014. That ending was probably what stopped the overall show from winning any major awards, though it still seems that the actors could have been honored for their astounding performances.
McConaughey's performance as the hyper-intelligent, nihilistic hunter of serial killers was so mesmerizing it's hard to believe that of everything that was great about True Detective, he hasn't been given at least one award for his role. Perhaps it's more a sign of how good television has gotten in its golden era that there are shows as good as True Detective getting left out at awards ceremonies.
Follow Jacqueline on Twitter @Jacqui_WSCS
More from Entertainment Cheat Sheet:
Want more great content like this? Sign up here to receive the best of Cheat Sheet delivered daily. No spam; just tailored content straight to your inbox.