Good Films Finish Last: Awful 'Transformers' Will Terrorize Contenders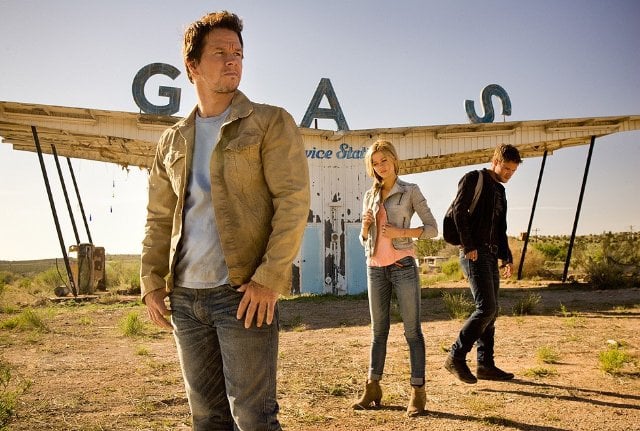 Last weekend was nothing exciting in the box office. Think Like a Man Too, 22 Jump Street, and How to Train Your Dragon 2 adorned the top spots, but only one was brand new, and none raked in blockbuster-level earnings. This weekend looks to be significantly different, but only with regard to one film. There won't be much in the way of competition keeping Transformers: Age of Extinction from terrorizing the box office with Decepticons and poor quality.
One might say that it's a case of Transformers winning in the absence of anything better — though it really looks more like a win in the absence of anything bigger. In scale, no movies coming out next weekend will be able to compete with Transformers. Including movies from recent weekends, none will have the gusto left to put up a fight, and you'd have to go back to late May to find a film that might have been able to contend with Age of Extinction — that would have been X-Men: Days of Future Past and its $90.8 million opening weekend, as reported by Box Office Mojo.
According to Box Office Mojo's data, the previous two Transformers films averaged over $100 million during their opening weekend. The first film in the franchise even managed a robust $70.5 million. Now it's possible that Age of Extinction won't live up to the box office performance of its predecessors, but it doesn't seem likely that will happen. That's especially true if you consider Mark Wahlberg's star power — people will probably hate him less than Shia LaBeouf. Considering all this, Transformers: Age of Extinction could easily pull a box office of $90 million this weekend, leaving no chance for competition in that regard.
As stated earlier, no films this weekend are going to match the size Transformers. None of them even seem to be trying, as the big new films this weekend aside from Michael Bay's robot fest are only having limited releases — thus, in the absence of anything bigger, Transformers will crush it. But it wouldn't be fair to it will win in the absence of anything better.
Thought the Transformers' franchise has a knack smash hit films, it also has a penchant for critical failures. Audiences just don't seem to care. Transformers got a 57 percent Tomatometer score from critics on Rotten Tomatoes, but fans gave it an 86 percent rating and the aforementioned $70.5 million opening box office. Transformers: Revenge of the Fallen did even worse, with a rotten 19 percent Tomatometer score and only 58 percent audience rating, but it had the biggest opening of all at $108.96 million. Maybe fans were still upset about the second film when Transformers: Dark of the Moon came out, but it still got $97.85 million in its opening weekend despite a 36 percent Tomatometer score and 56 percent audience rating — the lowest of all three.
The critical best of the franchise was the worst financially during it's opening weekend, and the critical worst had the best opening weekend. It puts a whole new spin on the idea of being too big to fail. Critic ratings are already in for Transformers: Age of Extinction, and it comes in second to last with a 26 percent Tomatometer score, so it would be no surprise if it had the second highest grossing opening weekend of the franchise. Of 152,494 users on Rotten Tomatoes that voted, 98 percent said they wanted to see the film. It's too big to fail even though there are better movies coming out this weekend.
The other films slated for release this weekend — albeit limited release — include Snowpiercer, They Came Together, Archipelago, and Begin Again. They have their share of celebrities and critical acknowledgement, but they won't be the film everyone's talking about next week.
Archipelago is the best of the bunch, with a Tomatometer score of 95 percent, but will likely perform the worst. Of only 1,299 people on Rotten Tomatoes, just 87 percent voted saying they want to see it. It's a dramatic, arthouse family story and lacks the level star power of it's competitors — though it has Tom Hiddleston, who played Loki in Thor and The Avengers. Slow-paced, calm, and bleak, it is unlikely to appeal to viewers who lean toward films like Transformers. In dating, nice guys finish last, but in film, it seems good films may finish last.
Snowpiercer would be the closest to giving Age of Extinction a run for its money. The film stars Chris Evans — that's right, Captain America — as well as a host of other highly talented actors — John Hurt, Tilda Swinton, Ed Harris, Octavia Spencer, and even the Oldboy himself, Song Kang-ho. By the director of the original cult hit Oldboy and based on a French comic, Snowpiercer tells the story of a Hunger Games-like class struggle, as the last humans fight for control on a train that is the only safe refuge for life. It recalls action on par with the original Oldboy and along with spectacular visuals, and great twists and turns. Sadly, it doesn't stand a chance against the size of Transformers, even though it got an 90 percent fresh rating on Rotten Tomatoes.
They Came Together is bringing the comedy this weekend, but only with a 73 percent Tomatometer score. Starring Amy Poehler and Paul Rudd, we can expect a lot of great improvisational comedy amid a parody of modern rom-coms. The film will tease the plots of classics like You've Got Mail, as well as many other romantic comedy tropes. Expect it to be overly goofy, as it's written by Michael Showalter and David Wain, and directed by the latter of the pair.
Begin Again may do well enough, as it also has a 65 percent Tomatometer score and stars Mark Ruffalo, who's been gaining extra attention after The Normal Heart as well as his role in The Avengers, alongside Kiera Knightley. The movie will have music, comedy, romance, and even Maroon 5′s Adam Levine, but it won't have the wide release it would need to take on Transformers.
As sad as it may seem, the best movies often appear to fly under the radar, while some dreadful movies take up the whole radar screen. People can't help watching them, and the ratings they give the movies afterward show their dissatisfaction. Unfortunately, those movies will just keep coming as they keep making money. Director Michael Bay and Lorenzo di Bonaventura didn't say if the latest Transformers would be the start of a new sequel, but they did hint that, if it is successful, there could be more in the making.
Follow Mark on Twitter @WallStMarkSheet
More From Wall St. Cheat Sheet: