'Good Girls' Is the Best TV Show You're Not Watching
It's actually impossible to keep up with all of the incredible television these days. From the usual networks to streaming services and everything in between, there's not just one show for everybody — there are many. One such show you may have overlooked is Good Girls, which recently began its second season on NBC. Here's why you should be tuning into this sleeper hit.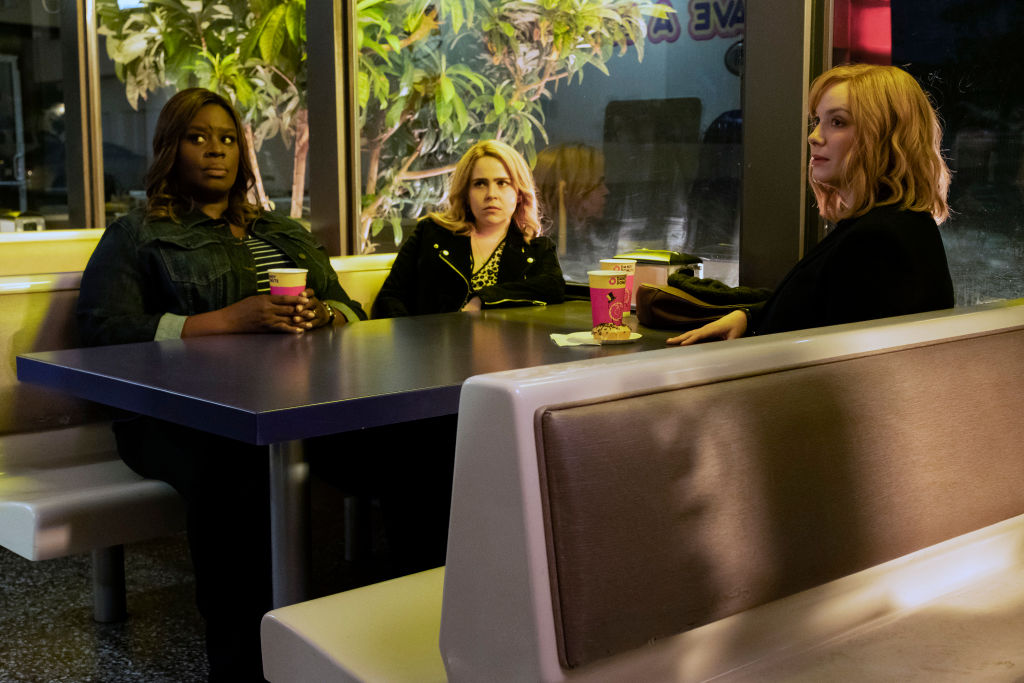 The cast is amazing

The three leads of the series have all starred on acclaimed series in the past, so these are veterans with some impressive work under their belts. Retta portrayed the hilarious Donna Meagle on Parks and Recreation, where she was the epitome of the self-sufficient woman. On Good Girls, Retta is Ruby Hill, a waitress with two children who is just as tough as Donna, but with more nuance.

You may know Christina Hendricks as Joan Holloway on Mad Men. This time around, she's Beth Boland, a housewife with what appears to be a perfect life — that is until it's not. Along for the ride is her little sister Annie Marks, a young, struggling single mother with a dark sense of humor. Annie is played by Mae Whitman, who starred on Parenthood as Amber Holt.

Additional cast members include Matthew Lillard (Scooby-Doo) as Beth's husband Dean, Zach Gilford (Friday Night Lights) as Annie's ex Gregg, and Manny Montana as Rio, a mysterious criminal who comes into their lives.

It breaks gender stereotypes left and right

There have been plenty of shows about men who are criminals: Breaking Bad is the most obvious comparison, but shows like The Sopranos, The Wire, and Narcos feature primarily all-male casts working for a crime boss.
Good Girls not only flips the gender roles here, but it also shows how things work differently when women are the minds behind the operation. The main characters' struggles with their new trade don't come so much from being women, but from being new to a life of crime. A lot of times, they excel when they're able to use the stereotypes against women to their advantage.

Additionally, there's Annie's daughter, Sadie. Sadie (at present) identifies as a girl but dresses in a masculine way, which leads to problems in school. The very real way in which her parents deal with this is unique to anything many of us have seen on TV. Sadie is portrayed by a young transgender male actor, Isaiah Stannard, and the show embraces the opportunity to show a realistic example of gender fluidity.

It is 100% a drama and a comedy

We hear the word "dramedy" thrown around a lot in entertainment these days. While it's good that we're becoming looser with the rigid classifications of the past, most shows still tend to lean one way or the other. But Good Girls is almost a perfect split. There is humor fused into nearly every moment of the show, and the characters frequently break the tension during a heist with jokes. However, the subject matter can get dark, and the stakes are high, building drama. This is part of what makes the show so great — it takes itself seriously, but not too seriously.

There's limitless potential for Season 2

Season 1 of Good Girls saw the women first dabble in crime, become acquainted with gang members, and generally try and fix their lives as things began to fall apart. But they always seemed ready to get out of the game, declaring each heist their last. Heading into Season 2, it looks like at least Beth is ready to keep their operation going, and she's going to need her ladies on board. There's so much potential for where they could go next, but you're going to have to tune into NBC on Sundays at 10.