'Good Morning America' Anchor George Stephanopoulos is Married to This Former 'In Living Color' Actress
George Stephanopoulos of ABC's Good Morning America and This Week with George Stephanopoulos has a reputation for being a sharp political journalist. His serious demeanor is applicable to the consequential subject matter he covers, though in his personal life, he seems to pursue a more lighthearted atmosphere. His wife of almost 18 years is a comedic actress that has been in the entertainment industry for decades, including a stint on Fox Network's landmark comedy series In Living Color.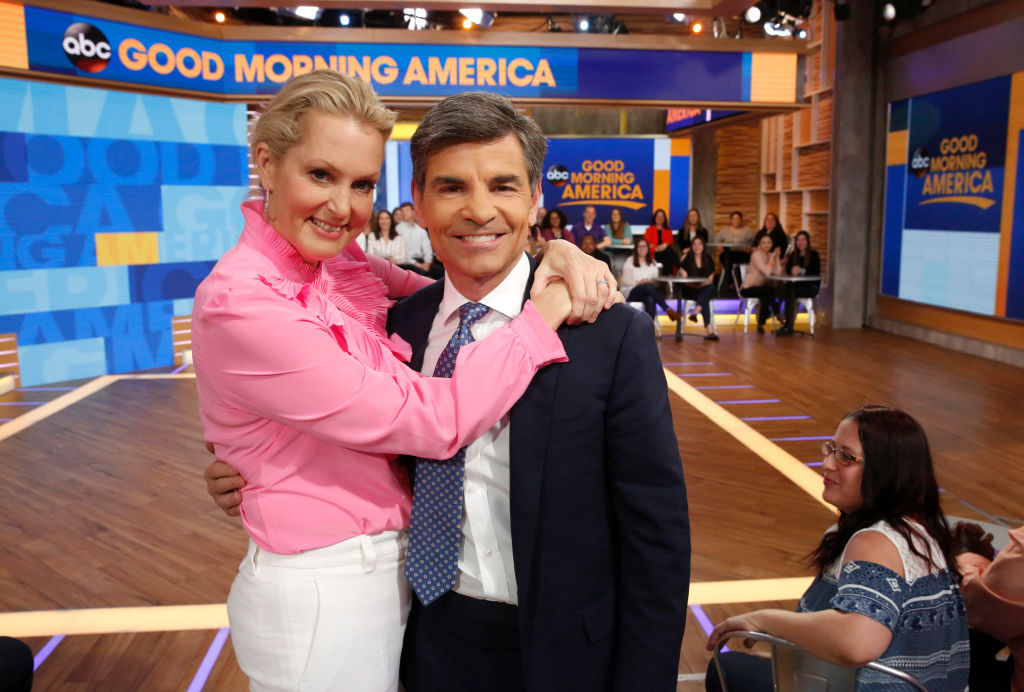 Whirlwind romance
According to Good Housekeeping, Stephanopoulos was set up with actress Ali Wentworth on a blind date in 2001. "I didn't care about politics, and figured he'd be the last person I'd be interested in. I was holding out for Hugh Grant or Matthew Perry," Wentworth said.
The two met for lunch and Stephanopoulos was immediately smitten. "You know how when you go on a date and the first 15 minutes are on automatic pilot?" Stephanopoulos said, according to the New York Times. "About 15 minutes in, she just leaned in and said something, and we were suddenly in another place, in another universe, immediately. We went from strangers to friends to being in love in days."
The couple was engaged after just two months of dating, as reported by Good Housekeeping. They wed on November 20, 2001 and now have two daughters, Elliot and Harper.
From 'In Living Color' to 'Schmoopie'
Wentworth has appeared in several high-profile movies including Jerry Maguire with Tom Cruise and It's Complicated with Meryl Streep. "I loved shooting that film with Nancy Meyers and Meryl Streep," Wentworth said of It's Complicated, according to Omaha World-Herald. "(Streep) is just so incredible and giving and fun. When we weren't shooting, we would sit around and talk about Bernie Madoff and banana bread. It was just a very joyful experience."
The actress has also guest starred on a score of television shows such as Blue Bloods, Law & Order, and The Good Wife. Most notably, she was on the groundbreaking comedy In Loving Color from 1992 to 1994 working with iconic comedians Jamie Foxx and Jim Carrey. Wentworth was known for her impressions of Cher, Brooke Shields, Hillary Clinton, and Lisa Marie Presley. "Oh, my God, it was an interesting time, because it was my first big job. It was already a big hit when I came in. It was a show that made fun of white people and certainly white women. And I came in, and I played Hillary Clinton and a bunch of hookers, so. You know, it was interesting … I love Jamie Foxx. He used to play piano and sing during rehearsals."
Wentworth was on the Fox show at the same time as Jennifer Lopez, who was then one of the shows 'Fly Girl' dancers. "She was always, like, 'Oh, can I be in a sketch?'" Wentworth recalled of Lopez. "And we'd be, like, 'No, you can't act.' She would say, 'Maybe I can sing at the end?' We'd be, like, 'You can't sing. Who is this girl?' And look at her go."
Another career highlight for Wentworth was when she played Sheila, aka Schmoopie, on the now legendary 'Soup Nazi' episode of Seinfeld in 1995.
Upcoming gig
Wentworth is still juggling talk show appearances and acting gigs, with her latest one to start this fall for the final season of NBC's Will & Grace. She will be joining the main cast of Eric McCormack, Debra Messing, Megan Mullally and Sean Hayes, along with special guest starts Patton Oswald, Brian Jordan Alvarez, and Chris Parnell, according to TV Insider. The role she will be playing has not yet been announced.
Still, despite having one foot in Hollywood and one in New York, Wentworth insists that her life with Stephanopoulos is ordinary. "Every night, me and our kids are in bed by 8:30. By the way, I'm not complaining. There's nothing glamorous about us at all," Wentworth told the Huffington Post in 2012. "I wear faded J.Crew pajamas every night. We fall asleep to a Modern Family episode that we DVRed. So not exciting."
Viewers will be seeing more of Wentworth this fall on NBC's Will & Grace!