'Good Morning America' Star, Michael Strahan, Could Be on the Hook for $500,000
Michael Strahan could be on the hook for over $500,000 in back child support. Find out why the 'Good Morning America' host owes his ex-wife so much money!
Michael Strahan is a little busy these days. Aside from his Good Morning America gig, the former New York Giant co-hosts The $100,000 Pyramid and Fox NFL Sunday. He's also signed on to co-executive produce a Spectrum Original series, according to Good Housekeeping.  With all of his jobs, it seems like Strahan may have forgotten to pay some of his child support, and now his ex-wife, Jean Muggli, is taking him to court. When all is said and done, Strahan might be forced to hand over more than $500,000 to his ex.
Jean Muggli alleges Strahan owes her a lot of money
Strahan's ex-wife pulled the former NFL player into a Manhattan court last month to discuss child support, according to TMZ.  Muggli alleges that Strahan owes her over $500,000, and she'd like him to pay up immediately. Her most significant point of contention is an unpaid bill for their twin daughters' horseriding.
According to Muggli's filing, Strahan agreed to pay half of all equestrian expenses for the twins. Muggli claims that he's never footed the bill for the activity and that it has cost her $450,000 since 2017. Muggli also has a gripe about her current child support payment. The former spa attendant claims that Strahan has pulled in a lot more money since their 2010 child support agreement, but has not paid additional support to match his increased income.
She is seeking over $300,000 in back support, claiming the $13,000 each month does not accurately represent his income. The agreement was reached before Strahan landed his Good Morning America gig. Muggli is pursuing an increase of more than $5,000 per month. She is requesting the increase be retroactive.
Strahan has responded to the allegations
Strahan is a seemingly proud father and is happy to indulge in his children's interests, but he insists he never agreed to go halfsies on the ridiculously expensive horseback riding bill. Based on Muggli's filing, the cost of the twins' equestrian time amounts to around $225,000 each year.
While Strahan isn't willing to spring for the horseback riding money, he does admit that the cost of living increase seems fitting. His legal filings, however, argue that no formula has ever been agreed upon. He is seemingly willing to pony up extra cash, but only after the former couple decides on a system for the increases.
How many kids does Michael Strahan have?
Strahan is the father of four children. He was married to Wanda Hutchins from 1992 until 1996. Together, the former pair share two children. Tanita Strahan, now 27, is a visual artist. Strahan's son from his first marriage, Michael Strahan Jr., now 24, keeps a low profile.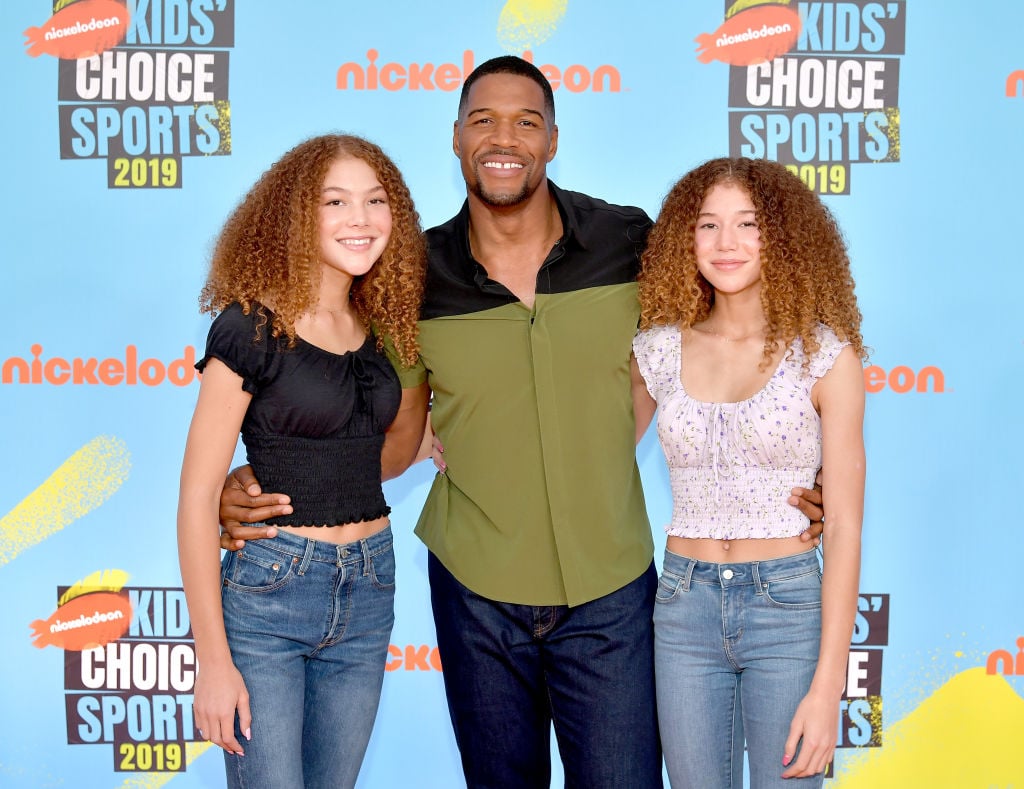 After his divorce from Hutchins, Strahan married Muggli. The former couple were married for seven years and share twin daughters. Sophia and Isabella Strahan were born in 2004. According to Complex, Strahan's divorce from Muggli cost him $15 million upfront. An additional $13,000 per month must be paid to Muggli in child support. Muggli's current court filing is aiming to amend that $13,000 each month to include cost of living increases.