'Good Morning America's' Robin Roberts Says She's Never Missed This in Over Two Decades on the Job
Robin Roberts has been at the Good Morning America news desk since 1995. The seasoned journalist has reported on historical events, Hollywood buzz, and human interest stories as well as her own personal struggles, including two bouts with cancer.
The show recently celebrated 20 years in its legendary Times Square studio, and Roberts recalled some of her most memorable moments on the ABC morning news program.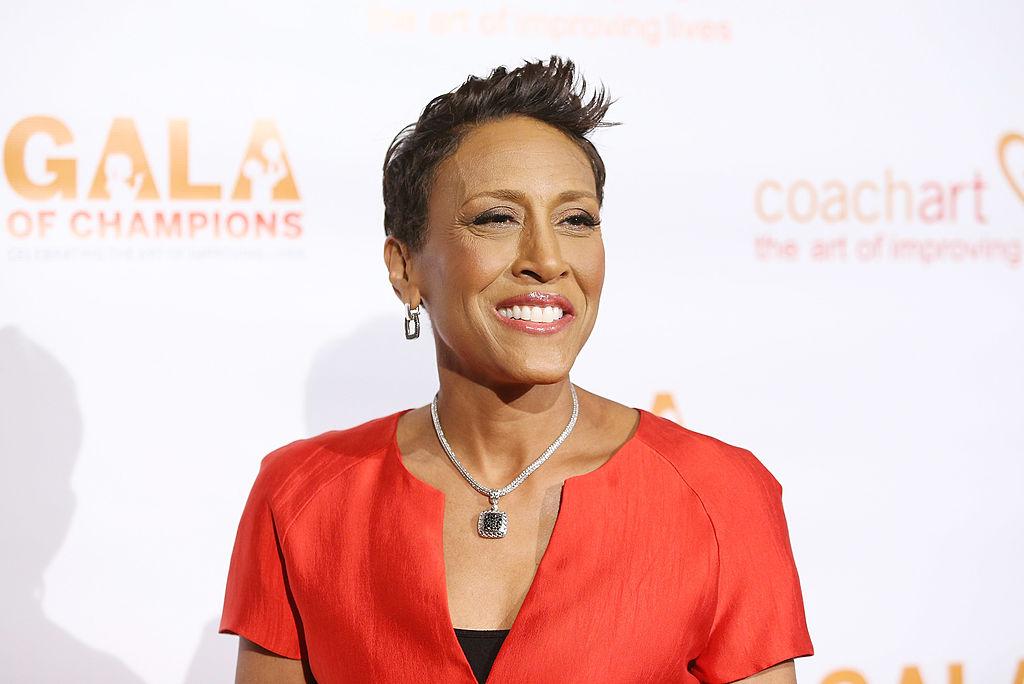 From sportscasting to newscasting
Roberts had a permanent seat at ESPN beginning in 1990, serving as sportscaster on the high-profile network. She began working as a feature reporter for ABC (both are owned by Disney) in 1995. For a good period of time, Roberts juggled roles at Good Morning America and ESPN, and finally broke with the sports network in 2005 when she was promoted to co-anchor on the morning news show.
"I was living happily ever after being at ESPN and was asked to come to Good Morning America and do sports stories," Roberts said, according to People. "That then became human interest stories and it just grew from there. I never thought that I would be working at GMA. I wanted to be a professional athlete. That didn't work out, so then I thought, 'Okay, I'm going to be a sports journalist.' Now I can't think of doing anything else. It's been a remarkable run."
Now the longest-tenured anchor of the show, the journalist is grateful for the camaraderie she shared with former co-hosts Diane Sawyer and Charlie Gibson. "To know that I'm now the longest-running anchor, not just at Good Morning America, but in all of morning television right now, I have to kind of pause," she shared. "It's something that I'm very proud of. I want to do like all those before me did and continue to make everyone I work with feel as welcomed as Charlie and Diane made me feel."
Memorable moments
At the celebration last month for the studio's 20th anniversary in New York City's famed Crossroads of the World, Roberts recalled some events that have stood out during her post at GMA, one of them being an outdoor performance by a Grammy-winning artist.
"We had a piano and we had Alicia Keys singing 'Empire State of Mind.' It was a beautiful morning; she's singing, cabs are going by and tour buses," Roberts remembered. "And I just remember looking down and going, 'Oh my gosh, I'm in New York City.' It was one of those spectacular moments."
The other memory that was a favorite of Roberts happened on April 19, 2012. "That was when we became No. 1 for the first time," Roberts said fondly of the milestone. "Something that all of us who had ever said, 'Good morning, America,' all of us who had ever worked behind the scenes, in front of the camera, had worked on. So when we became No. 1, I remember the euphoria and sharing it with everybody, and the celebration that we had with the crew. Everything was quite special."
Thankful for those wake-up calls
Roberts shared that after years of reporting on everything from international wars to celebrity gossip to her own health battles, her favorite type of story is focused on everyday people. "I like the stories that we do of the everyday person who is just doing extraordinary things in their community," she said.
Another proud achievement for the GMA anchor is never missing an early morning wake-up call, where she's always been at the news desk on time. "They've had to call me a couple of times because the driver's downstairs. It's a great perk to have a driver pick us up, but then I realized they do that because they don't trust us to get there on our own so early. But I haven't missed one show yet," she revealed.
Her fans are very grateful for that!